$54,995 super-muscle car showdown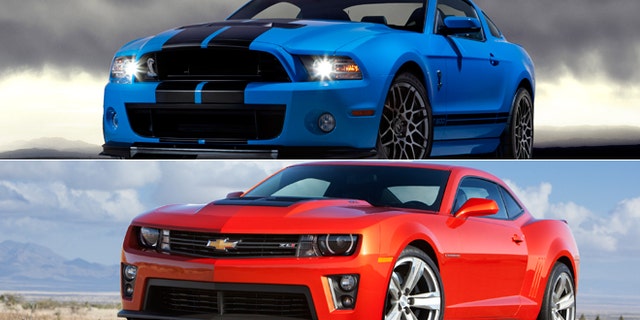 The muscle car wars are about to go thermonuclear.
First Chevrolet introduced its 580 hp Camaro ZL1. The supercharged V8-powered coupe is the most powerful Camaro in a long line of powerful Camaros dating back to 1967, and features high-tech active suspension and stability control systems that are also used by the $112,000 Corvette ZR1.
Ford quickly returned fire with the 2013 Mustang Shelby GT500, which comes packing a 650 hp engine that is, more or less, the most powerful production V8 ever made…anywhere. It can hit a top speed of 202 mph, making it the second fastest Ford in history, trailing only the limited edition $150,000 Ford GT, which could reach 205 mph.
Read: Will the Plymouth Barracuda make a comeback?
Although the two cars have yet to meet on the street, the trash talking among their fans is in full swing, and about to get even more heated.
Chevy was the first to put a price on its car's performance, with a sticker of $54,995. It's hardly a surprise then that when Ford ponied up the price of the Shelby this week it was also $54,995.
So which one would you take into battle at the track?
The comments section is open for bench racing and the green light is lit on the tree.