$50,000 reward offered for stolen rare Plymouth Hemi Cuda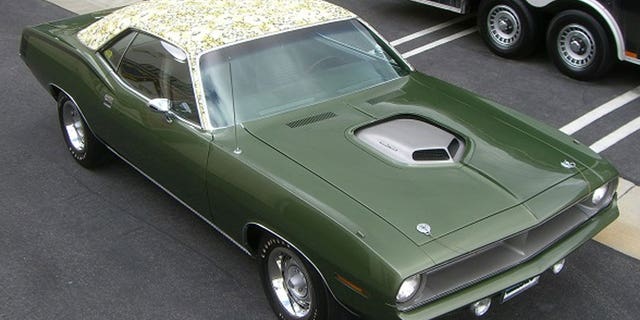 This may be the easiest B.O.L.O. (be on the lookout) ever.
Hagerty Insurance is offering a $50,000 reward for information leading the return of a stolen one-of-a-kind 1970 Plymouth Barracuda…with flowers on the roof. The green coupe is the only 426/425 Hemi Cuda in existence that's fitted with the floral "mod top" vinyl roof option offered that year.
Hemi Cudas of all stripes sell for the biggest bucks these days, and this very unique one is easily worth more than $1 million, hence the huge reward. At a recent auction not one, but two Cuda convertibles were sold for over $2 million each, while another went for $3.5 million in 2014.
The fully restored car was snagged from its owner's garage in Pelham Manor, NY, just after midnight on April 26th, according to Hagerty investigator Joe Stephenson. Authorities have no solid leads on its whereabouts, but it shouldn't be hard to spot if it surfaces.
If you see it, Hagerty is accepting tips -- of the informative kind -- at stolen@hagerty.com.