5 best car seats for your baby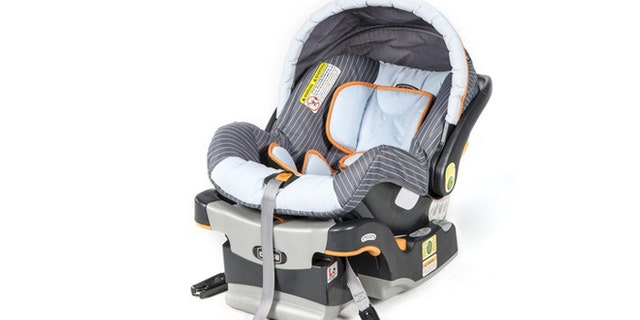 Before the big day arrives, you want to choose the safest, easiest-to-install infant car seat—and through its testing, Consumer Reports has identified the five best.
These models performed well in our new crash tests. Plus, these models also score well for ease-of-use and fit-to-vehicle ratings, thereby increasing your chances of installing and using them correctly.
The newly developed crash test is designed to provide a more realistic carlike environment and is conducted at a higher test speed. This test is intended to differentiate those seats that could provide a higher margin of safety in crashes similar to those simulated by our tests.
Each of these seats includes technologies and features that help to reduce the motion or crash forces transferred to a baby's head—the most vulnerable spot. But we recognize that high levels of performance in real crashes are also influenced by how well the seat is secured to the vehicle and the child to the seat. The seats below performed well in those areas, as well.
More From Consumer Reports
Rear-facing-only seats, commonly known as infant seats, are typically the first seat for most parents. They not only provide the best fit for newborns, but the infant seats offer the convenience of a detachable carrier for toting little ones around. Each has a base that gets installed in a vehicle and remains when the carrier gets taken out. Some, but not all, can also be installed using the carrier only, but our technicians often find that results in a less secure installation.
Each of the seats featured below achieves its higher overall scores through their performance in each of our tests. Full details and ratings can be found on their individual model pages.
These two versions of the Chicco KeyFit seats were our top-rated seats prior to the new crash test, and they remain in the top position based on their high level of performance in that new assessment. Packed with features that make them one of the easiest seats to install using either the vehicle's LATCH system or the safety belts, these KeyFit seats increase the odds of parents getting a secure fit. The handy single-pull LATCH tightening operation and ease with how the carriers click into the bases set the KeyFit seats apart from the competition. Though similar in design, the KeyFit 30 allows use to a higher weight over the Keyfit, which can be a safety benefit for larger babies. One caution is that based on growth charts and our own experience, kids are more likely to outgrow the seat due to their height before they reach the 30 lb. weight limit.
The Combi Shuttle offers a good level of crash protection and has easy installation using either the vehicle belts or LATCH. This seat has a 35 lb. weight maximum and a closely matched 33-inch height limit, meaning you are likely to be able to keep your child here longer before having to move to a rear-facing convertible model. One caution, this seat has a lower weight capacity of 22 lbs. when used without the base.
A new seat with a premium price, the Cybex Aton 2 performed better than any of the models in our new crash performance test. This seat has a feature called a Load Leg that extends to the vehicle floor to reduce the rotation of the seat in a crash. New to seats in the U.S. market, the load leg is a common feature on seats in Europe. The Aton also has a tensioning feature that can help to get a very secure installation when it is installed using LATCH. But the tensioning plate feature is best suited to LATCH and can actually make installations using the vehicle safety belts more difficult in some cases. While clever, the load leg may prevent installation in some center seat positions where the floor is high, such as over a center tunnel.
The Safety 1st onBoard 35 Air is another seat that scored well prior to our new test and continues to score well based on its high level of performance in the new test. This seat gives you a good chance of getting a secure installation using LATCH or the vehicle belts, and it offers a higher weight limit of 35 lbs. Though not a feature we currently rate, this seat also has pillowlike features on the sides of the carrier intended to provide additional head protection in side impacts.
Another new and more expensive seat, the Uppa Baby Mesa not only makes installation simpler with simple instructions and LATCH connectors that automatically retract to tighten, but it also has an indicator that lets you know when that installation is tight enough. Those features are best suited to LATCH and are a bit more challenging for vehicle belt installations. Combined with a very good performance in our new crash test, this new seat is one to consider.
If you're looking for seats at a slightly lower price, but that still perform well overall, consider some of our "Best Buys," including the Safety 1st Comfy Carry Elite Plus and the Graco SnugRide 30 Classic Connect, among others. (See our complete Ratings and test results.)

Your babies are your most precious cargo. Even though all child seats provide protection in a vehicle crash, some do it better than others. Choosing one of our best performing models increases the potential for your child to be best protected and your odds of getting the seat installed safely and correctly. To learn more about the various types of car seats and for advice on which one to choose, see our car seat buying guide. Also learn how we test car seats.

—Jennifer Stockburger
Learn more about child car seats in the links below:
Car seat buying guide
Car seat ratings
How we test child car seats
5 ways to keep your infant safe in the car
See our videos to learn how to install an infant, convertible, or booster seat.
Copyright © 2005-2014 Consumers Union of U.S., Inc. No reproduction, in whole or in part, without written permission. Consumer Reports has no relationship with any advertisers on this site.