2018 Dodge Durango SRT is the muscle car of SUVs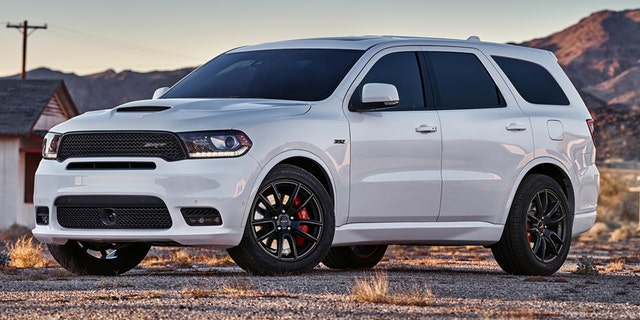 NEWYou can now listen to Fox News articles!
Dodge has built an SUV that can haul in every way imaginable.
The new 2018 Durango SRT is powered by a 475 hp 6.4-liter Hemi V8 shared with the Dodge Challenger. Like a muscle car, the all-wheel-drive Durango can accelerate from 0-60 mph in 4.4 sec. and run the quarter-mile in 12.9 sec.
With its widebody style, and a vented hood similar to the one used by the 707 hp Dodge Charger Hellcat, the Durango SRT is so hot that it comes with a voucher for a day at a Bob Bondurant driving school where you can learn to wring the most out of it. But this very sporty SUV still offers plenty of utility with an 8,600-pound tow rating that's highest among three-row SUVs and well into full-size pickup territory.
NO FREE RIDES -- DODGE DEMON WILL COME WITH JUST ONE SEAT
The Durango SRT also gets a set of high performance Brembo brakes to help keep the speed in check, a stiffer suspension with computer-controlled adaptive dampers to better blend ride comfort and handling, deep bucket seats (even in the back rows) to hold you in place in the turns, and a beefy T-bar shifter for its 8-speed automatic transmission because it just feels right.
A new digital instrument cluster includes a 180 mph speedometer, although Dodge has not yet confirmed the Durango SRT's top speed. The price hasn't been announced, either, but the similarly-powered Jeep Grand Cherokee SRT starts at around $68,000, so figure on the Durango SRT being in that range when it hits showrooms late this year.
----------
Return of the Shaker hood: