2017 presidential limousine spotted undergoing secret tests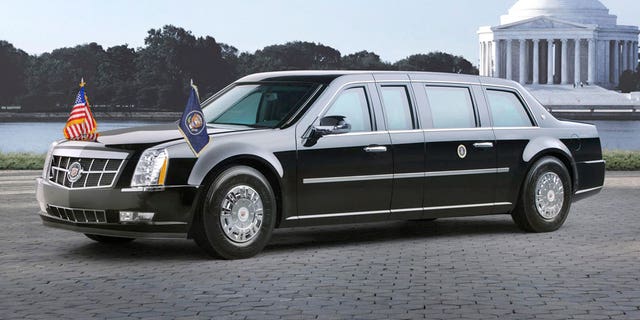 The 45th President of the United States will win not just the election, but also…a brand new car!
The Department of Homeland security began the process of commissioning a new presidential limousine in 2013, and now a camouflaged prototype of the next generation machine has been spied for the first time.
Although the current vehicle is designed to look like a Cadillac sedan, it is understood to be a heavily armored machine built on a medium duty diesel-powered truck chassis, but its detailed specifications remain a national secret. Nevertheless, President Obama told Jerry Seinfeld that it's "a Caddy, basically on a tank frame." Its nickname is "The Beast."
A General Motors spokesperson would not confirm to Fox News that the automaker is developing the new limousine, but the public record indicates that GM has been awarded three contracts for the project, and the vehicle seen in a spy photo published by Autoblog is dressed unmistakably like a Cadillac. It appears to be the same size and shape as Obama's car, while featuring the brand's latest grille and headlight design.
The U.S Secret Service reportedly maintains a fleet of 12 identical limousines that are used in Washington, D.C., and transported around the world to support the President's activities. The specific cost for each vehicle is undisclosed, but has been estimated to be $1-$1.5 million. So far, the total paid to GM for work on the 2017 model is $15,800,765.
It new car will likely make its public debut on Inauguration Day, January 20th, but don't expect to pick up one of the used ones at CarMax. Traditionally, retired Presidential State Cars, as they are officially known, are redeployed for use by other government officials, and one example often ends up at the library of the president associated with it.
----------