2017 Honda Civic Type-R sets Nurburgring lap record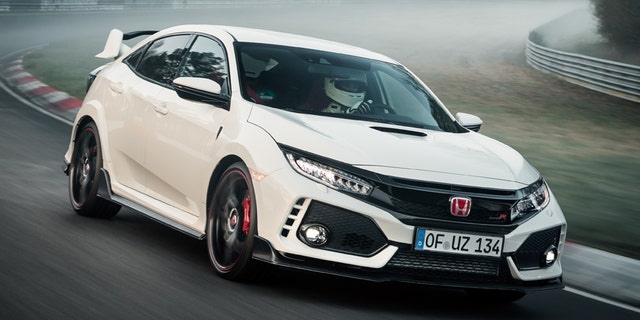 NEWYou can now listen to Fox News articles!
Honda's hottest hatchback is now a record holder.
The upcoming Civic Type-R has set the fastest-ever lap for a front-wheel-drive production car at Germany's Nurburgring Nordschleife race track, which is considered the benchmark for a overall performance.
According to Honda, the 306 hp Type-R lapped the 12.9-mile-long circuit in 7:43.8, beating a mark set by the European Volkswagen GTI Clubsport S by over three seconds. The lap was so quick that it put it in league with some impressive high performance cars on the all-time leaderboard, including the BMW M4, Lamborghini Murcielago and Mercedes-Benz SLS AMG. However, Honda still has a long way to go to match the performance car record of 6:52:01 held by the $275,000 Lamborghini Huracan Performante.
The winged five-door Type-R is expected to be priced in the $35,000-$40,000 range when it goes on sale this summer. Along with the herd of horses, the 2.0-liter turbocharged four-cylinder also sends 295 lb-ft of torque through a six-speed manual transmission. That makes it the most-powerful Honda-badged model ever offered in the United States, although it can't touch the 573 hp Acura NSX, which is sold as a Honda overseas and hasn't yet set an official Nurburgring time.
HONDA CIVIC TEST DRIVE: