2017 Ford F-Series Super Duty named Truck of Texas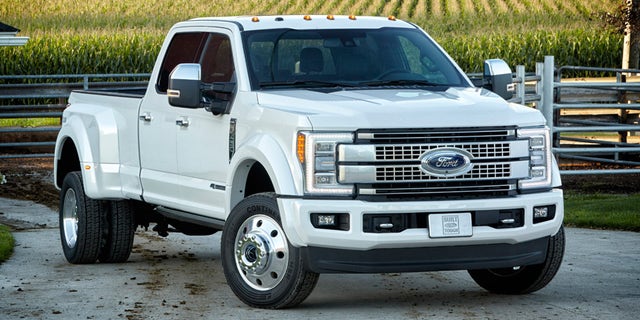 Texas has spoken.
At least its automotive journalists have, and they've chosen the 2017 F-Series Super Duty as this year's Truck of Texas.
The award carries great weight in the industry, as Texas accounts for one out of every five pickups sold in the United States.
The award is given annually at the Texas Auto Writers Association's Texas Truck Rodeo, where 70 jurors convened this year.
More trucks: GMC Sierra HD is ready to attack all terrain
The organization praised the "use of advanced materials, as well as improvements in powertrain and features" in the all-new truck, which for the first time features an all-aluminum body and offers best in class payload and tow ratings, a 360-degree camera system, trailer backup assist, adaptive cruise control, and a 440 hp/925 lb-ft 6.7-liter turbocharged six-cylinder diesel, among other features.
Winners were chosen in 23 categories, with Ford also taking the titles of truck line of Texas, best powertrain, and best heavy duty pickup, while Nissan hauled home five awards.
Here's the full list:
Truck of Texas: 2017 Ford Super Duty
SUV of Texas: 2017 Nissan Armada
Truck line of Texas: Ford Motor Co.
Heavy duty pickup truck: 2017 Ford Super Duty
Best commercial vehicle: 2017 Nissan Titan XD Single Cab
Luxury pickup truck: 2017 RAM 1500
Off-road pickup: 2017 RAM 2500 Power Wagon
Full-size pickup: 2017 Nissan Titan
Midsize pickup: 2017 Toyota Tacoma TRD Pro
Best technology: Honda In-bed audio system
Best connectivity: FCA Uconnect Access
Best powertrain: 2017 Ford F-150 with 3.5 EcoBoost V-6 engine
Off-road utility vehicle: 2017 Jeep Wrangler Rubicon
Full-size luxury SUV: 2017 Mercedes-Benz GLS
Mid-size luxury SUV: 2017 Jaguar F-Pace
Full-size SUV: 2017 Nissan Armada
Mid-size SUV: 2017 Jeep Grand Cherokee
Compact SUV: 2017 Jeep Cherokee
Full-size CUV: 2016 Mazda CX-9
Mid-size CUV: 2016 Nissan Murano
Compact CUV: 2016 Jeep Renegade
Luxury CUV: 2017 Volvo XC90