2016 Volvo XC90 Test Drive
I have good news, upper middle class suburbia: Your long nightmare is over.
After 13 seemingly endless years, you can finally buy a new Volvo XC90.
Not "new" as in "fresh from the factory." I'm talking all-new. Completely different from the one, or probably three or four by now, that you've been shuttling the kids around in since the model hit the road in 2002.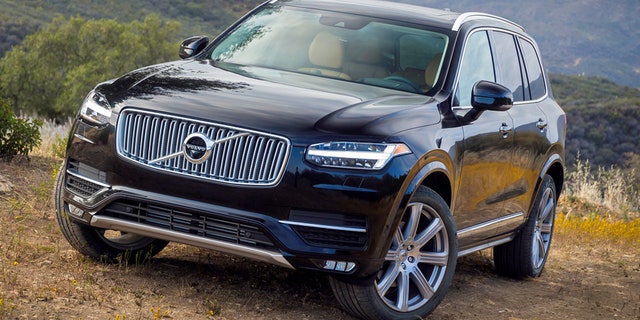 That's right. If you picked up the original when your child started kindergarten, and another just before her high school graduation, you pretty much got the same car. But now, flush with cash from its new owner, Chinese automaker Geely, Volvo has fully redesigned the XC90. And, yes, the faithful have been rewarded.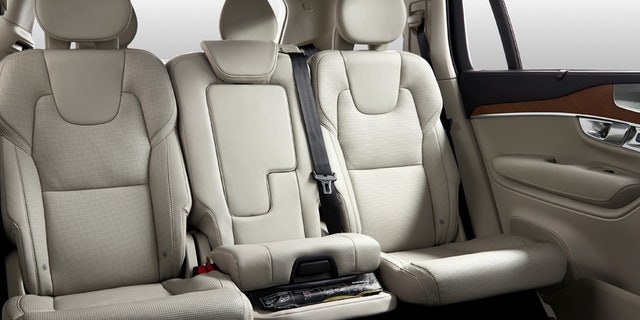 It's the same formula as the old XC90, a midsize crossover with three rows of seats, with the third reserved for children and petite folks. It still has a built-in booster, but instead of two in the outboard second row seats as in the XC70, there's just one located in the hump, which can be slid forward to facilitate parenting from the front passenger seat.
Look the other way and, aside from a whiff of Scandinavian simplicity, you'd never guess you were in a Volvo. Instead of acres of dull plastic, the dashboard is dressed in some really sweet leather and textured walnut trim.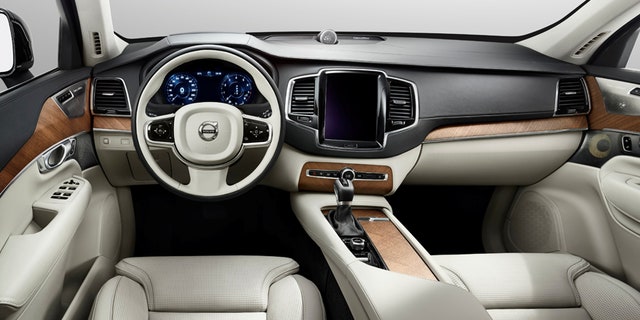 The driver gets a digital instrument cluster with a choice of skins, and there's an available head-up display that projects onto the windshield. The XC90 also comes standard with a tablet-style touch screen. Volvo has offered some of the worst infotainment system interfaces in recent years, including one that came with a ridiculous remote control, but this one leapfrogs the competition. When you tap or swipe the screen, it reacts instantly, better even than my iPad after that last iOS update. Better still, it works with gloves, because it gets pretty cold back home in Gothenberg, and in Westchester, too.
There's still a redundant knob for volume, and a couple of buttons for choosing channels, the window defrosters and the hazard lights, but the screen handles pretty much everything else, including the electronic driver aids. And you know there are plenty of those.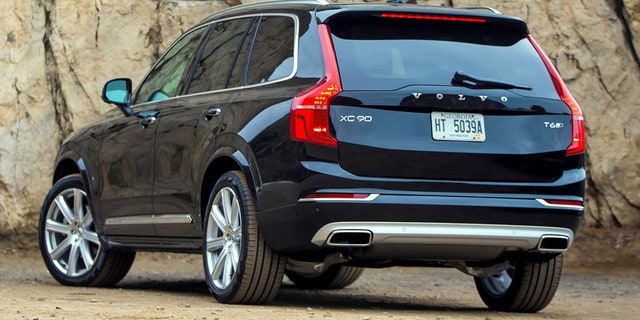 The XC90 offers all the standard luxury fare, like adaptive cruise control, a self-steering lane departure prevention system that gives you a solid 20 seconds of hands-free driving on the highway before you need to take the wheel, and a self-parking feature that'll get into and out of parallel and perpendicular spots. In slow-and-go traffic jams, it'll just take over and drive, although it's not all that smooth when it does.
But you didn't stick with Volvo all these years just because you're lazy. It's because you believe Volvo builds the safest cars on the road. The XC90 makes the strongest case yet to back this up. It can detect pedestrians, cyclists and cars in front of it and slam on the brakes to avoid crashing into them. It'll also do this if you're making a left turn at an intersection and fail to notice an oncoming car that isn't interested in yielding for you.
About to get rear-ended? Yeah, it's got eyes in the back of its head. It will cinch up the seatbelts and engage the brakes to brace for impact. If you manage to drive it off the road and into a ditch, its seats were designed to absorb vertical impacts to help prevent spinal injuries when you all come tumbling down.
Of course, you need to be moving for any of that to happen, and the XC90 does that with authority. It's powered by a 2.0-liter 4-cylinder engine that's both turbocharged and supercharged. Rated at 316 hp and 295 lb-ft of torque, it's more potent than all of the six- and eight-cylinder engines that preceded it over the years. And it has a unique, very mechanical sound with plenty of grunt to go with it.
It's also over 20 percent more fuel-efficient than the last six-cylinder, at 22 mpg combined, assisted by its 8-speed automatic transmission and idle-stop feature. That's right there with the class-leading Acura MDX and Infiniti QX60 with all-wheel-drive, which is the only way the XC90 is available.
You can also get it with an air suspension system, which I had in my top of the line Inscription trim level test car. It adjusts the height and stiffness of the ride, which never gets too starchy. Buttons in the cargo area let you raise and lower the car when it's parked to make it easier to reach in.
Even though it's several hundred pounds lighter than the previous edition, everything about the XC90 has that hefty premium feel you expect from something with a starting price of $49,895.
It definitely holds its own against the competitors in that range. The only things that need work are the distorted fun-house view from the 360-degree camera system and the fact that the XC90 has just one USB port, which will be very busy when the Apple CarPlay and Android Auto smartphone integration programs are uploaded to it later this year.
Hey, you've waited this long. A couple more months won't hurt.
----------
2016 Volvo XC90 Inscription
Base price: $49,895
As tested: $66,705
Type: 7-passenger, 4-door crossover
Engine: 2.0-liter supercharged and turbocharged 4-cylinder
Power: 316 hp, 295 lb-ft torque
Transmission: 8-speed automatic
MPG: 20 city/25 hwy