2016 Toyota Tacoma Test Drive
The Toyota Tacoma has been the king of small pickups for over a decade. Its dominance of the segment is so strong that the Detroit Three abandoned it several years ago, retreating to their full-size-truck panic rooms.
But a counterattack is underway. Last year, General Motors launched all-new Chevrolet Colorado and GMC Canyon models, and now it can't build enough of them. GM sold 115,000 of the pair and expects that number to grow as it increases supply in 2016. Rumor has it that Ford wants in on the action, too, and will soon be bringing back the Ranger.
So far, this has meant little to Toyota. Even with the new competition, Tacoma sales were up 15 percent to 180,000 in 2015, the better part of it served by a reliable truck that hadn't seen a major update since 2005. That changed a couple of months ago when the 2016 Tacoma was released. It's not all-new like the GM twins, but it gets some significant changes to help fend off the coming assault.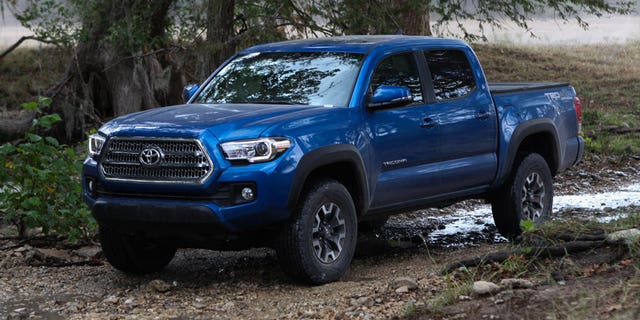 Notably, the emperor has new clothes, inside and out. The body is chunkier, and the cabin has been rebooted with a more modern look, Toyota's latest touchscreen infotainment system and a Qi-compatible wireless charging pad. It's all packed in there well, along with 14 cup and bottle holders, which is pretty impressive since the Tacoma is still very much a small truck, and more snug than the GMs. There's more hip room than before, but it's still tight for legs and heads, and the basic four-way adjustable front seats feel skimpy.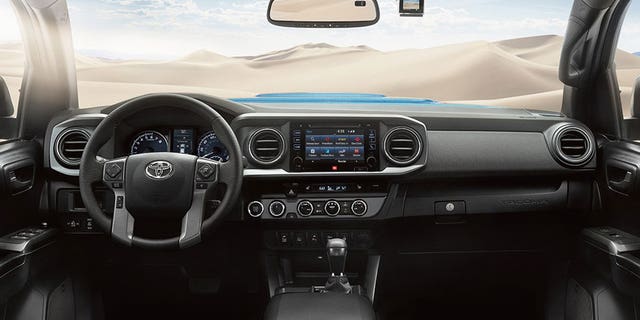 Multiple Access Cab and Double Cab models are available across five trim levels, ranging from the SR for $24,200 to the Limited at $38,720. But the $34,630 TRD Off-Road 4x4 is the fun one, so that's what I tested, of course.
The Tacoma's base engine is its tried and true 2.7-liter four-cylinder, but the TRD Off-Road comes only with a new V6. The 3.5-liter is a relatively high-tech effort that's both port- and fuel-injected and switches between the conventional Otto combustion cycle and the more efficient Atkinson cycle often used by hybrids, which trades torque for fuel economy when you're just cruising along.
Rated at 278 hp, the engine is 42 hp more potent than the 4.0-liter V6 it replaces, and it sips about 10 percent less fuel at 20 mpg combined, with some credit going to the new 6-speed manual and automatic transmissions. The auto spends a lot of time hunting for its overdrive 5th and 6th gears, but shifting it to Sport mode effectively locks them out, which comes in handy in the hills.
All of the new Tacomas have stronger frames and retuned suspensions, but their designs are so similar to the old ones that I hear you can swap over your old lift kit. With 9.4 inches of ground clearance and a 32-degree approach angle on the TRD Off-Road, you might not need it. It's also endowed with a beefier rear axle, a unique set of Bilstein shocks, Kevlar-reinforced tires on 16-inch wheels and plenty of underbody protection to keep the important bits safe from scrapes.
There are two-wheel-drive versions of the TRD Off-Road, and that's all I'll say about that. The 4x4s come with a two-speed transfer case and a rear differential that can be locked when it's in 4x4 Low mode and is limited slip the rest of the time.
On the road … well, it rides like an off-roader, as my passengers made quite clear. But it is quieter than the old Tacoma, and I think the big body motions dial up the fun. At least they keep things interesting on otherwise dull highway drives. In its element, the cushy shocks and articulation pay off in big ways.
It took my favorite rocky ridge road with more speed than most trucks can handle, and it walked over the big stuff practically by itself. That's because automatic transmission-equipped trucks are fitted with a CRAWL control system that's ported over from the Toyota 4Runner SUV and enhanced. It lets you set a speed from 1-5 mph and goes on its merry way while you just worry about steering. It moves in little steps as it slips and grips, searching for purchase, and always finding it. (It's disabled if you open the door, so don't get any mischievous ideas like I did about jumping out and waving goodbye.)
Combined with a Multi-Terrain Select system that optimizes the traction control for different surfaces, it's as unstoppable as a little truck can be. The system is even programmed to rock the tires back and forth to dig itself out of deep sand. I've seen it in action, and it's like having a virtual winch.
If you check the box for the tow package, the TRD Off-Road 4x4 can lug up to 6,400 pounds, while other versions max out at 6,800 pounds. The top payload rating for the composite bed, available in 5- and 6-foot varieties, is 1,620 pounds. It's accessed via a removable, damped tailgate, and it has tie-down cleats, a couple of small storage cubbies built into the sides and a 120-volt outlet.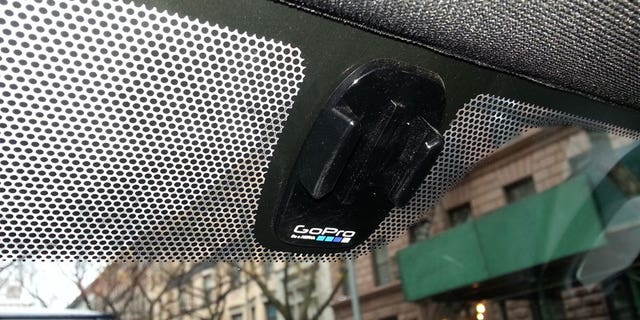 One other feature meant to amp up the youthful appeal is a GoPro mount on the windshield. Sadly, it's exactly that: the same stick-on mount you get with the camera. Neat, but I can't imagine it being the deciding factor in any purchases.
That may not be an issue. Based on those sales figures, two things are clear. The small pickup segment is underserved, and Tacoma fans aren't too interested in cross-shopping the GM pickups, as good as they are.
But, as any off-roader knows, momentum is key to getting through the though spots. The Tacoma has plenty of that behind it, and the updates should keep it going for now.
----------
2016 Toyota Tacoma TRD Off-Road 4x4
Base price: $34,630
As tested: $37,610
Type: 4-door, 5-passenger pickup
Engine: 3.5-liter V6
Power: 278 hp, 265 lb-ft torque
Transmission: 6-speed automatic
MPG: 18 city/23 hwy