2016 Toyota Prius Test Drive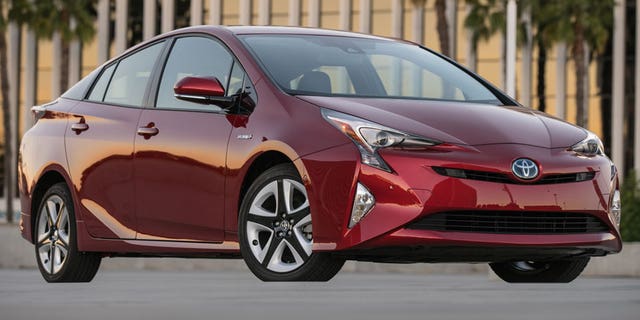 Admit it, Prius lover, you don't really like your car.
Oh, the efficiency is incredible, and it comes in a practical package. But everything else? It leaves a lot to be desired. Things like refinement, comfort and plastics that that don't look and feel like you brought them home from a Tupperware party.
Well, now you can have all that and more! And in some cases less!
If you trade yours for the 2016 Prius, that is.
Toyota's new Prius is truly that. Built on a modular platform that will underpin many Toyotas of all shapes and sizes in the years to come, it transforms the Prius entirely. It trims the metallic fat, allowing Toyota to replace some of it with sound-insulating pads and laminated glass, and, for the first time, it brings a fully independent suspension to the model.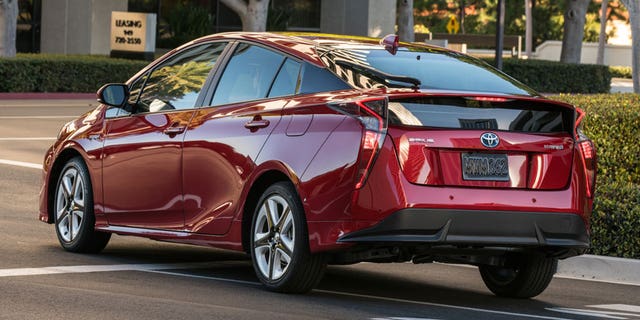 It's still a unique-looking enviro-pod, so don't worry about blending in. The body was crafted to breeze through the air with as little resistance as possible, and the shape of every arch and crease and jagged edge, including its frightened "Joker" face, serves this end.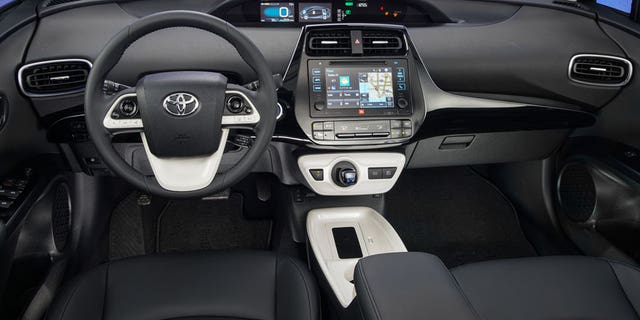 Inside, it's even more of a revelation. The centrally mounted instrument cluster and Prius' signature joystick gear selector are still there, but everything else has changed. The microwave oven-grade gauge graphics have been replaced by lush, colorful displays; the top of the dashboard is as soft as a MyPillow; the central command center looks like something George Takei should be sitting in front of; and glossy, white plastic trim adds a retro touch in an Apple-circa-2001 sort of way. Because if you're buying a Prius, you're likely in your 40s at least, so you think that's cool.
The hybrid powertrain has the same layout as before – 1.8-liter gas engine, two electric motors, battery pack – but they've all been shrunk. It's lost a few horsepower in the process -- down a baker's dozen to 121 hp -- but its fuel economy has increased a little. Or a lot. Take your pick.
Five of the Prius' six trim levels, which start at $25,050, have an EPA rating of 52 mpg combined, up from the previous model's 50 mpg. This includes the base Prius Two, which has a bulky, old-tech nickel-metal-hydride battery pack, and the top-of-the-line, $33,632 Prius Four Touring that I tested, which uses the more modern and compact lithium-ion type.
But there's a Prius Two ECO available for $25,535 that gets the lithium-ion battery, a set of ultra-low rolling resistance tires (but not a spare) and a few other tweaks that help it wring out 56 mpg combined. That's the highest for any car without a plug. Ever.
Either way, at today's gas prices, you can practically drive the Prius for free. I took a round trip in it between New York and Philly and spent about eight bucks at the pump. That extra 4 mpg wouldn't have made much of a difference, except maybe to the ice caps.
Thanks to the new battery and suspension designs, the cargo area is larger than before. The rear cabin feels a smidge tighter, but it's still very roomy, and the giant windows give the entire car an airy feel. They also block infrared light to keep the car from heating up in the sun. The old Prius used a solar-powered fan to do that, at great, gimmicky expense.
The view through the glass passes by without much of a soundtrack. Wind, road and engine noise -- all necessary evils of previous Priuses -- have finally been rooted out. The ride is so good now that you might actually want to go out of your way to find a nice vista.
And don't worry about getting too distracted. You can get the Prius with pedestrian-detecting automatic braking, lane departure prevention, and adaptive cruise control systems.
Compromises? Shortcomings? Aside from there being just one measly USB port (plus a wireless smartphone charging pad on Prius Three and above,) and Toyota's refusal to adopt Apple CarPlay or Android Auto, there really aren't any.
Even if you didn't love the old Prius, I think you'll like this one. Those who did will be over the moon.
----------
2016 Toyota Prius
Base price: $25,050
As tested: $33,632
Type: 5-passenger, 4-door hatchback
Drivetrain: 1.8-liter four-cylinder and permanent magnet synchronous motor
Power: 121 hp, 105 lb-ft
Transmission: CVT Automatic
MPG: 54 city/50 hwy