2016 Nissan Titan XD Test Drive
The Titan XD is a big truck that Nissan hopes will fit into a small market niche that it's either discovered … or is trying to create.
The idea is that there are people out there who like to tow things, but are too fancy for a typical heavy-duty pickup. So Nissan set out to deliver a truck that combines the creature comforts of a light-duty with the capabilities of a heavy-duty.
Think of it as a half-ton, and then some. They really should've called it the Tween Titan.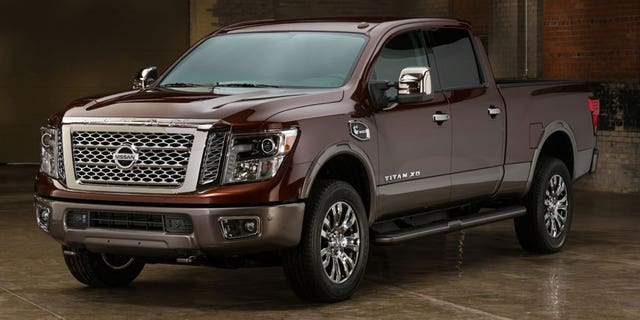 The Titan XD has the cab from the upcoming, all-new, light-duty Titan, but it rides on a fully boxed and updated version of the frame from the heavy-duty Nissan NV2500 HD. You know, that gigantic delivery van with the big nose?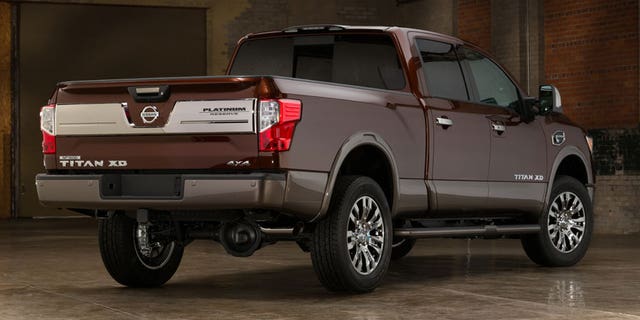 For now, it's available only as a Crew Cab with a 6.5-foot bed that stretches over 20-feet long and weighs almost 7,000 pounds, but other configurations will follow. Starting prices range from $41,485 to $61,715. Good luck finding any of the cheap ones.
Nissan is launching the new truck from the top down as it slowly ramps up production, building the pricier versions first, including the Platinum Reserve 4x4 that I tried out.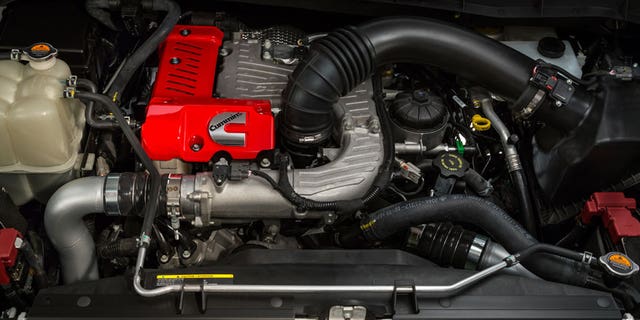 Befitting something that sounds like it was named after a fine Tennessee whiskey, the Platinum Reserve comes with open pore wood trim and leather upholstery, and it's as inviting as any large pickup out there today. It may not have massaging front seats like the Ford F-150, but neither do the others, and it's plenty nice without them.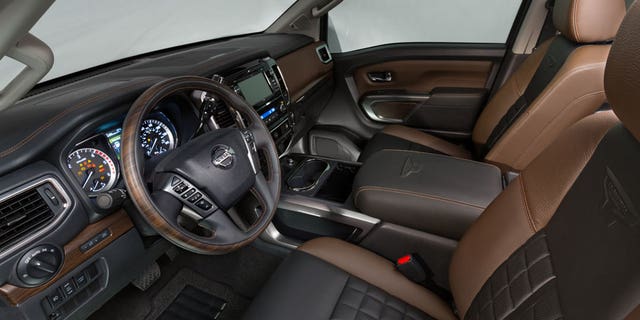 Under the hood, which bulges out of necessity, there's a 5.0-liter turbodiesel V8 with 310 hp and 555 lb-ft of torque that's designed by Cummins to outmuscle competitors' gasoline engines and give the Titan XD instant big rig cred. (A gasoline V8 will be offered later in the year.)
Its maximum tow rating of 12,314 pounds comes in on the low end of the three-quarter-ton pickup scale, but above all of the half-tons. Just. General Motors' current 1500 lineup tops out at 12,000 pounds, while the Ford F-150 can be configured to pull 12,200. The difference, according to the pro pullers at PickupTrucks.com who tested all of them extensively, is that when you're towing near those limits, the Titan XD is more relaxed and efficient.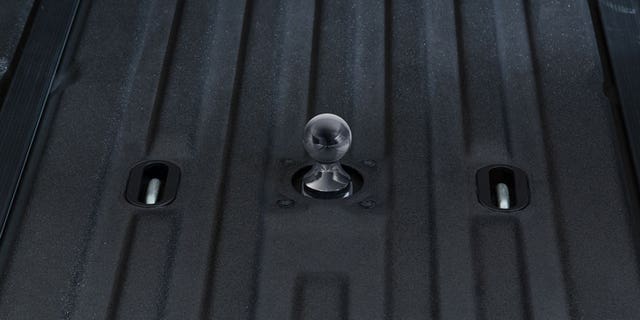 Its 2,091-pound maximum payload rating is less impressive, which may explain the marketing focus on towing. To help drive this point home, high-end models come from the factory with a removable ball hitch mounted in the bed for a gooseneck trailer, so get the horses, yacht or vintage race car ready to roll.
Since it's such a heavy truck, the EPA doesn't give it a fuel economy rating, and Nissan doesn't pitch it as an efficiency champ like the much less potent 29 mpg Ram 1500 EcoDiesel. But I had no problem getting 20 mpg or more on the highway when it was empty. Unlike a lot of modern diesels, the Cummins makes a proud clatter when it's idling or prodded, but it does hush up when you're cruising along and moves the Titan XD with ease.
Ease is what this truck is all about. Despite its sturdy bones, the ride quality isn't harsh, and body roll is well controlled. Its industrial-strength recirculating-ball steering does require a relatively strong arm at parking speeds, where the optional 360-degree bird's eye view camera comes in handy, but it has variable assist and is as light as a 1970s Cadillac's over 20 mph.
Overall, the Titan XD is exactly what Nissan set out to create: a cushy and capable tow rig. Given the old Titan's recently dismal sales (just 12,140 in 2015), doing something different is a smart way to start rebuilding the brand, and I encountered many interested parties during my time with it. According to Nissan's truck boss, Fred Diaz, about a third of Titan XD buyers have been conquests from other makes, so it seems like Nissan had a good idea.
Unfortunately, it isn't the only one that thought of it.
Ford will follow a similar formula with the new 2017 F-250 this fall. It'll use the F-150's cabin and come loaded with technology that includes a trailer backup guidance system, and, yes, those massaging seats. So some serious competition is right around the corner.
Nissan may have built a relaxing truck, but that doesn't mean it can chill.
----------
2016 Nissan Titan XD
Base price: $41,485
As tested: $61,795
Type: 5-passenger, 4-door, 4x4 pickup
Engine: 5.0-liter turbodiesel V8
Power: 310 hp, 555 lb-ft torque
Transmission: 6-speed automatic
MPG: na