2016 Jaguar XF Test Drive
Jaguars have always been many things.
Sexy. Sophisticated. Swift.
But economy cars?
Well, let's just say times have changed.
OK, so the 2016 Jaguar XF isn't exactly a steal. But, at $52,895, it's less expensive than any comparable European sedan, as well as the Cadillac CTS. And this isn't some ancient model that Jaguar is trying to squeeze a couple of extra years out of. It's the first all-new XF since Ford sold the company in 2009, and it's a very modern machine.
The XF is largely constructed from aluminum, and at just 3,770 pounds it isn't just the lightest car in the luxury midsize sport sedan class, it tips the scales more like a compact. Its standard engine is a supercharged 3.0-liter V6 that's good for 340 hp and 30 mpg on the highway, a combination that can't be beat – unless you get the top-of-the-line XF S, like my test car, which delivers 380 hp with the same fuel economy. Magic.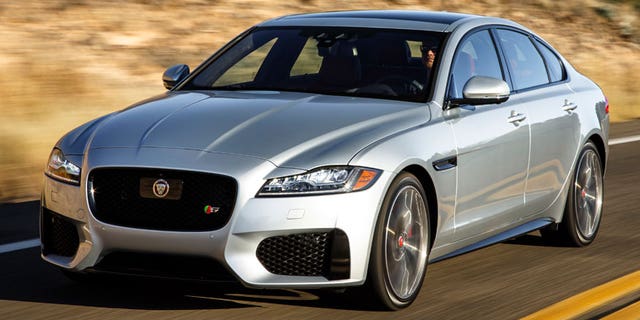 Jaguar hasn't hired discount designers, either. Though there's nothing outrageous about the XF's style, its dreamy face and muscular elegance are as red carpet worthy as Chris Hemsworth playing Thor while wearing a tuxedo. As I drove it through Manhattan, eyes were constantly picking it out of traffic, and heads were turning like the possessed. There may even have been some drool.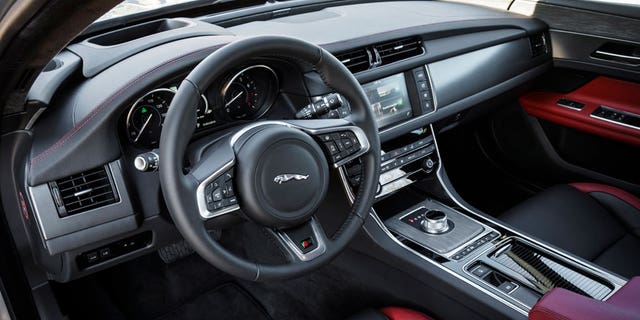 The XF's interior is similarly restrained and equally successful. The only flourishes are hidden air vents that open when you turn on the fan, a little theater that dazzles first-time passengers and never really gets old.
At first glance, it's hard to spot where any cost-cutting took place. There is a fair amount of plastic scattered around, and perhaps the leather isn't as buttery as it could be, but everything looks good and really doesn't disappoint at this price.
The new XF is pretty much the same size as the one it replaces, but it has a longer wheelbase that provides a very welcome increase in rear legroom. Unfortunately, when it comes to the back doors, fashion has won out over form. It's a tight squeeze getting through them. Remember to let grandma ride shotgun.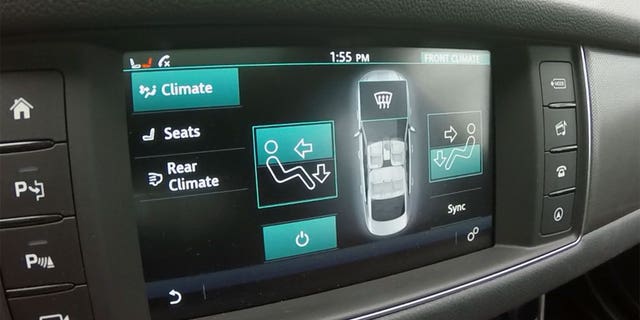 Four-zone temperature control isn't a breakthrough feature, but the driver and front passenger can also choose individually whether to have the air blow into their faces, at their legs, or nowhere at all. This could save marriages.
Since it's brand new and a luxury car, the XF is available with all the blind spot-monitoring, lane departure-mitigating, radar cruise-controlling features you expect these days. But since it's a Jaguar, you shouldn't care about any of that.
The XF isn't blisteringly fast, but it is fleet, and boy does it know its way around a curve. A perfect 50/50 weight distribution helps here, as does the XF S's adaptive suspension system, which is nothing short of miraculous in the way it provides pitch and roll perfect handling along with a comfortable ride.
The engine growls when it's angry, but not as loudly as some other Jags'. When you're taking it easy the car is so quiet that you might as well be in outer space. Combined with the unruffled ride, it becomes very easy to lose track of your speed. To that end, Jaguar provides a limiter that you can set to a speed that it only lets you break if you push the pedal all the way to the metal. It can also monitor the road signs and adjust the speed of the car to the prevailing limit for you, but I couldn't figure out how to get it to work, even after reading the manual. Maybe I was distracted by the 360-degree camera system that doesn't automatically turn off when you're going faster than a walking pace, as every other automaker's does, but shouldn't, because it's cool.
Jaguar is a sister company to Land Rover, and the XF is available with all-wheel-drive. But even without it, the XF has an SUV-like trick for getting up slippery slopes. The very impressive-sounding All Surface Progress Control is an electronic crawling feature that can hold any speed from 2-19 mph as the traction control goes to work. You just take your feet off the pedals and steer the car toward your hilltop ski chalet.
Of course, if you own one of those, you're probably in the market for an actual SUV. Thinking about it, based on sales, everyone wants one of those these days, while "cars" are a dying breed. This is likely the reason for Jaguar's recent shift to value pricing on its sedans and coupes, not just the XF, while it readies its first SUV, the upcoming F-Pace.
It's a shame, because cars are good. And this one would be even if it weren't so cheap. I suggest you get one while they're not hot.
----------
2016 Jaguar XF
Base price: $52,895
As tested: $74,655
Type: 4-door, 5-passenger, rear-wheel-drive sedan
Engine: Supercharged 3.0-liter V6
Power: 380 hp, 339 lb-ft
Transmission: 8-speed automatic
MPG: 20 city/30 hwy