2016 Honda Civic Test Drive
Shopping for a compact sedan? Begin your search at a Honda dealer. If you get lazy and stop there, don't worry. You're good.
The all-new 2016 Civic has raised the bar to new heights and turned every other car in the segment into an afterthought. It won the North American Car of the Year award, and while that can be a dubious honor (the Saturn Aura and Chrysler PT Cruiser are among the previous winners), in this case it was well-deserved. This Civic is so excellent, I can't imagine how the marketing folks at the other automakers are going to deal with it.
"No, our car isn't as good as the Civic, but do you really deserve nice things?"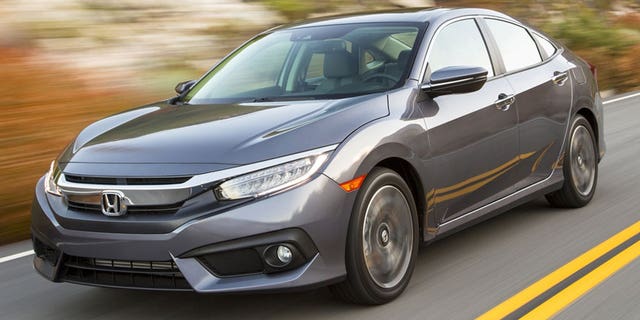 In the 44 years that the Civic has existed, none has looked as sharp as this sweet '16. The low, fastback roofline gives it a sleek, upscale style, and the interior is as premium quality as any other car for the price, which starts at $19,475.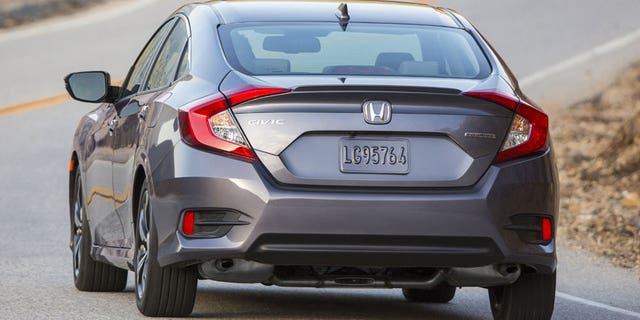 It's also the largest Civic ever, and the most technologically advanced. This may be Honda's most affordable sedan, but you can get it with all the autonomous safety features the company has in its arsenal, and that includes Acura.
It can help steer between the lines, as long as they're well-marked, and it does that well. It will brake before you hit another car or a wayward pedestrian. If you don't notice that you're driving off the road, it intervenes and does its best to keep it from happening. In light of all the above, the adaptive cruise control system and passenger side blind spot camera seem almost mundane.
But while all those features make this like no Civic before, it's what's under the hood that's truly different.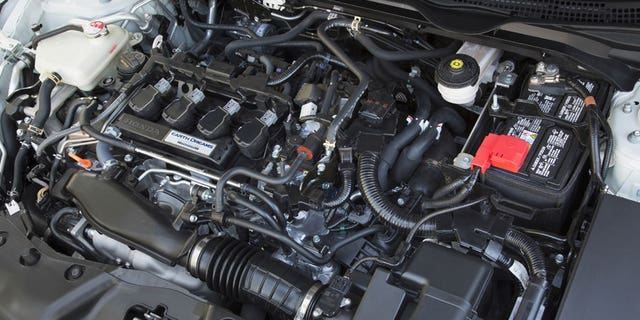 The standard engine is a new 2.0-liter 4-cylinder with a healthy 158 hp, but the Civic is also available with a 174 hp 1.5-liter 4-cylinder turbo, which means it's the first turbocharged Honda ever sold in America.
There once was an Acura with a turbo, the 2012-2013 RDX, but it was inefficient and unloved, and it was quickly replaced with a naturally-aspirated V6. Turbos have a reputation for delivering excellent fuel economy on paper, but not in actual use. Honda's naturally-aspirated engines, however, are notorious overachievers.
This was on my mind as I set off in a midlevel Civic EX-T, the lowest-priced turbo model at $23,035. The EPA says it gets 42 mpg on the highway. Mated to a shiftless CVT automatic, it has a nice punch when you gun it, especially when in Sport mode, and it fills the otherwise silent cabin with a smooth thrum.
After a long ride, with four aboard and mostly above 70 mph, I toggled to the fuel economy display in the digital instrument cluster – a neat, single binnacle, rather than the infuriating double-decker design used in recent Civics – and learned that I had gotten 45 mpg. This was repeated on several more trips.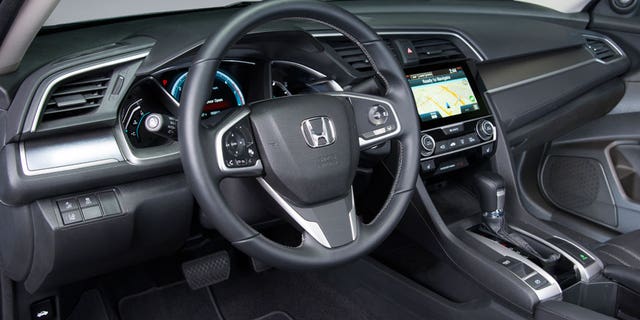 It's little wonder Honda hasn't bothered to make a new hybrid version of the Civic. The combined fuel economy is an equally impressive 35 mpg. Granted, the 2.0-liter model with the CVT returns similar numbers, but the extra power that comes with the turbo is a worthwhile bonus. Unfortunately, if you like to do the shifting, a 6-speed manual transmission is available only with the 2.0-liter in the lowest trim level Civic, and it's not quite as efficient.
No matter what is propelling it, the Civic's ride and handling are so composed, it's almost as if the springs are digital. Enter a turn and the car leans a little. Exit it and it leans back. There's virtually no rebound. It's the same story when you hit a bump.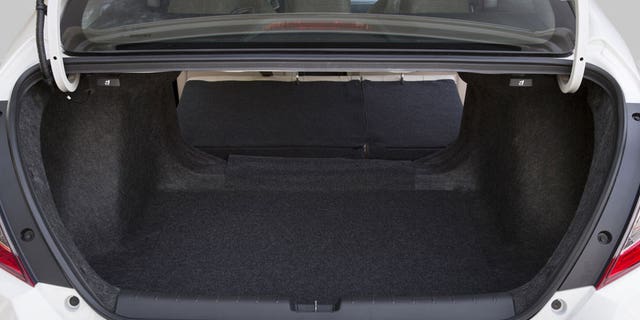 The trunk is huge and there's plenty of space in the back seat, though the Civic's archrival, the Toyota Corolla, does have more legroom. That and its bulletproof reputation are the only attributes the Corolla has going for it if you manage to drag yourself to the Toyota dealership to compare.
One thing keeping the Civic from perfection is the lack of volume and tuning knobs on its infotainment system, which is 100 percent touchscreen. But it does have Apple CarPlay and Android Auto, which let you operate some apps, including music and maps, on your smartphone via voice commands that actually work.
If you're the owner of a 2012 Civic, which was a disappointing, penny-pinched blemish on the model's history, I understand if you think I'm going overboard with the accolades. But Honda learned its lesson and fixed all the issues with that car for the next model year, an it hasn't looked back since.
Clearly, it thinks you deserve nice things.
----------
2016 Honda Civic EX-T
Base price: $23,035
As tested: $24,035
Type: 5-passenger, 4-door sedan
Engine: 1.5-liter turbocharged 4-cylinder
Power: 174 hp, 162 lb-ft
Transmission: CVT automatic
MPG: 31 city/42 hwy