2016 Cadillac CT6 Test Drive
Cadillac doesn't need a flagship. It already has one: the Escalade.
It's the pride of the fleet. Few vehicles combine aspiration and profit better, and any automaker would love to have something half as successful in its showrooms.
But it's a truck, and Cadillac is a luxury brand with aspirations of its own that just can't get past feeling it needs a high-end sedan to compete on equal footing with the big boys. So say ahoy to the CT6.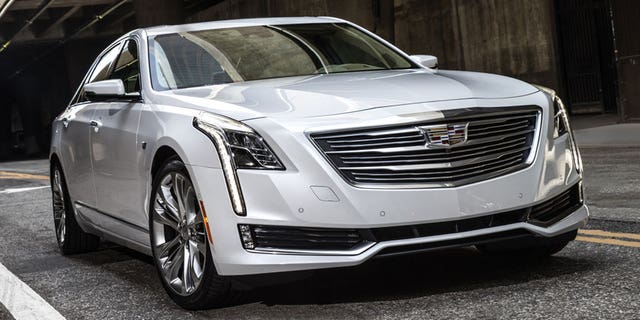 It's the largest Cadillac sedan since the DTS, and just a couple of inches shy of the long-wheelbase versions of the European imports. Its price is a lot smaller than the competition's, though. Starting at $54,490, you can get one for less than a Hyundai Equus.
That's for the entry-level model, with its 265 hp, 2.0-liter turbo 4-cylinder. That's not exactly oligarch-strength, so most buyers will likely opt to pay $2,000 more for the 335 hp 3.6-liter V6. There's also a 404 hp twin-turbocharged V6, the standard-of-the-world-bearer at $65,390.
Cadillac hasn't been known for value-pricing in the past few years, but that's about $10,000 shy of a Lexus LS with all-wheel-drive (standard on the 3.0TT CT6) and 30 grand below the cheapest Mercedes-Benz S-Class. In fact, you can pack a CT6 Platinum with every option and still come in under a base S550.
A short list of those features includes an active suspension system; rear-wheel-steering; a pedestrian-detecting night-vision camera; and reclining back seats with individual video screens and more legroom than the front row of a movie theater. Throw in its eye-catching, freshly-pressed style and it's a rolling showcase for the brand.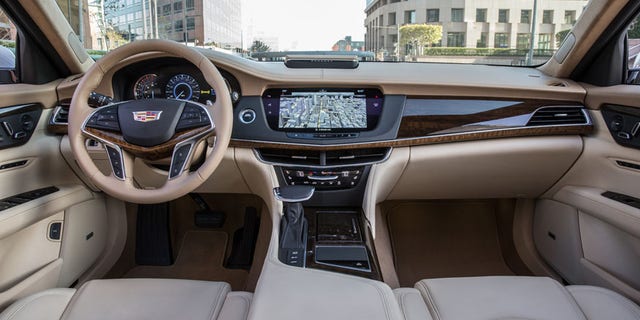 But if you look closely, you can see where they saved a couple of bucks. While the interior is modern, elegant and largely well-appointed, there's some exposed hard plastic; the headliner trim is no nicer than a Chevy's; and five-star bellhops will turn their noses up at the quality of the trunk carpeting, if that sort of thing matters to you.
The Premium Luxury model I tested came without the La-Z-Boys, but had just about everything else you'd desire for $81,840, including a 360-degree parking camera that can record the last 12 hours of your, or your parking attendant's, adventures.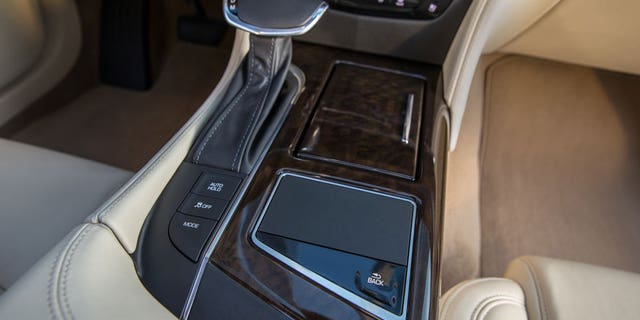 You should both enjoy them. Aside from slightly lumpy shifts between first and second gears, the CT6 is a cream puff. It's so quiet that a grumbly stomach embarrassed me until I turned on the 34-speaker Bose Panaray audio system, which I'm pretty sure is the best thing I've ever heard. The sound is so clean and immersive that it feels like it's inside you. Of course, for the $3,700 it costs, you can actually have things implanted inside you, but the results are equally impressive. The clumsy, console-mounted trackpad that you can use to control the infotainment system in lieu of the touchscreen is less so.
Cadillac is working on a nearly autonomous SuperCruise system, similar to Tesla's Autopilot, which keeps an eye on the road ahead and promises hands-free highway driving, but it won't be offered until next year at the earliest.
In the meantime, the CT6's top tech breakthrough looks the other way: An industry-first video rearview "mirror" lets you switch between a traditional reflective surface and a wide-angle video feed from the back of the car that's unobstructed by the faces of passengers. It can be useful, but it takes some getting used to.
I'm no ophthalmologist, but let me try to explain why. When you look in a regular rearview mirror, the focal point of the reflection of the car behind you is roughly the same as the one in front, so it's a smooth transition when you move your eyes between them. But switch to the video display and you have to focus on the surface of the screen, which means your eyes need a second to adjust when you look back and forth. It doesn't sound like much, but it's distracting. After a couple of tries, though, your eyes start to anticipate the difference and refocus as you move them, and all is well until you switch back.
You know what vehicle could use something like this? A big truck! Especially one with a cargo area full of Tumi luggage blocking your view. It's no surprise then that the Escalade is getting it next year, as the SUV continues its march upmarket, with word that a six-figure, tech-laden, ultra-luxurious version may also be in the works. Hey, whatever floats your boat.
Or tows it.
----------
2016 Cadillac CT6 3.0TT AWD
----------
Base price: $65,390
As tested: $81,840
Type: 5-passenger, 4-door sedan
Engine: 3.0-liter turbocharged V6
Power: 404 hp, 400 lb-ft
Transmission: 8-speed automatic
MPG: 18 city/26 hwy
This review has been updated from a previous version to include details on the 2017 Escalade feature set.