The Audi TT has been a style icon ever since it debuted at the turn of the last century with its pre-WWII, Bauhaus-inspired body, but it's taken a while to collect the substance to really back it up.
As good as the original looked, it was essentially a souped-up VW New Beetle in disguise, and it pretty much drove like one. Regardless, it was a sales success and a triumph of form over function.
That car was so fashion-forward that even aerodynamics took a backseat to its design. It was unstable at high speeds, and after several crashes in the hands of customers, Audi had to cave and add an unsightly spoiler to its perfectly curved posterior to keep it planted to the road.
Things changed some when the second-generation TT came around. Its shape was more modern than retro, and it came perched atop a fresh chassis more befitting of something that's supposed to be a sports car. Nevertheless, it had deployable spoiler that popped out only when necessary, preserving the TT's clean lines in the parking lot.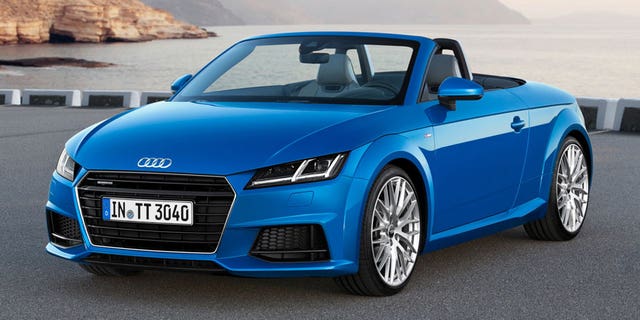 Now there's an all new TT for 2016, available as either a coupe or the roadster I tested. And while it's the sleekest, most sharply-dressed TT yet, you have to get under its skin to really appreciate it.
The TT is now built on VW Group's cutting-edge MQB modular platform, which also underpins the latest Audi A3. This is a good thing, as that sedan is one of the best compact cars on sale today.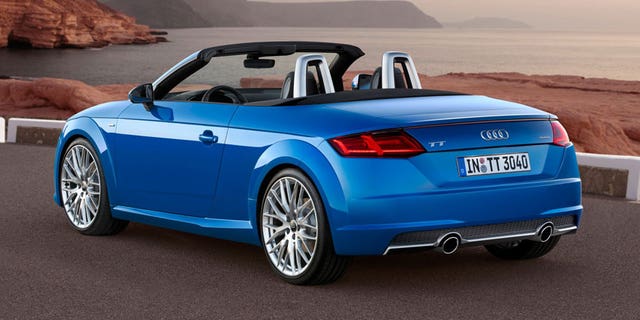 In the engine bay you'll find the A3's 2.0-liter turbocharged engine, which comes with Audi's quattro all-wheel-drive system standard, and snappy six-speed dual clutch automatic. A manual transmission is not available in the United States, and neither is the diesel engine that will be offered elsewhere. (Audi didn't plan on sending the diesel here, anyway, but don't hold your breath that it'll change its mind now.)
Despite its outward appearance, the TT is as roomy as two-seat convertibles get and feels even more spacious than it is. Perhaps that's because it's missing a few parts.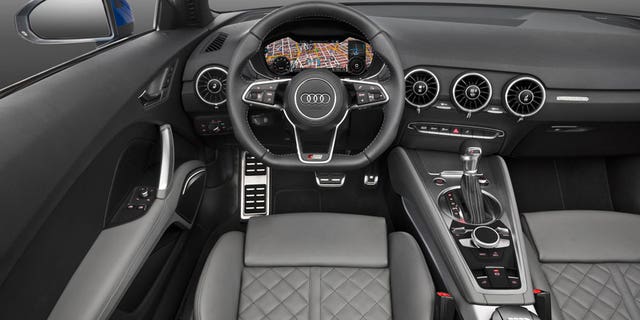 Well, they're not missing, just cleverly hidden. The climate controls? They're built into the centers of the circular vents. Meanwhile, the infotainment system is hidden in plain view. Instead of a centrally-mounted display, Audi has turned the instrument cluster in front of the driver into what it calls a Virtual Cockpit. The 12.3-inch wide screen can adjust the size of the gauges and what's between them to bring up various menus and maps.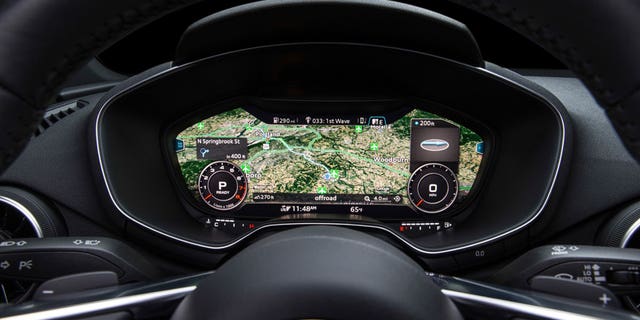 The navigation system is enabled with Google Earth imagery, which, when engaged, creates a spy car vibe. Though not as eyes-on-the-road as a head-up display projected onto the windshield, it does keep your head pointed forward, and isn't very distracting once the novelty wears off. And though the location of the screen appears at first glance to leave passengers out of the picture, it's big enough that they can easily see it and help you tune into Fox News Headlines on the move. (Shameless plug bonus achieved.)
The TT's engine is rated at a relatively modest 220 hp and 258 lb-ft of torque, but it feels much more potent than that. Launch control gets the turbo spooled up, and quattro makes for a quick getaway while providing all-weather traction – no doubt a top purchase consideration for convertible customers.
If it's not, several other features help make the TT's case as a top-down car for all seasons. The push of a button raises a wind blocker behind your head that reduces the amount of cold air tumbling into the cabin, and vents in the optional heated sport seats blow warm air over your shoulders, so you can leave the Thelma and Louise scarf at home. With a relatively large 9.9-cubic-foot trunk courtesy of the well-designed soft top, plus a pass-through between the seats for long items, California-style beach-to-mountain ski trips are absolutely feasible in the TT.
Even the heaved, gravelly access roads to the slopes are no problem for it. The new TT may be the sportiest one yet, but it has a substantial amount of wheel travel and bounds up bumpy mountain roads like an Alpine ibex. That's bounds, not bounces. The suspension is well-damped, and the body is a rock. The ride and handling are a testament to Audi's rally heritage, if not quite in the same league on smooth pavement as some of the drop-top sports cars it competes against, like the Porsche Boxster or BMW Z4.
But it really doesn't play in the same league as those. The TT is a more complete car, as one should be for a starting price of $47,325. As spendy as that sounds, it actually makes the TT the third most affordable 2-seat drop-top you can buy, behind the aged Nissan 370Z Roadster and new Mazda Miata.
Sure, you can get much of its goodness and even more practicality in the A3 for thirteen grand less, but if you love the TT's style, it's worth it.
----------
2016 Audi TT Roadster
Base price: $47,325
Type: 2-passenger, 2-door convertible
Engine: 2.0-liter turbocharged 4-cylinder
Power: 220 hp, 258 lb-ft torque
Transmission: 6-speed automatic
MPG: 22 city/31 hwy