2015 GMC Sierra 1500 Denali Test Drive
I never thought I'd say this, but the Chevrolet Corvette rides like a pickup. OK, OK, maybe it's the other way around.
The 2015 GMC Sierra 1500 Denali is the first pickup to feature GM's Magnetic Ride Control suspension, and it's exactly what its name implies. The fluid in its MagneRide dampers is embedded with iron particles that can be manipulated by an electromagnetic field, which adjusts their stiffness as the truck cruises along.
Computer magic does this to them up to 200 times per second, reacting to bumps in the surface and helping quell body movements when you corner or brake. It takes the edge off all the imperfections the road can throw at it, while keeping the truck from wallowing about in between.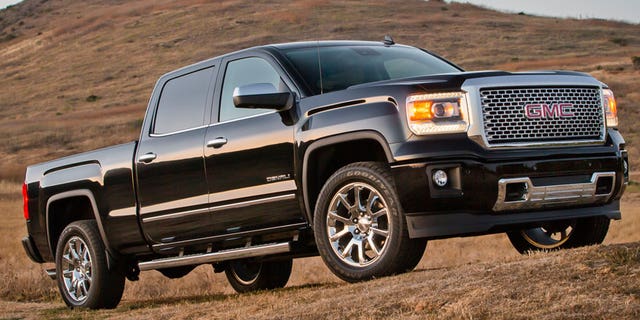 From the Cadillacs that the shocks were developed for to the Corvette, the GMC Yukon SUV and even a couple of Ferraris, there's never been a vehicle that hasn't benefited from their application, and the Sierra is no exception.
This is a mic drop moment in the development of the full-size pickup truck as it continues to march away from its agrarian roots. It's standard on the Sierra 1500 Denali, cementing its position as the city slickest truck in GM's lineup and giving it a leg up on Chevy's top model, the Western-themed Silverado High Country.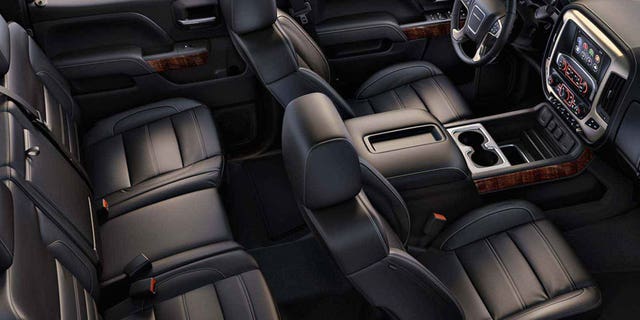 Starting price for the Denali is $50,860, which gets you into a two-wheel-drive crew cab with a short bed and a 355 hp 5.3-liter V8 that's decked out with more chrome than Kazakhstan and some uptown-spec leather upholstery. As is the Denali way, nearly all of the Sierra's option boxes have been pre-checked, including remote start, heated and cooled seats, dual-zone climate control, Bose audio and navigation.
But you'll have to pay $995 extra for a sunroof, and $450 for a driver alert package that vibrates the seat to warn that you're about to drift out of your lane or run into something. (You can use 1,800 quarters to cover the latter.) Personally, I think all of that money would be better spent upgrading to the $2,495 6.2-liter V8, which is related to the one in the Corvette and dishes out a throaty, responsive 420 hp and 460 lb-ft of torque.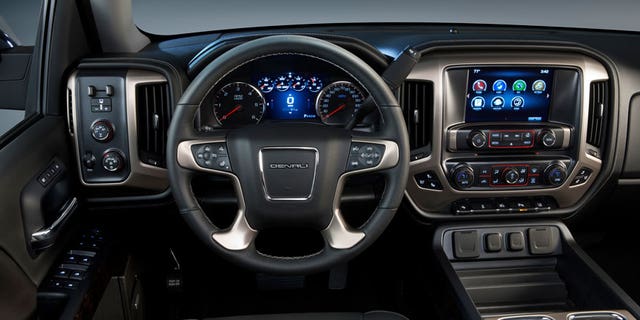 That wise decision gets you an 8-speed automatic transmission that, along with direct fuel injection and cylinder deactivation, helps deliver a 15 city/21 highway fuel economy rating. Not tops, but not bad for the most powerful engine in the half-ton pickup class.
With either the short or standard bed it'll tow 9,400 pounds, which is more likely to take the form of the boss' boat on Saturdays than a mini bucket loader at the work site during the week. It's far too pretty and plush to be put into harm's way down in the pits.
It's also not primed for hardcore off-road adventures, though GMC says those shocks can handle dirt just fine. The four-wheel-drive system offers a low range and an electronic locking rear differential to get you through some slippery stuff, but you'll want to leave the serious rock crawling to the big boys.
The Sierra Denali's success over the years has led every other truckmaker to add a high-end pickup to its lineup to compete, but this year's updates keep it near the front of the pack. It may not have the radar cruise control and self-parking features of a 2015 Ford F-150 Platinum, but considering the upcoming Mustang Shelby GT350 is getting a set of MagneRide shocks, as is the 2016 Camaro SS, the Denali is the only pickup that rides like a pony car, too.
----------
2015 GMC Sierra 1500 Denali
Base price: $50,860
As tested: $57,820
Type: 5-passenger, 4-door pickup
Engine: 6.2-liter V8
Power: 420 hp, 460 lb-ft torque
Transmission: 8-speed automatic
MPG: 17 city/21 hwy