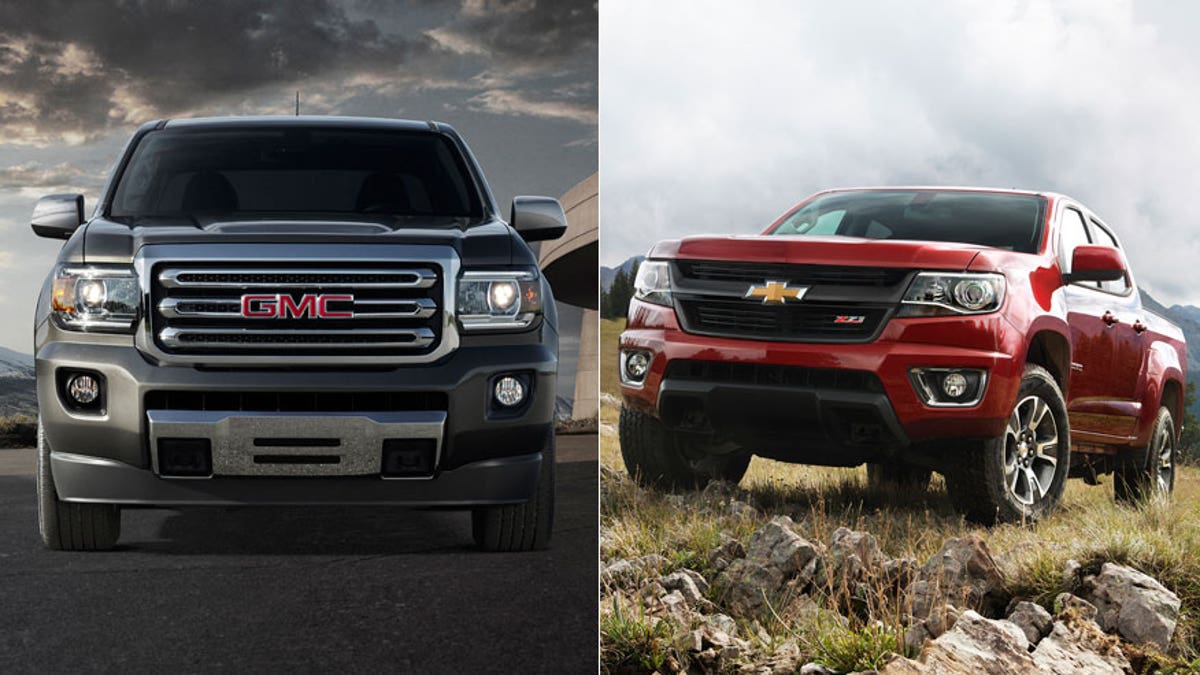 The American quarter-ton pickup is back, and it ain't half bad. In fact, it's all good.
The 2015 GMC Canyon and its twin, the Chevrolet Colorado, mark General Motors' return to a segment that's been abandoned in recent years by domestic brands and dominated by decade-old trucks from Toyota and Nissan. It's not a big one — Toyota sells about 150,000 Tacomas a year, and Nissan half that many Frontiers — but GM thinks that's due to a lack of effort, rather than a lack of interest.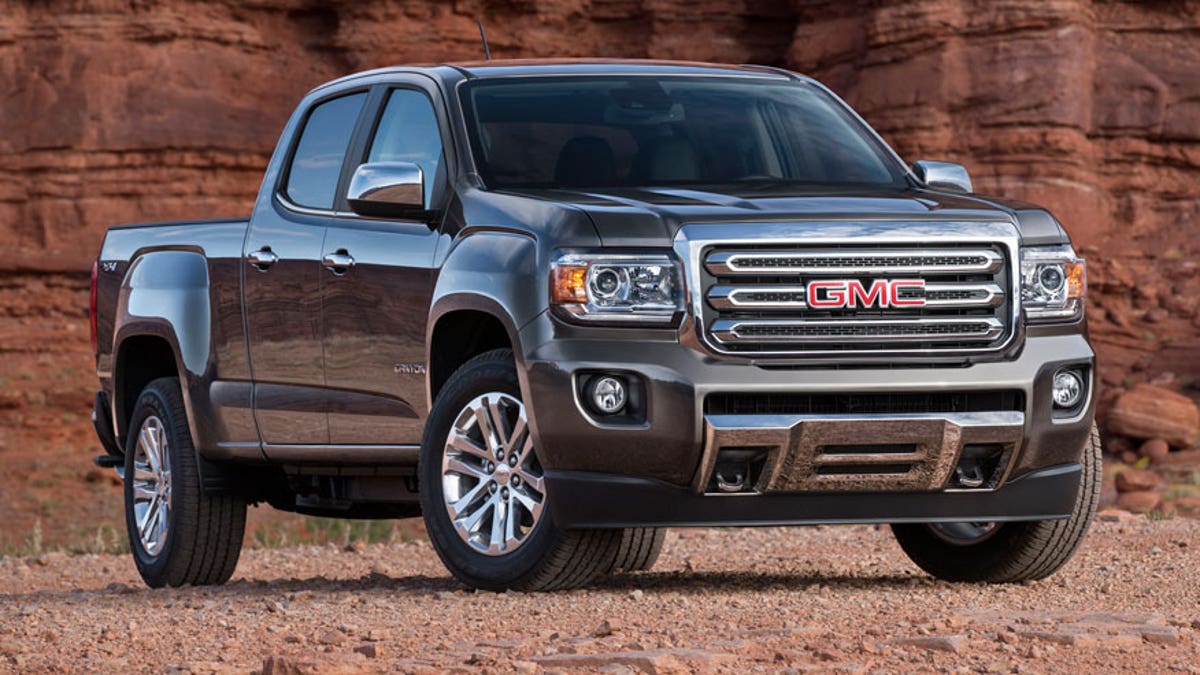 It definitely put some work into the Canyon and Colorado, which for the most part are mechanically identical, differing mainly in sheet metal and trim. The Canyon has a brick-like, heavy-duty face, while the Colorado's softer lines are aimed to attract laid-back outdoorsy types who've spent most of the 21st century driving crossovers.
These pickups are definitely not that. Both are built on fully boxed steel frames and have maximum tow ratings of 7,000 pounds. Not bad for small pickups, "small" being a relative term in this case.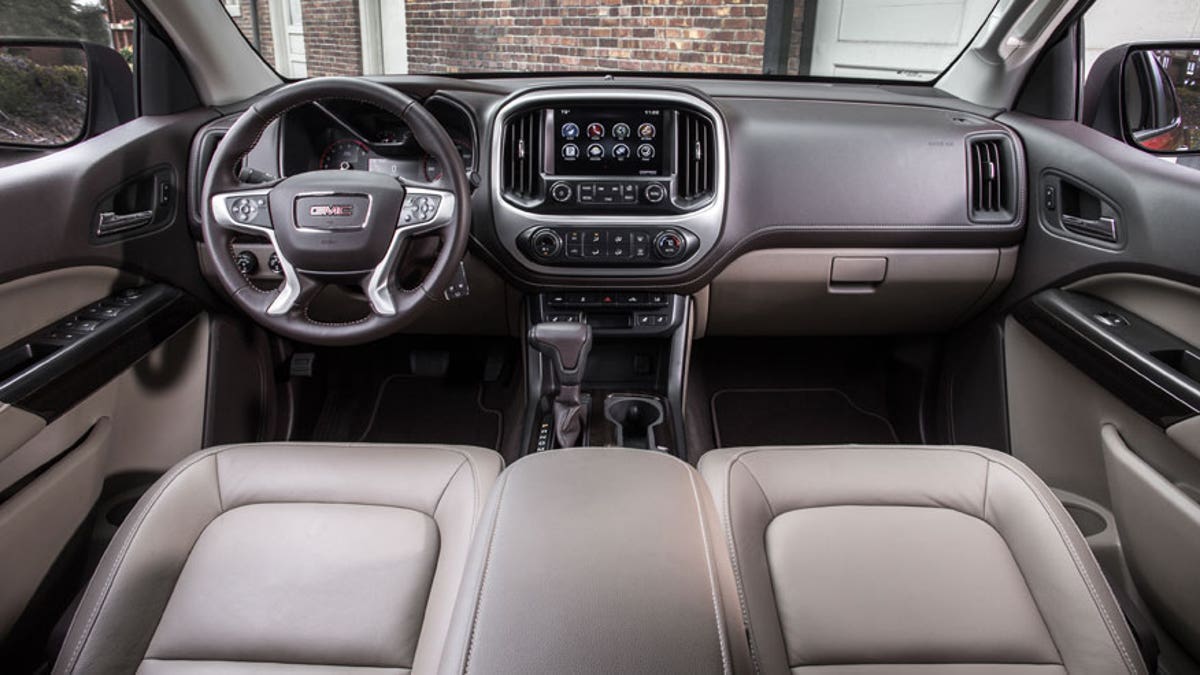 While they're as short and narrow as a garage-friendly SUV, the Canyon and Colorado are longer than some full-size trucks. Each is available with an extended cab and a 6' 2" long box, or as a crew cab with either that or a 5' 2" short box.
The extended cab features suicide-style rear half doors and back seats that might be useful if you run a contortionist troupe or train service monkeys. Otherwise, they're a good place to put groceries. Crew cab models get four full doors and accommodations on par with a midsize crossover.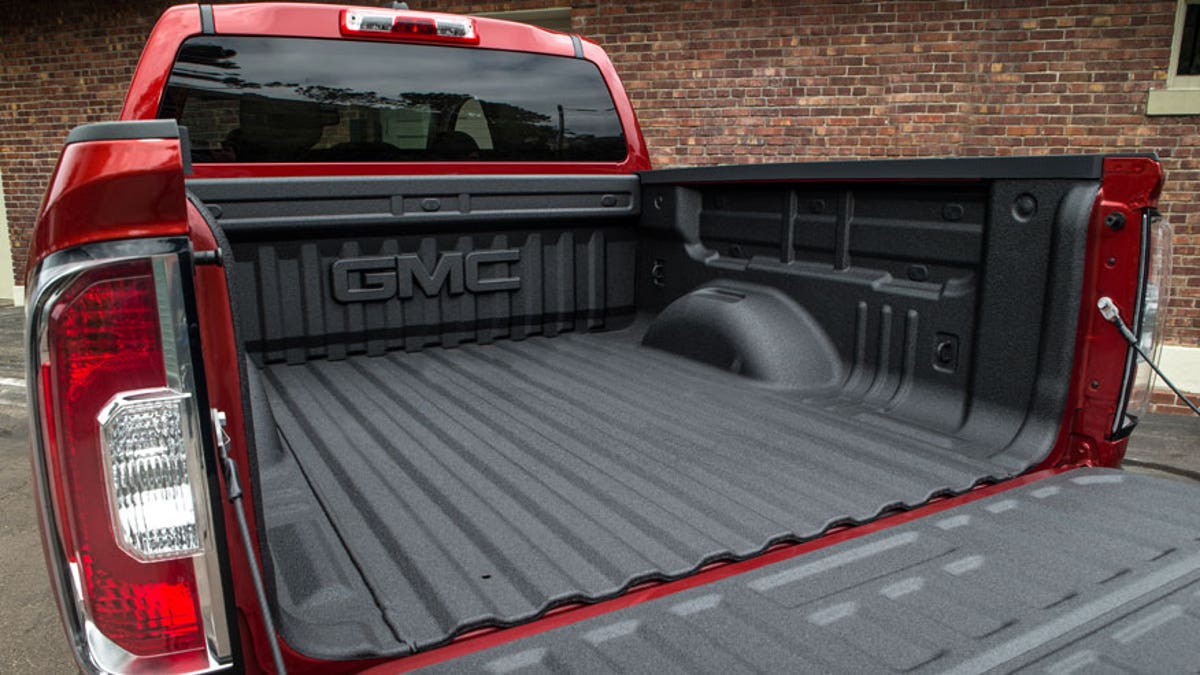 It's just as easy to get into as one of those, too. If you try to use the optional side steps you might end up on the roof. The interior has a sporty design and feel that's modern and not at all commercial; a soft-touch dash wrap and a fancier digital display dressing up top level Canyons even more.
Starting prices are $20,995 for the Canyon and $21,880 for the GMC, the latter scoring you projector beam headlamps with LED accents, aluminum wheels and a few other odds and ends. A 200 hp 2.5-liter 4-cylinder engine with a choice of six-speed manual or six-speed automatic transmission is standard and good for up to 27 mpg on the highway in two-wheel-drive trucks. But it may not be the best choice if you have a heavy right foot or plan to do a lot of heavy lifting. If that's the case, you can upgrade to a 305 hp V6 that comes only with the automatic for an extra $1,235, and you can still get 26 mpg. It's worth it and you should.
I drove a variety of configurations and spent a week in mid-range 2015 GMC Canyon 4WD SLE Crew Long Box with the All Terrain package, which adds off-road capable tires and suspension, hill descent control, a transfer case shield and some cosmetic upgrades. If you plan on any serious dirt road excursions, you'll want to remove the low hanging, wind-cheating chin spoiler and trade a couple of mpg for a few degrees of approach angle.
Even with this setup, the Canyon rides well on the street. It's tight and composed, not at all roly-poly. The V6 provides plenty of power and pumps out a quiet yet throaty tune. There isn't much in the way of electronic driver aids, aside from available lane departure warning and collision alerts, but a backup camera is standard and the optional infotainment system has built-in 4G Wi-If.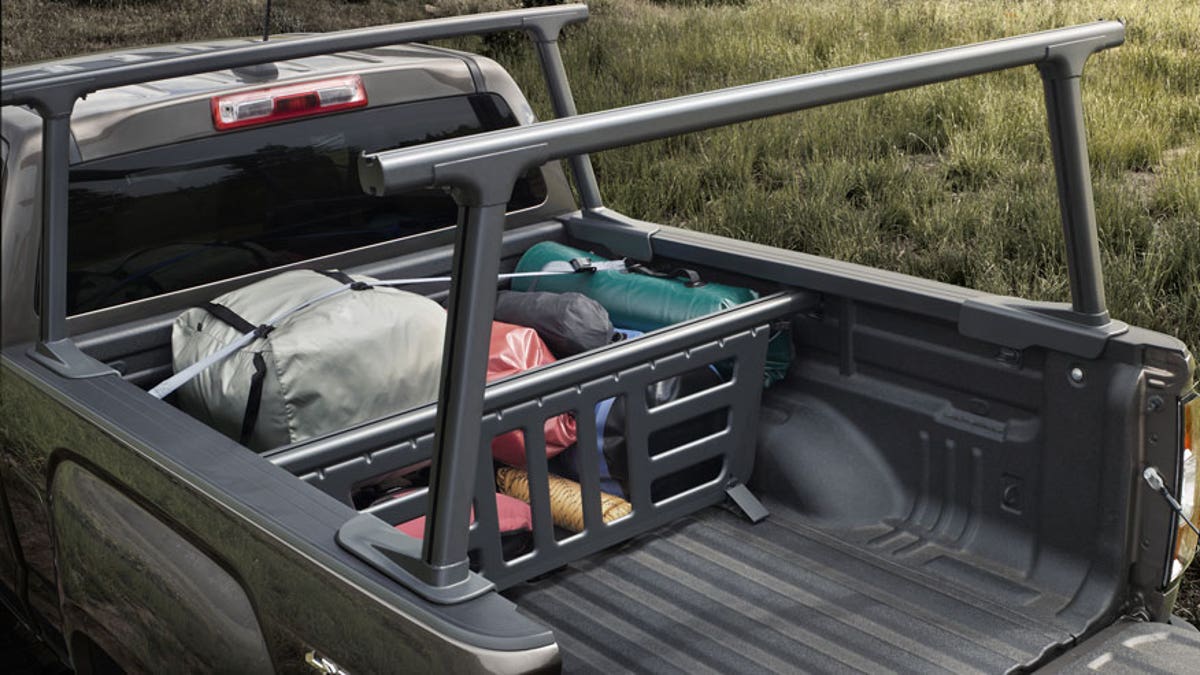 A hydraulic assist tailgate and steps built into the corners of the rear bumper make it easy to get into the box, the long one providing nearly 50 square feet of space, just a few shy of the smallest GMC Sierra bed. GMC and Chevy are both offering a selection of accessory racks for things like kayaks, stand-up paddleboards and ladders, the last on the outside chance you might actually use the trucks for work.
I can't say I did any of those things, but I did get it a little dirty. The four-wheel drivetrain has a low range and an automatic locking rear differential, and it happily took on a couple of slippery climbs, chugged through some mud, was a lot easier to navigate through the woods than the last full-size pickup I took to the same spot, and was as solid as the rocks it had no trouble getting over.
The GM twins are barely in showrooms, but they've already begun racking up well-deserved awards. They're literally years better than the competition, and they offer a compelling alternative to the big boys at about a 20 percent discount.
And things haven't even gotten interesting yet. Next year, they'll be available with a 2.8-liter 4-cylinder turbodiesel that could help them become the first pickups to crack the elusive 30 mpg rating. But it's the V8-like 369 lb-ft of ground-pounding torque that sounds like it could be a ton of fun.
-----------
2015 GMC Canyon 4WD SLE Crew Long Box
Base price: $35,235
As tested: $38,915
Type: 4-door, 5-passenger pickup
Engine: 3.6-liter V8
Power: 305 hp, 269 lb-ft
Transmission: 6-speed automatic
MPG: 17 city/24 hwy