2015 Ford F-150 weight loss secrets revealed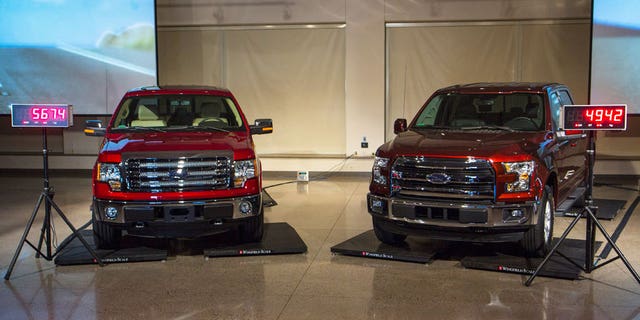 The 2015 F-150 is a bigger loser than expected.
Ford has revealed that the new aluminum-bodied pickup will weigh up to 732 pounds less than the outgoing model, beating the 700-pound estimate that was first announced at the Detroit Auto Show in January.
The weight differential will vary by model, but will be at least 625 pounds across the board.
Ford demonstrated this by putting two mid-level F-150 Lariat 4X4 Crew Cabs on the scales: a 2014 with a 5.0-liter V8 weighing 5,674 pounds and a 2015 truck equipped with a new 2.7-liter turbocharged V6 at 4,942 pounds. It's not exactly an apples to apples comparison, as the 5.0-liter will still be offered in the 2015 F-150, but the Lariat is currently only available with the F-150's most powerful engines, and the point seems to be that with the lighter weight a smaller motor will do. (According to a Ford spokesman, the 2.7L engine itself weighs 25 lbs less than the 5.0L.)
Not that the turbo is lacking in the power department. Ford revealed that it's rated at 325 hp and 375 lb-ft of torque, with a maximum tow rating of 8,500 pounds. A version of this engine will also be available in the 2015 Ford Edge crossover.
By trimming the fat, Ford was also able to lower the power of the F-150's base engine to increase efficiency without sacrificing capability. The new naturally aspirated 3.5-liter V6 is rated at 283 hp with 255 lb-ft of torque, compared to 302 hp and 278 lb-ft for the 3.7-liter V6 it replaces. Fuel economy should improve as a result, but has not been specified.
Pricing for the 2015 F-150 will be revealed closer to its on sale date in the fourth quarter of this year.