Have you purchased a pricy sports car recently? Something in the $137,450 range?
Congratulations, you successful so and so! I just hope it wasn't too much of a financial stretch, because, I'm sorry to tell you, odds are you bought the wrong car.
Look, I'm sure whatever you got is fast and sexy and will provide many wonderful years of motoring, but for the same money you could've gotten all of that, your mind blown, and experienced what its like to have the eyes of everyone you pass pop of of their heads.
The BMW i8 may not be THE future of sports cars, but it is one possible future, and no doubt very futuristic.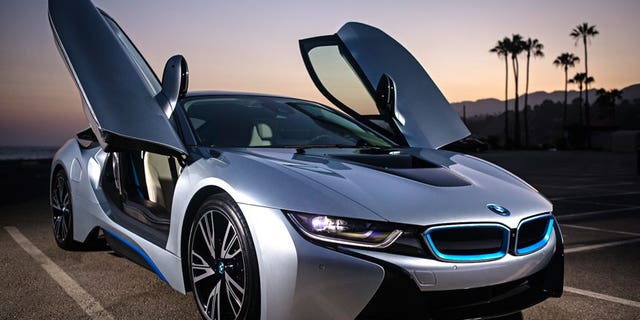 Imagine a vehicle with a body that looks like it was designed by aliens wrapped around a carbon fiber passenger compartment fitted with doors that open like insect wings. Now place it on top of an aluminum chassis carrying an electric motor with a 2-speed transmission in front and a turbocharged 3-cylinder gasoline engine with another electric motor and a 6-speed transmission in the rear. Stuff a 7.1 kilowatt-hour battery pack between the seats, of which there are four, and voila! A true 21st century sports car.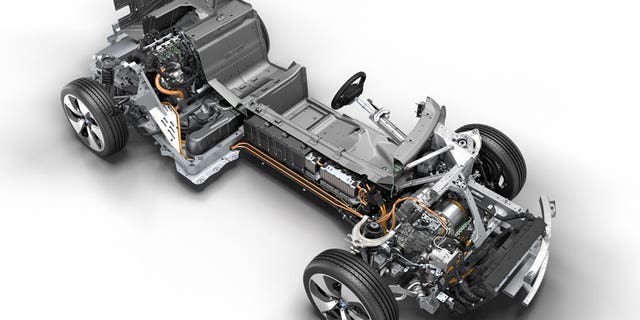 OK, the seats in the back are tiny, but your small children and their boosters will fit. And if you don't give them a ride, then you are depriving yourself of the joy of seeing them beam with the biggest smiles humanly possible, as well as any hope of them caring for you in your old age.
But back to you.
The i8 is a plug-in hybrid. If you charge it, it can go 15 miles on battery power before the engine needs to help out. Over typical commuting distances, the EPA says the average American will get the equivalent of 76 mpg, if they drive it sedately.
That's exactly how it moves in all-electric mode, when it operates as a front-wheel-drive car with an economical 129 hp and 184 lb-ft of torque. Top speed for zero-emissions propulsion is 75 mph, and it takes its sweet, silent time getting there.
Things change dramatically when you summon the 3-cylinder engine, which is a 1.5-liter turbocharged unit that has 228 hp and 236 lb-ft of torque to call its own. You can do this at any time, and even when you don't need to, you often will.
Just like that, you have a 357 hp all-wheel-drive car with 420 lb-ft of torque that still gets 28 mpg combined. That's 25 percent better than the less potent (and less expensive) BMW 640i xDrive Coupe or the Porsche 911 Carrera 4. On the highway, 40 mpg is no sweat.
Neither are 4-second sprints to 60 mph or 12-second quarter-mile runs. Your top speed is now an electronically governed 155 mph. It's a plug-in hybrid, after all, so I guess you're expected to be at least a little bit responsible.
Whatever juggling act is happening behind the scenes, the interplay between the all of the motors and wheels is nearly seamless. You can't do a burnout, but in Sport mode the i8 has enough of a rear bias that you can kick the tail out a little in turns, just like a proper sports car should.
It always holds enough charge in the battery so that full power is available when you step on the accelerator, and it replenishes it when you hit the brakes or are just cruising along with the engine running. Today's Formula One and Le Mans prototype racers work in very much the same way.
The i8's steering is electrically assisted and a little numb, but very quick and accurate. Its adaptive suspension system is compliant enough to take Manhattan, where it helped absorb the weight of thousands of stares, but stiff and sure on windy roads, where you can enjoy the lush soundtrack of a digitally produced engine noise pumped through the speakers, something most BMW sports cars do these days, but none as well as this one. Backing vocals are provided by the distant hum of the electric motors, and the actual audio system is crystal clear.
The only retro things about the car are the flip-up doors, which are hinged at the bottom of the A-pillar and have openings that are too short for easy ingress over the huge sills, just like in the early days of supercars. This is something other automakers have done a better job with in recent years, and it's odd, because despite how low the i8 is, the cabin itself provides plenty of headroom, an upright seating position and terrific forward visibility.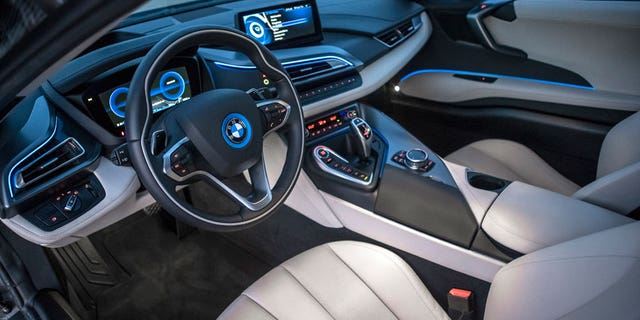 It's also perfectly appointed, with not a cheap surface to be found. The design is super contemporary, if not quite as loony as the exterior, but aside from the flat-screen instrument cluster, all of the equipment is from the BMW parts bin and very conventional. The i8 comes fully loaded and offers four different appearance packages. You'll definitely want to pick one that comes with the blue seat belts for the full sci-fi effect.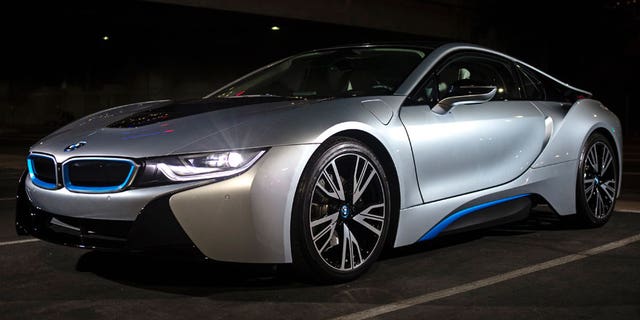 Unfortunately, despite my early assertion, it's unlikely that you could actually buy an i8 for anything close to $137,450. BMW planned to send only 500 of them to the United States each year, but demand was so strong that it doubled that allocation. It still isn't enough. The want for these is so strong that you're lucky to find one listed today for less than $175,000. Some are on sale for as much as $250,000, but I can't confirm that anyone has actually paid that much.
The thing about it is, the i8 might be a bargain at that price. It's an event. The closest thing to it on the road is the Porsche 918 Spyder, which is basically the same concept turned up to 11, with a V10 engine and 887 horsepower. But while those cost $845,000, and all 918 of them to be built are already sold out, if you pulled up next to one in the i8, the otherwise gorgeous Porsche would become practically invisible.
Maybe those folks bought the wrong car, too.
----------
2015 BMW i8
Base price: $137,450
Type: 2-door, 4-seat coupe
Powertrain: Just read the story
MPG: 28 combined