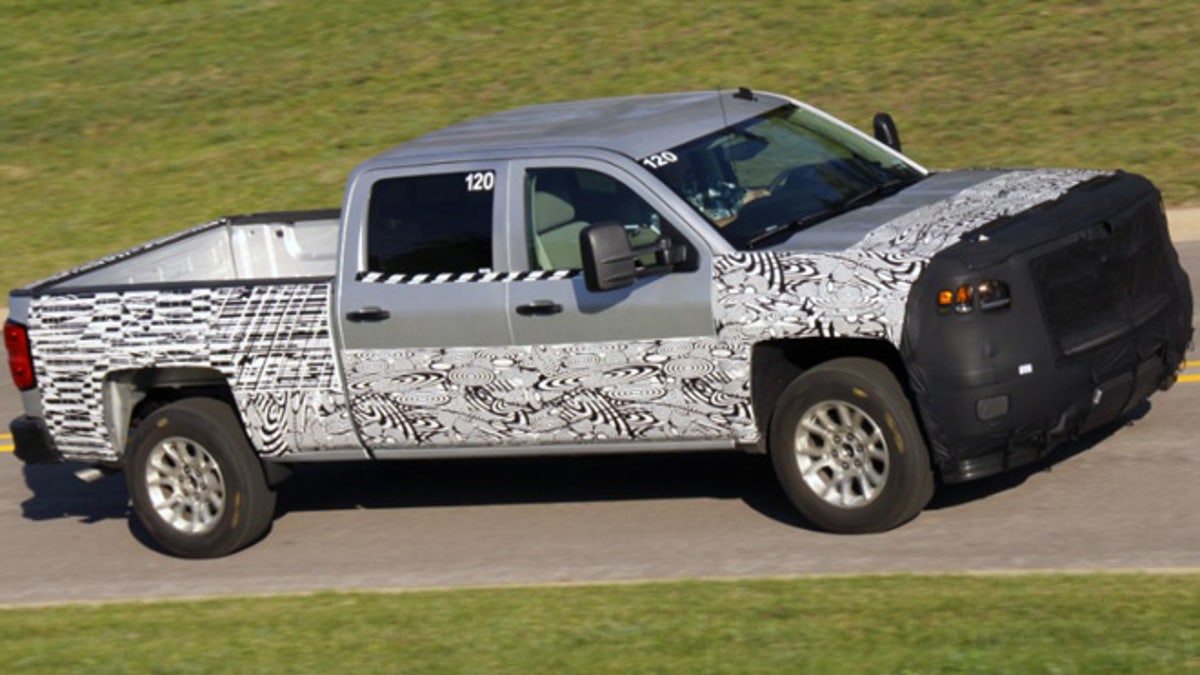 The 2014 Chevrolet Silverado is out and about and barely covered up.
Chevrolet has unveiled the most revealing photo yet of its upcoming redesigned pickup, wearing just a touch of optical illusion camouflage and a see-through bra…of the automotive kind…as it undergoes validation testing at the company's Milford Proving Gounds.
What can be seen is a very tall front fascia featuring a grille with a single chrome crossbar and deep chin spoiler underneath, likely there to cheat the wind for fuel efficiency. Bulging wheel arches with a squarer opening than the current Silverado beef up the look of the four-door crew cab, just one of many styles expected when the trucks debut next year.
Read: Ram Long Hauler pickup ready to rule the road?
As for what's under the skin, speculation is that the new Silverados – and their GMC Sierra twins – will launch with all-new versions of GM's legendary small block V8 engines and possibly a high tech, fuel efficient turbocharged V6 similar to the popular EcoBoost engine Ford offers in the F-150. An 8-speed automatic transmission is also rumored to be in the works.
GM's new pickups are expected to be stripped of all their clothing at the 2013 North American International Auto show in January, possibly alongside their equally-new SUV counterparts, the 2014 Chevy Tahoe, GMC Yukon and Cadillac Escalade, although the five-doors could save themselves for the Chicago Auto Show in February.
Read: General Motors' 2014 full-size SUVs caught sneaking around