2011 Ford Explorer to Be Built in Chicago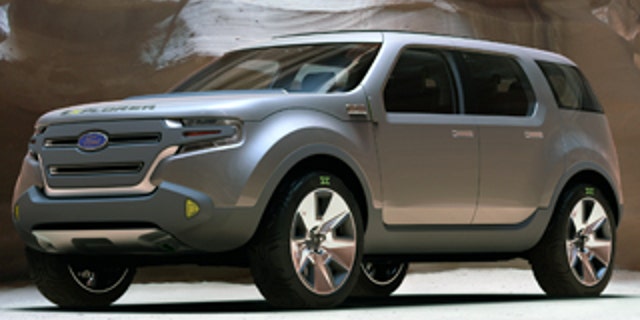 The 2011 Ford Explorer promises a wealth of improvements on the current model, including better fuel economy, better utility, more safety, and much more style. It will be built alongside the Ford Taurus, Flex and Lincoln MKS, with which it shares its core underpinnings, in Chicago.
Production will ramp up for the fourth quarter of this year, bringing with it another 1,200 jobs and a $400 million investment in the facility. Like the Ford Flex, Taurus and Lincoln MKS, the new Explorer will also get an EcoBoost engine option, plus a six-speed transmission and unibody construction.
We first brought you word that Ford would be building the Explorer in Chicago last March, along with news of the EcoBoost powertrain. The twin-turbo V-6 found in the Taurus SHO and Lincoln MKS, among others, is a given, likely to be rated around 340 horsepower in this application. Perhaps even more interesting is the possibility of an EcoBoost four-cylinder, turning out around 230 horsepower, delivering the flat torque curve and quick acceleration of a larger engine while still sipping fuel at an economical rate.
In an industry first, the 2011 Ford Explorer will also feature inflatable safety belts. Never before employed on a production vehicle, the inflatable belts boost protection for rear-seat passengers, especially children and the elderly, by spreading crash forces over an area five times greater than conventional belts.
The design of the 2011 Ford Explorer still hasn't been unveiled--expect that to come at the Chicago Auto Show in February--but its basic profile was previewed in 2008 at the Detroit Auto Show with the Explorer America concept. The front end will likely be restyled somewhat to share a family resemblance with the Ford Flex, squaring off the more sculpted nose of the Explorer America Concept. The side and rear are expected to more closely follow the concept's lines. Likewise, the interior will be tamed down from the show-only version, with similar themes and cues from Ford's current lineup.
Perhaps the most perplexing aspect of the 2011 Ford Explorer is its place within the Ford lineup. With the Flex and Edge both offering similar crossover platforms, and the Flex at the least offering a similar powertrain lineup, wedging the Explorer between the two will require a careful balancing act of pricing, features, and marketing.
Click here for more from TheCarConnection.com