1000 mph Bloodhound SSC makes first public test run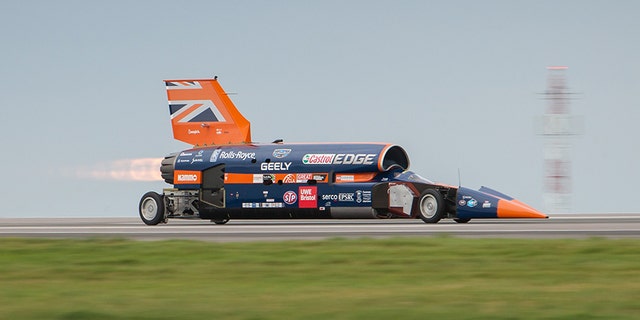 A car built to go 1000 mph has completed its first public tests.
The Bloodhound SSC is a jet and rocket-powered streamliner that uses a Formula 1 engine as a fuel pump. The needle-nose car made two runs Newquay Airport in Cornwall, U.K., on Thursday with land speed record holder Andy Green behind the wheel.
The project has been in the works for nearly a decade.
Green was the first man to break the sound barrier in a car in 1997, when he hit 763.035 in the Thrust SSC. This time, he only reached 210 mph, but he got there in just eight seconds. He made two runs to test the Rolls-Royce jet engine and the car's control, suspension and braking systems.
The 1.7-mile runway is not long enough to go much faster, and the record runs are scheduled for the Hakskeen Pan flats in South Africa, where a 12-mile track is being prepared for an attempt at an 800 mph record in 2019 and an all-out assault on 1000 mph in 2020.
Additional test runs are scheduled for Oct. 30 at Newquay.