100-year-old Harley-Davidson returns from France to honor American WWI vets
MOBILE, Ala. – Christophe de Goulaine presses a small button to prime the carburetor, then gives the starter a kick. It doesn't work. Again, he thrusts his body up and down, foot on the lever. Third time is the charm — the 100-year old Harley-Davidson 1000 18-J motorcycle starts.
"This is a time machine," de Goulaine told Fox News. No, not in the literal sense, but the WWI-era motorcycle paints an accurate picture of life in the early 20th century.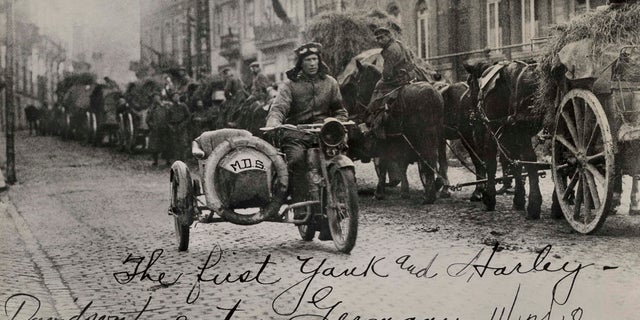 It was one of an estimated 20,000 olive green Harley-Davidson motorcycles used by American soldiers in the Great War.
French motorcycle enthusiasts de Goulaine and Pierre Lauvergeat spent the past year renovating it. Still, the bike largely holds true to its origins with the same engine, frame and seat it left the factory with.
"It was a non-runner, it was in terrible condition," de Goulaine said, while showing pictures of bike parts in boxes. "Now the bike is on the road, and we'll have a little road test for about 5,000 miles."
5,000 miles — not a typo.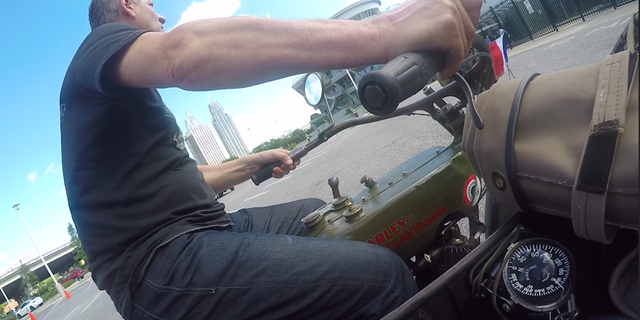 The Model J and its sidecar rolled onto American soil for the first time in a century, kick-starting a nationwide repatriation tour this week.
The pair of Frenchmen are riding from Alabama to Florida, up to Wisconsin, and west to California in the refurbished antique.
The mastermind mechanic, Lauvergeat, said the bike could fail at anytime. Yet, the unpredictable motorcycle and ambitious mileage ahead of it have not depleted the pair's enthusiasm.
The mission, dubbed Operation Twin Links, is a nod to Americans who laid down their lives in WWI to assist their oldest ally — the French.
The project, being executed on the 100th anniversary of the war's end, honors the numerous links between America and France. Most obviously, it recognizes America's assistance in both World Wars.
A look at Lauvergeat's and de Goulaine's family history explains their relentless enthusiasm in the ambitious undertaking.
American soldiers liberated Lauvergeat's grandfather and father from the trenches in 1917 and German camps in 1944, respectively.
De Goulaine is a descendant of a French explorer who colonized what is recognized today as Jacksonville, Fla. Jacksonville and Nantes, France (de Goulaine's hometown) are now honorary twin cities.
"We love America," de Goulaine said. "I think this is a way to say 'we love you' very simply."
De Goulaine and Lauvergeat are symbolically reversing the bike's path to France. They returned the bike through the port in Mobile, Ala. — the home state of General William L. Sibert, who commanded the 1st Infantry Division in France during WWI, nicknamed "The Big Red One." Now, they're riding from East to West.
The U.S. WWI Centennial Commission sponsors hundreds of commemoration projects worldwide, but director of public affairs Chris Isleib said Operation Twin Links stands out from the rest.
"When was the last time a historic event mattered so much to somebody that they wanted to come over and personally thank the people who were involved and the descendants of the people who were involved?" Isleib asked. "It's a beautiful thing."
During the three-month tour, only de Goulaine and Lauvergeat will lay hands on the bike when issues arise, but the two-man mission has an army of support.
French journalists Olivier Touron and Thierry Butzbach are shadowing the entire cross-country trek. Both France and America's WWI Centennial Commissions are sponsoring the trip. A wide range of private companies have offered help, from restaurants to spare parts companies and of course, Harley-Davidson.
Just days into the journey, the project has already shed light on WWI via social media around the world.
"A lot of education of WWI that used to happen does not anymore, so people don't always understand or appreciate what happened 100 years ago," Isleib said. "[It's] projects like this [that] really help us to remember who the people were who served and why they served."
Lauvergeat holds up his hands and then points to his smile and de Goulaine — expressing the three ways he will communicate his thanks to Americans, despite not speaking a lick of English.
Lauvergeat exclaims (de Goulaine translates): "I love American people. Without them, I wouldn't be here today!"