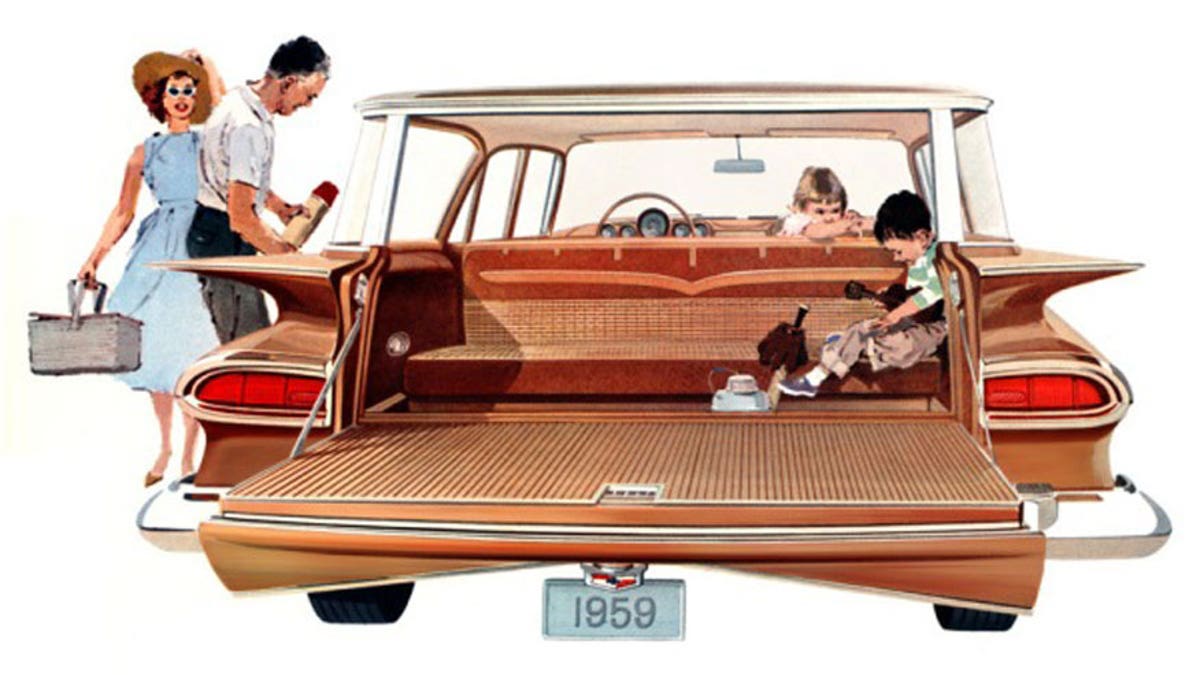 It's summer! Time for a family road trip! Just imagine all the fun you're going to have… tourist traps, car-sick kids, "Are we there yet?" and "Honey, did you remember to pack the tent?"
OK, scratch that. Instead, go to your happy place and think about cars. We asked our Facebook followers, "What's the best classic for a family road trip?" As usual, you answered faster than Siri can locate a bathroom. We sifted through your nominations and picked the top 10:
Wagon Queen Family Truckster – Yes, we know it isn't "real." It's a one-off built for the 1983 film National Lampoon's Vacation. Just go with it. (Another word out of you and we're turning this car around and heading home.) Nothing – nothing – screams Forced Family Fun like Clark Griswold's pea green, faux wood-paneled crap can. The Truckster embarked on a hellacious cross-country road trip to California's Walley World and survived vandalism, a breakdown in the desert and two unfortunate deaths, neither of which were the car itself. While we still mourn the loss of Dinky (poor dog) and Aunt Edna (great seat, eh?), we applaud the sturdy Truckster. The 2015 Tartan Prancer in last summer's remake doesn't come close.
Volkswagen Westfalia Camper – VW's Type 2 conversion vans, modified by Westfalia, had about a 50-year run beginning in the early 1950s. The popular camper vans offer a variety of amenities for families on the go – as long as you don't need to get there fast – things like a sink, water storage and pump, ice box/refrigerator, cabinets, electrical hookups, folding table and seats that fold out to make a sleeping area. The holy grail of Westfalias is the 1985-92 Syncro, which is basically a 4-wheel-drive version of the T-3 Vanagon. The vans had a substantially higher MSRP than basic models, along with the added bonus of being heavier and slower. No wonder only 5,000 or so were officially imported to the U.S. In today's ever-changing world of automotive taste, however, they are now considered super cool, and there are far more "Syncronauts" than actual Syncros. We spotted a couple for sale recently, a 1987 model priced at $39,750 and a 1989 model for $47,500. As always, cool carries a hefty price tag.
1955-57 Chevrolet Nomad wagon – Since synonyms for Nomad include traveler, wanderer, drifter and rover, it's pretty difficult (OK, impossible) to leave it out of this discussion. That's like leaving John Tyler off the list of U.S. Presidents named John. (Don't bother looking it up. There were four.) Introduced midway through the 1955 model year as part of Chevrolet's redesigned top-of-the-line Bel Air series, the two-door hardtop Nomad wagon is a real head turner. It features slanted B pillars, vertical chrome tailgate bars, a chrome spear on the front fenders and doors, ribbed roof and wraparound rear window. Chevrolet's attractive new styling helped the automaker sell 1.7 million units in '55. Cha-ching!
1964-77 Oldsmobile Vista Cruiser – First- and second-generation Vista Cruisers featured fixed-glass, roof-mounted skylights over the second-row seats, so any kid who drew the short straw and scored one of those hot spots felt like an ant under a magnifying glass. Nicholas Eggleston is not deterred, however. He's emphatic: "Oldsmobile Vista Cruiser. Hands down." At least all three rows of seats in the Vista Cruiser face forward. The same can't be said for the…
1959 Chevrolet Kingswood – In 1959, every seventh car coming off an assembly line in Detroit had a tailgate. Chevrolet's Ed Cole even predicted the day would come when every fourth or fifth car would be a station wagon. Yes, he was wrong, but Americans have a love affair with wagons for no other reason than they remind us of our childhood. Facebook follower Ray Hamman described his dream road-trip classic as "a '59 bat-wing Chevy with rear-facing third row seat," which could only be a Kingswood. In Chevy's wagon lineup, the Kingswood was considered a little more deluxe than the Parkwood but not quite as nice as the top-of-the-line Nomad. What the Kingswood offered that other 1959 Chevys didn't was a unique rear-facing third seat. This feature allowed obnoxious children the opportunity to annoy other drivers without their parents knowing ("Hey, why did that guy just cut me off?"). On the other hand, for many of us the thought of facing backwards in a moving car is as appealing as drinking a glass of warm bacon grease before jumping from an airplane. But hey, Ray loves it.
1958 Edsel Bermuda wagon – The Bermuda was Edsel's top-of-the-line wagon in 1958. It was also the only year it was produced. Draw your own conclusions. Two Bermuda wagons were available, one that seated six, the other nine. Of the 18 models offered in Edsel's initial lineup, the 9-passenger Bermuda had the lowest number of takers; only 779 were built. The car featured all the popular bells and whistles of the day: two-tone paint, faux wood paneling, fins, heavy chrome and six-button Teletouch automatic transmission. But America didn't like it. Some estimate that fewer than 20 of these boats survive. If Facebook follower John Davis ever gets his hands on one, he says he'll drive it to Walley World. Perhaps this is a good time to mention that there is no Walley World. Much like Ford Motor Company's dreams for the Edsel, it was only make believe.
1977 Chevrolet Impala wagon – This one's for you, David Tiedt. Judging from your post, your family's 1977 Chevy Impala wagon left quite a lasting impression. "That thing was bullet proof. It was one of three cars I know my dad bought brand new. In fact, they were all Impalas: '66, '70 , '77. He was a Chevy man. In all the years my parents owned it, I can't remember one major repair done to it. Alas, it was a gas hog (350 4-barrel carb)… My parents drove that car for 11 years. It had over 100,000 miles – a ton back then – and if it weren't for gas mileage they would have kept it." In 1977, Chevrolet advertising claimed, "A lot of new thinking went in; a lot of new Chevy wagon came out." David is a believer.
1955-57 Pontiac Safari – The two-door 1955-57 Pontiac Safari wagon took its styling cues from its GM sibling, the Chevy Nomad, but it failed to match the Nomad's success. In fact, during the Safari's three-year run, twice as many buyers chose a Nomad. Pontiac advertising at the time stood behind the belief that "It doesn't take America long to recognize a good thing." Apparently it does. The super-cool Safari is more appreciated today than it was 60 years ago.
1968 Dodge Coronet 440 – It's been said that a picture is worth a thousand words. We really have no way to verify that, but the photo that John W. Rowe III included with his nomination is at least worth a spot in our top 10. Chrysler's lineup received new "Coke bottle" styling in 1968, and even the wagons look menacing. John wrote: "I'd submit the sleeper '68 Coronet 440 wagon that we bought new and took to California in '72, where I went above and beyond to help my dad change a blowout." The photo shows young John leaning on the rear of the car while his father sweats in the background. Definitely a bonding moment to remember, eh Dad?
1954 Ford Ranch Wagon – As the era of wood-bodied wagons began to fade, Ford introduced the two-door Ranch Wagon in 1952. Jack Bittner remembers the modest wagon quite well. His father owned one, and he recalls touring Europe in it. We assume the car was shipped there from the U.S., but if someone can confirm that it indeed has the ability to fly, we can pretty much guarantee it will jump to the top of the list.
Click here for more classic car stories, or here to sign up for Hagerty's classic car newsletter.