Who will lead South Africa's ANC? A look at top candidates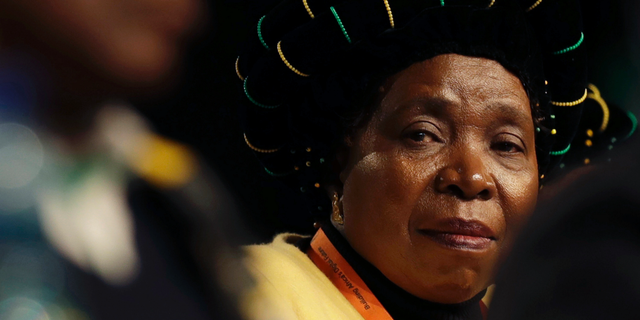 NEWYou can now listen to Fox News articles!
JOHANNESBURG – The race to lead South Africa's scandal-weakened ruling party, and likely the country, has put the future of the African National Congress in question. The rift between the top candidates is so pronounced that some observers warn the party of Nelson Mandela could split in two. Here's a look at the leading contenders to succeed President Jacob Zuma and lead the party toward the 2019 elections:
___
DEPUTY PRESIDENT CYRIL RAMAPHOSA
One of South Africa's richest businessmen, the 65-year-old Ramaphosa is a veteran of the struggle for liberation from the country's former apartheid system of white minority rule and helped negotiate the transition to democracy. He turned his connections as a former union leader into business ventures that at times have proven controversial. Many South Africans remember that Ramaphosa was a board member of the Lonmin mine at the time of the Marikana massacre in 2012, when police shot dead 34 striking mine workers.
Now deputy president, Ramaphosa has added his voice to the rising frustration in the country over Zuma and numerous corruption allegations. Last week, he even told a local radio station that he "would believe" the young woman who accused Zuma of rape more than a decade ago, before he became president. Zuma was acquitted.
Despite being part of Zuma's administration, Ramaphosa has styled himself as a reform candidate who would steer South Africa away from the corruption scandals that have hurt the economy and briefly sent it into recession this year.
___
NKOSAZANA DLAMINI-ZUMA
The former chair of the African Union Commission is also Zuma's ex-wife, which brings concern from some South Africans who worry that she will act under the president's influence and perhaps even shield him from possible prosecution.
The 68-year-old Dlamini-Zuma is a doctor and former South African minister of health and of foreign affairs, and was an activist during the ANC's long fight against apartheid. She was the first female leader of the AU Commission is expected to have the support of the ruling party's women's league, which has been a fierce supporter of the president.
Dlamini-Zuma, who has a reputation for rarely engaging the media and staying conservative in her public statements, recently was appointed to a parliamentary seat. She has pledged to pursue her ex-husband's favored policy of "radical economic transformation" to bring greater equity to an economy still largely controlled by South Africa's white minority.