Video shows Olympian Oscar Pistorius shooting at gun range before he shot girlfriend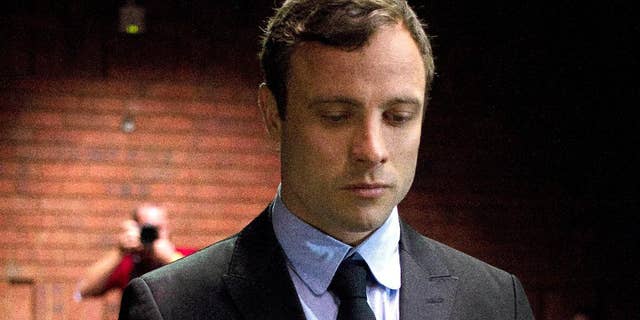 JOHANNESBURG – Newly released video shows Oscar Pistorius, who faces a murder trial next week, firing weapons at a gun range before the double-amputee athlete fatally shot his girlfriend last year.
Sky News on Friday broadcast footage of Pistorius firing a shotgun and using a pistol to shoot a watermelon, which bursts on impact. Delighted screams and laughter from unidentified people are heard in the background.
Sky News also broadcast audio of a man it says "sounds very much" like Pistorius who comments on the shattered watermelon.
"It's a lot softer than brain but... it's like a zombie stopper," the man said.
The video of Pistorius shows him wearing sunglasses and gun range headphones. Francois Hougaard, a South African international rugby player, is also seen shooting alongside Pistorius in the video. Sky News did not say exactly when the video was taken, or where.
Pistorius' murder trial starts Monday. The prosecution says Pistorius had a fight with Steenkamp before killing her by firing shots through a door in the bathroom of his home on Feb. 14 last year. He says he shot the model and reality TV star after mistaking her for a dangerous intruder in the night.
Prosecutors are seeking a life sentence for Pistorius should he be convicted of murder in Steenkamp's killing, meaning the Olympic runner would have to serve at least 25 years in prison before being eligible for parole. There is no death penalty in South Africa.