Venezuela protesters throw eggs, objects at president during rally as unrest grows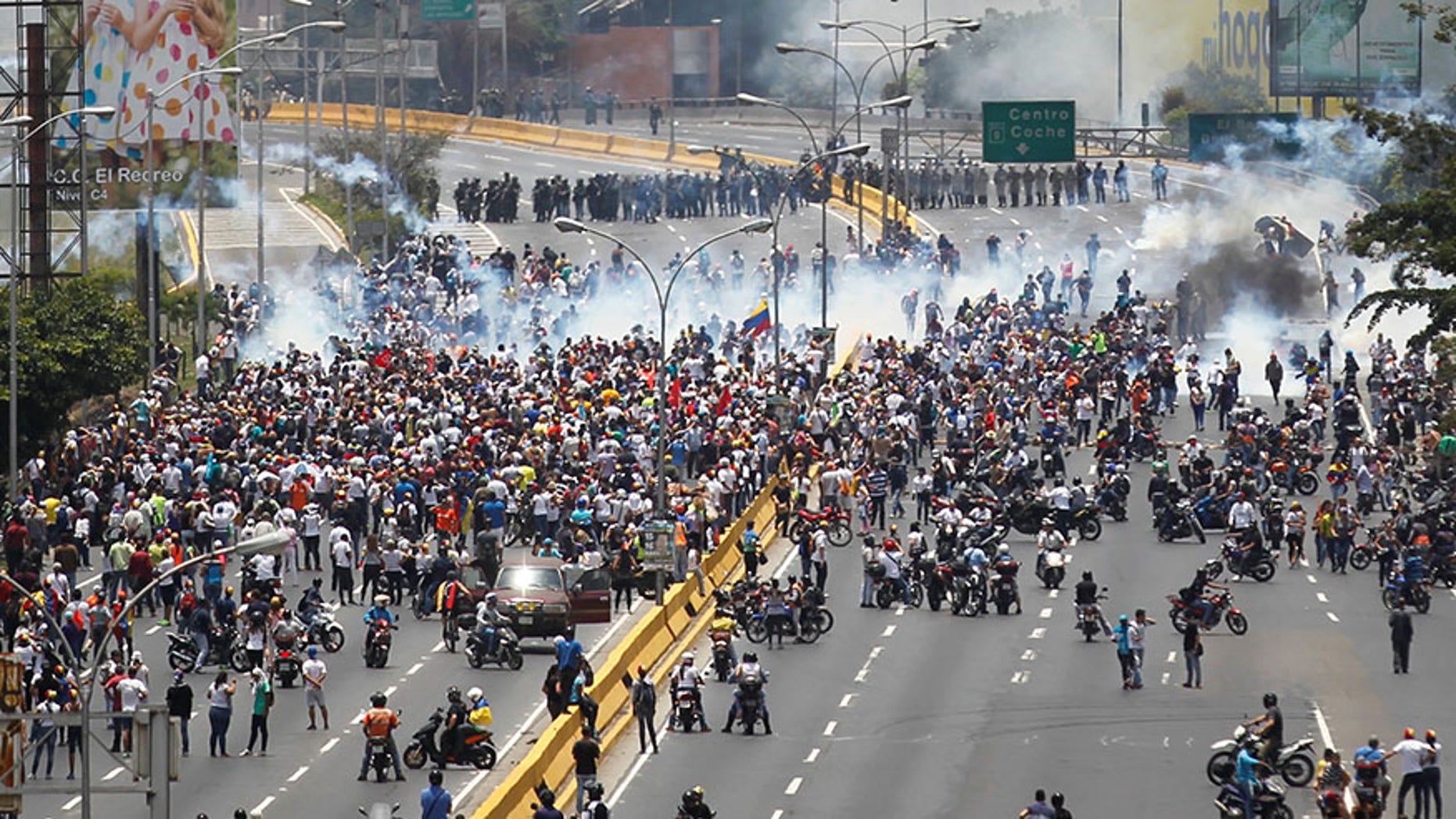 Unrest in Venezuela went up a few notches in the last seven days, as protests against Nicolas Maduro's government have become part of the daily agenda for the increasingly fiery opposition.
Demonstrators in Caracas were bombarded with tear gas from helicopters and police have not been shy to use their weapons — two 19-year-old protesters died after being shot and hundreds have been wounded, including a baby at a hospital that was hit by gas bombs.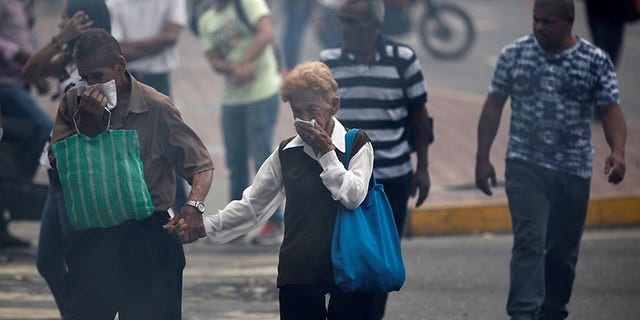 Witnesses say so-called "collectives," groups of government loyalists said to be armed, are also taking active part in the new iron-fist approach by the socialist regime amid a brutal economic crisis.
"We have seen helicopters throwing bombs, collectives that encircle people and activate tear gas bombs [on them] — it happened to me," said lawmaker Delsa Solorzano, who is among the victims of the government repression with a fractured rib.
Meanwhile, angry Venezuelans threw objects at President Maduro during a rally on Tuesday, as the unpopular leftist leader waved goodbye at the end of a military event. The state broadcaster then halted transmission.
VENEZUELA'S HEALTH CRISIS NEARING CATASTROPHE, GOVERNMENT PLEADS FOR HELP
After years of protesting with little results, street action erupted again after a Supreme Court decision in late March to assume the functions of the opposition-led congress. The controversial ruling was reversed just a day later, but Venezuelans kept protesting nonetheless.
Venezuelans have been suffering food and medicine shortages for months, leading many to skip meals or go without crucial treatment.
According to Venebarómetro, one of the most prestigious pollsters in the country, 74 percent of Venezuelans today want a government change.
VENEZUELANS KILLING FLAMINGOS AND ANTEATERS TO STAVE OFF HUNGER AMID MOUNTING FOOD CRISIS
Opposition leaders announced another round of protests in more than 300 municipalities for Thursday, despite the risk of becoming casualties of the regime.
Congresswoman Solorzano said it is virtually impossible to know the exact number of people arrested or injured in the latest wave of protests due to the institutionalized culture of secrecy.
"Only in [opposition bastions] Chacao and Baruta we can talk about hundreds of injured," she said, adding she plans to file a complaint with instances such as the International Criminal Court alleging human rights violations.
US SANCTIONS VENEZUELA VICE PRESIDENT OVER DRUG TRAFFICKING
"There are snipers in government buildings. The National Guard attacked with tear gas a clinic I was in and they put a baby at risk. We will denounce these crimes," she told Fox News.
The attacks from helicopters are especially worrisome for observers and civil rights organizations such as the non-governmental organization Provea, which has taken legal action before the Attorney General's office.
"They dropped bombs from the air and that hadn't happened before," said Inti Rodríguez, from Provea. "It's life-threatening for demonstrators because the impact of a bomb on the skull can lead to death.'
Even Ombudsman Tarek William Saab, an open government supporter, condemned the air attacks and the UN's High Commissioner for Human Rights has formally asked the government to respect people's right to peaceful protests.
On Tuesday, Congress President Julio Borges led a delegation of lawmakers in a surprise visit to the General Command of the National Guard, demanding an end to the violent repression and specifically the use of toxic gases.
"There is no statute of limitations for human rights crimes," he said, "and forbidding people to demonstrate is against human rights," he said.
Reuters contributed to this report.