U.S.-Cuba relations: What to know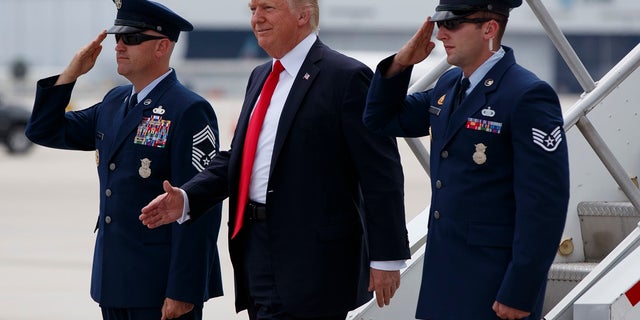 NEWYou can now listen to Fox News articles!
U.S.-Cuba relations changed once more on Friday, after President Donald Trump announced a revised policy toward the Communist country.
The two countries have had a long history. Here's what you need to know.
Embargo implemented
During the Cuban Revolution, dictator Fulgencio Batista was overthrown, with Fidel Castro seizing power in January 1959.
U.S. imports were hit with high taxes as part of Castro's various economic moves, and U.S.-Cuba trade noticeably declined, according to Time. President Dwight D. Eisenhower first imposed an economic embargo on Cuba in October 1960, which banned most U.S. exports to the country.
Under the Eisenhower administration, the U.S. severed diplomatic relations with Cuba in January 1961. The move came amid various economic and political U.S.-Cuba concerns, including the issue of communism.
The U.S. would spend decades attempting to either overthrow the Cuban government or isolate Cuba, including toughening the economic embargo first imposed by Eisenhower.
The failed Bay of Pigs invasion in April 1961, in which CIA-trained Cuban exiles were supposed to depose Castro, didn't work, and was an embarrassment for the U.S.
President John F. Kennedy in February 1962 imposed a stricter embargo. His proclamation detailing the embargo said the U.S. was ready to take "all necessary actions" for security "and thereby reducing the threat posed by [Cuba's] alignment with the communist powers." The proclamation embargoed Cuban imports.
The embargo remains in place and unchanged by Trump's policy. It can only be lifted by the U.S. Congress.
TRUMP'S CUBA ROLLBACK TO SPARE AIRLINES BUT COULD HURT DEMAND
Obama's historic trip
Obama announced in December 2014 that he and Cuban leader Raul Castro were restoring diplomatic ties between their countries.
"Neither the American nor Cuban people are well served by a rigid policy that's rooted in events that took place before most of us were born," Obama said at the time.
Obama traveled to Cuba in March 2016 for a three-day visit, marking the first trip to Cuba by a U.S. president in 88 years.
At the airport in Havana, Obama was greeted by top Cuban officials — but not President Raul Castro. The Cuban leader frequently greets major world figures upon their arrival at Jose Marti International Airport, but was absent on the tarmac.
Obama held a tense press conference with Raul Castro that culminated in Castro awkwardly grabbing Obama's arm by the wrist and raising it over his head for several seconds.
They also sat next to one another at an exhibition baseball game featuring the Major League Baseball's Tampa Bay Rays and the Cuban national baseball team in Havana's Estadio Latinoamericano.
At the conclusion of his trip, Obama decalred the end of the "last remnant of the Cold War in the Americas" and openly urged the Cuban people to pursue a more democratic future for this communist nation 90 miles from Miami.
"Many suggested that I come here and ask the people of Cuba to tear something down," Obama said. "But I'm appealing to the young people of Cuba who will lift something up, build something new."
Trump's new policy
"Effective immediately, I am canceling the last administration's completely one-sided deal with Cuba," Trump said Friday.
Trump said he's restoring some travel and economic restrictions on Cuba which were lifted as part of the Obama administration's historic easing.
Penalties on Cuba would remain in place until its government releases political prisoners, stops abusing dissidents and respects freedom of expression.
"We will not lift sanctions on the Cuban regime until all political prisoners are free," Trump said.
The goal is to halt the flow of U.S. cash to the country's military and security services in a bid to increase pressure on Cuba's government.
Embassies in Havana and Washington, D.C., which reopened in 2015, are going to stay open.

TRUMP'S CUBA POLICY WOULD BAR COMMERCE WITH MILITARY-TIED BUSINESSES, ENFORCE TRAVEL RULES
U.S. airlines and cruise ships will still be allowed to serve Cuba.
The "wet foot, dry foot" policy will remain terminated. The policy was ended under Obama, and once allowed most Cuban migrants stay if they got to U.S. soil.
Remittances to Cuba won't be cut off. Cuban-Americans will be able to visit their families in Cuba, the White House said.
Individual "people-to-people" trips by Americans to Cuba, allowed by Obama for the first time in decades, are going to be prohibited again. The White House said that "travel for non-academic educational purposes will be limited to group travel."
WITHOUT IMMIGRATION BENEFIT, NOW MORE THAN 36K CUBANS HAVE DEPORTATION ORDERS
What has Trump said about Cuba in the past?
During a 2016 campaign appearance in Miami, Trump pledged to reverse Obama's efforts to normalize relations with Cuba unless it met certain "demands," including granting Cubans religious and political freedom, and releasing all political prisoners.
Trump also said that he would "stand with the Cuban people in their fight against communist oppression," and went on to win about half the Cuban vote in Florida in the presidential election.
Trump had previously said he supported restoring diplomatic relations but wished the U.S. had negotiated a better deal.
The Associated Press contributed to this report.