Tycoon Carlos Slim says he's ready to help Mexico negotiate with Trump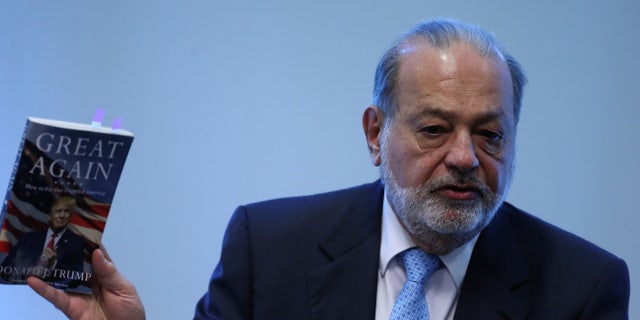 MEXICO CITY – Mexican billionaire Carlos Slim said on Friday he is willing to help the government negotiate with Donald Trump, and called on Mexicans from all political parties to unite behind President Enrique Pena Nieto in his discussions with the U.S. president.
In a rare news conference by the generally media-shy mogul, Slim said Mexico needed to negotiate from a position of strength, noting that Trump, who he called a "great negotiator," represented a major change in how politics is conducted.
TRUMP, MEXICAN LEADER TALK - BY PHONE - AS TENSIONS RISE
The press conference took place a day after Peña Nieto scrapped a planned meeting in Washington next week with Trump over his instance that Mexico pay for a multibillion-dollar border wall.
The two men spoke for about an hour on the phone on Friday.
"It was a very, very friendly call," Trump told a joint news conference with visiting British Prime Minister Theresa May.
"We are going to be working on a fair relationship and
a new relationship" with Mexico, Trump added. "But the United States cannot continue to lose vast amounts of business, vast amounts of companies and millions and millions of people losing their jobs."
Trump's fresh insistence that Mexico pay for the wall and Pena Nieto's cancellation of his visit deepened a crisis between the two countries in the first week of Trump's presidency.
Trump said Mexico has "out-negotiated us and beat us to
a pulp through our past leaders. They've made us look foolish."