Troubled U.S. Marshal's '09 execution in Mexico remains mystery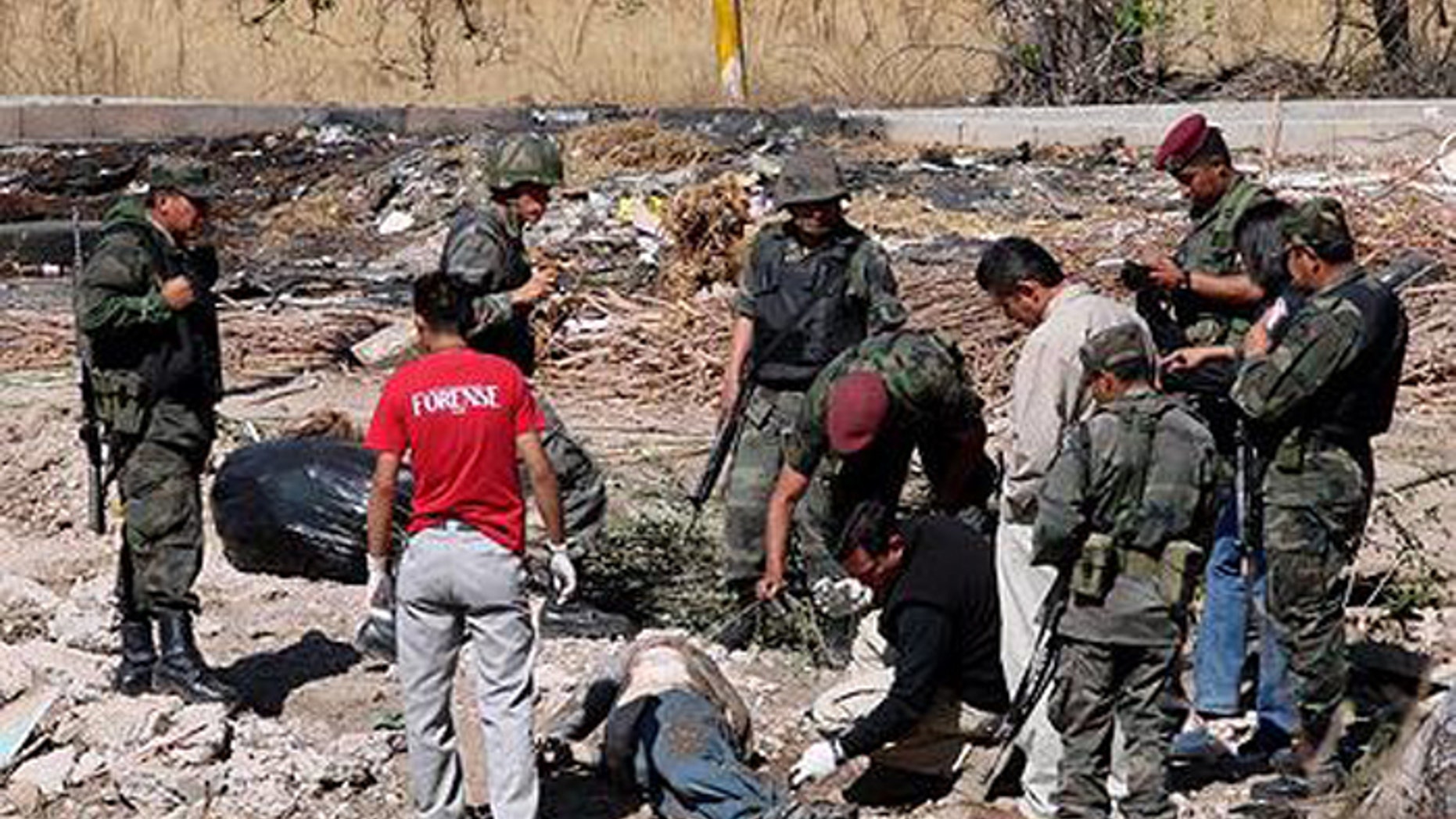 Night was falling in El Paso when disgraced veteran deputy U.S. Marshal Vicente Bustamante left his car idling near a bridge that led into Mexico and started across the bridge on foot.
When a U.S. Customs and Border Protection officer called out to him to say he'd left the lights on, the 48-year-old veteran lawman shouted a reply over his shoulder.
"You turn them off," said Bustamante, who was scheduled to plead guilty the next day – March 18, 2009 -- to pawning handguns stolen from the Marshal's Service.
[pullquote]
It would be the last time Bustamante would be seen alive. A week later, his body would be found in a drainage ditch in Juarez, a bullet in the back of his head. Mexican authorities said he had been beaten before his apparent execution.
In the nearly five years since he was murdered, few clues have emerged as to what Bustamante was up to. Authorities say he had no official business in Juarez. The 18-year veteran of the U.S. Marshal's Service had cooperated with prosecutors, and was "coping" with his legal situation, according to his attorney, Miguel Torres. He faced a maximum sentence of 10 years in prison, but was hoping for probation.
"Some of the accusations against him [were that] he was pawning some equipment from the Marshal's Service to get some quick cash" said Fernando Karl, chief deputy for the Western District of Texas. "He had some financial problems."
Still, a records search of the county clerk's office in El Paso, where Bustamante had lived his entire life, turned up no liens, judgments, or foreclosures filed against him by either private individuals, companies, mortgage holders or the Internal Revenue Service.
While there is no evidence that Bustamante was connected to any of the drug cartels that helped Juarez earn the grim title of Murder Capital of the World, the fact that he appeared to have been tortured before being executed raises question about their possible involvement. His body was found on the east side of Juarez., an area known for a violently contested turf war between the Juarez and Sinaloa drug trafficking organizations.
Bustamante's family has not commented on the case.
In the plea agreement Bustamante signed Feb. 24, 2009, he admitted to federal prosecutors that he had begun pawning U.S.M.S. weapons in 2002, "in order to obtain money to assist with his basic living expenses."
Federal authorities said all guns pawned by Bustamante – four .40-caliber Glocks, three shotguns and two other handguns -- were quickly recovered, though at the time, the notion that guns could have gone from federal control to the hands of criminals might have proven embarrassing.
Ironically, it was later in 2009 when the Burea of Alcohol, Tobacco, Firearms and Explosives would launch the ill-fated "Fast and Furious" operation, in which thousands of guns were turned over to Mexican gangs in a doomed effort to track them and their buyers.
For the five years prior to his murder, Bustamante was assigned to an enforcement detail which involved fugitive investigations. The Marshal's Service would not say whether the killing could be related to any ongoing investigation.
Although Bustamante was suspended at the time of his death, the case was considered an assault on a federal officer. Bustamante was buried with full honors.
Marshal's Service spokesman Drew Wade told FoxNews.com that Bustamante had not been fired at the time he was killed, but declined to discuss the case further.
"It is a personnel matter and we cannot discuss his employment status," Wade said.
Bustamante is believed to be the only U.S. Marshal ever killed in a foreign country.
Daryl Fields, spokesman for the U.S. Attorney in the Western District of Texas, would neither confirm nor deny that Bustamante was suspected of being involved with any criminal organizations in or from Mexico. When asked by FoxNews.com why the case appears to have disappeared, Fields declined comment.
Special Agent Michael Martinez of the El Paso Office of the FBI also declined to comment on the case. The last time the FBI spoke publicly about the case was in the days following the
"It is possible that the entire case occurred in Mexico and it will be their jurisdiction," FBI special agent and spokeswoman Andrea Simmons told the El Paso Times on March 27, 2009. "It is also possible that this case has nothing to do with him being a federal agent, but we are conducting a preliminary investigation."
No results from that preliminary investigation were ever released. FoxNews.com has filed Freedom of Information Act requests to the FBI and U.S. Marshals Service for information regarding the case and is awaiting a reply.
Robert Almonte, U.S. Marshal for the Western District of Texas, said his office is "still very saddened that he was killed." But he said he has little new information on whatever happened to Bustamante, and said the department's headquarters in Washington likely knew even less.
"I told you what we knew, or rather did not know," Almonte told FoxNews.com. "Headquarters would have even less info than I had."
Past murders of American law enforcement officials resulted in relatively rapid results.
In 1985, Drug Enforcement Administration Enrique "Kiki" Camarena was tortured and killed by the Guadalajara Cartel, which later split into the Juarez, Sinaloa and Tijuana Cartels. After Camarena's body was found dumped in a shallow grave, like Bustamante, the DEA declared war on the cartel, eventually tracking down prime suspect Rafael Caro Quintero in Costa Rica two months later.
In February 2011, two Immigration and Customs Enforcement agents were ambushed in their SUV while driving on a highway north of Mexico City. Within two months, suspects were arrested.