The Latest: Brazil president praises house committee's vote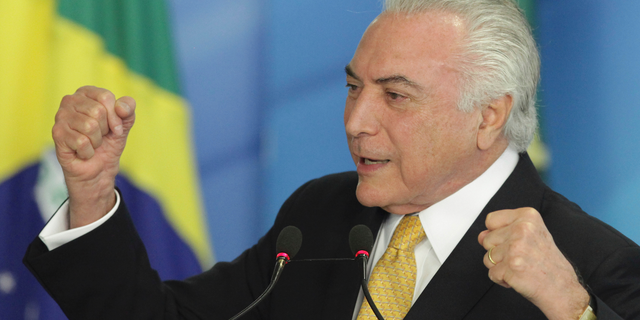 SAO PAULO – The latest on Brazil's widespread corruption investigation (all times local):
7:35 p.m.
Brazilian President Michel Temer is praising a congressional committee's rejection of a damaging report that had called for him to be suspended and put trial on a corruption charge.
Temer says in a statement that Thursday's vote by the panel was a victory for Brazil's democracy. He says his allies had civic courage to defend him.
The Chamber of Deputies committee voted 40 to 25 votes to reject the report's recommendation that Temer be suspended from the presidency pending a corruption trial in Brazil's highest court.
The panel's decision is not final, however. It will be up to the full house of 513 deputies to decide Temer's fate sometime in the next few weeks.
The vote came one day after a former Brazilian president, Luiz Inacio Lula da Silva, was convicted of graft and sentenced to nearly 10 years in prison. Silva will remain free while he appeals.
Both cases arose from the mammoth "Operation Car Wash" investigation that has ensnared dozens of Brazilian politicians and business executives for corruption.
___
5:45 p.m.
A Brazilian congressional committee has given a boost to embattled President Michel Temer by rejecting a colleague's report that said he should be suspended and tried on a corruption charge.
The panel voted 40 to 25 Thursday to reject the damaging report after parties allied with the president changed almost 20 members on the Chamber of Deputies committee to give the president a favorable score.
Despite the vote, the issue now goes before the full Chamber of Deputies, which is expected to vote in the next few weeks. If two-thirds of the 513 deputies should vote against Temer, lower house Speaker Rodrigo Maia would take over presidential duties while Brazil's Supreme Court tried the president.
The report was based on an accusation by Brazil's attorney general that Temer took bribes from a meatpacking executive in exchange for favorable government decisions.
Temer denies any wrongdoing.