Teens set on fire during 1986 Chilean protest could finally see justice after 30 years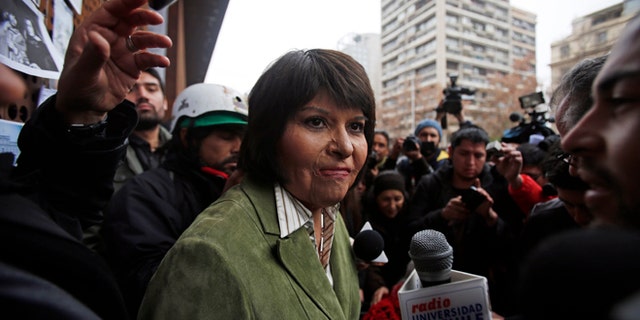 NEWYou can now listen to Fox News articles!
SANTIAGO, Chile (AP) – Her scarred face long ago became a symbol of the atrocities committed during Chile's 1973-90 dictatorship led by Gen. Augusto Pinochet. Now Carmen Quintana finally feels justice is being done.
Soldiers drenched a then 18-year-old Quintana and 19-year-old Rodrigo Rojas with gasoline and set them ablaze during a street demonstration on July 2, 1986. Rojas died four days later. Quintana underwent lengthy treatment for severe burns to more than 60 percent of her body.
For decades their attackers enjoyed impunity. But last week a judge charged seven former members of the military with the attack after a soldier testified about the case, breaking a nearly three-decade pact of silence.
Quintana said Tuesday that she is confident more perpetrators of dictatorship-era rights violations will come forward.
"I think this pact of silence that is breaking apart after so many years is a milestone for our country. It's a before and after in the struggle for human rights," Quintana said as she paid homage to Rojas by pinning a photo to a memorial in Santiago for the late photographer. "From now on many more soldiers, who are burdened by their conscience, will talk because they know what they did. They murdered and forcibly disappeared people."
Quintana also thanked the former soldier, identified as Fernando Guzmán, for testifying, and expressed compassion for the soldiers involved in the attack who were teenagers like her at the time and received death threats to keep silent.
Rojas' mother, who also spoke at the memorial, said she had an emotional meeting with Guzmán last week. Veronica De Negri said she appreciated his testimony but can't forgive those involved in the death of her son, a Chilean-born photographer who was visiting from the U.S, where they had lived in exile following the mother's detention and torture after Pinochet seized power.
De Negri said Guzmán told her that upon leaving the army, he tried to talk to several politicians about what had happened and wanted to testify, but was never allowed to until late last year.
De Negri's account couldn't immediately be verified. Attempts to reach Guzmán were not successful.
Rights groups have applauded Guzman's decision to testify but say the case underscores that the government has not done enough to bring about justice for victims.
"Let's not forget that Guzmán was a former soldier and wasn't in charge," said Judith Schonsteiner, director of the Center for Human Rights at the University of Diego Portales in Santiago. "The government and armed forces must do more to bring these cases out of the dark."
At the time, the burning attack drew condemnation worldwide and strained relations with U.S. President Ronald Reagan's government, which demanded a full investigation and judicial action.
Chile's army denied any involvement, and Pinochet suggested Rojas and Quintana accidentally set themselves on fire while carrying flammable material to ignite barricades.
In his testimony, Guzmán denied the two were victims of their own firebomb, calling it "a total lie" by the military.
In all, 40,018 people were killed, tortured or imprisoned for political reasons during Pinochet's dictatorship, according to official figures. Chile's government estimates 3,095 were killed.
About 70 military officials have been jailed for crimes against humanity and some 700 more are facing trial.
Pinochet died in 2006 under house arrest without ever being tried on charges of illegal enrichment and human rights violations.
To Pinochet loyalists, who are a minority according to many polls, the former strongman is still a fatherly figure who championed Chile's economic growth and kept it from becoming a failed socialist state.
One such person is retired Gen. Guillermo Garín, the army's second-in-command under Pinochet. Now 77, he says that the number of victims has been exaggerated and that the government went too far in arresting the seven men in the burning case.
"I was very close to General Pinochet," Garín told The Associated Press. "The president was busy governing the country and was not involved in anti-subversive fights or combatting clandestine organizations."
Like us on Facebook
Follow us on Twitter & Instagram