Somali pirates release sailors as piracy reports reach five-year low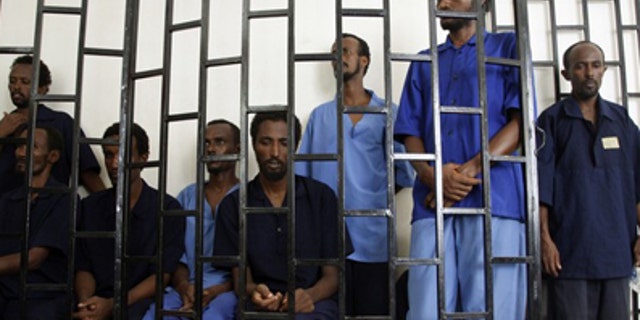 Somali pirates released a Greek-owned oil tanker and its 26 sailors after seizing the vessel in the Arabian Sea last year in an increasingly rare hijacking on the high seas.
Pirates released the sailors, including 14 Filipinos, from the Liberian-flagged MT Smyrni on Saturday, the Philippine government said Tuesday. The ship and its crew were headed to Oman, according to a statement by Philippine's foreign affairs department. Piracy reached a five-year low last year, with intervention by various navies and aggressive interdiction off the coast of Somalia, according to experts.
"All of the crew members are in good physical condition," the statement continued.
The ship was carrying 135,000 tons of crude oil when it was hijacked on May 10, roughly 300 nautical miles east of Oman as it sailed from Turkey toward Somalia. The hijacking, according to the International Maritime Organization, involved 10 pirates in two skiffs armed with automatic weapons whose initial attempt to board the tanker was unsuccessful due to increased speed and evasive maneuvers by the MT Smyrni.
Exactly why the pirates released the vessel 10 months after hijacking it was unclear, but the owners of the vessel, Athens-based Dynacom Tanker Management, confirmed the development and thanked crew members and their relatives for support throughout the "long ordeal," according to a statement obtained by AFP.
Globally, 297 ships were attacked in 2012 compared to 439 in 2011, according to the International Maritime Bureau. Those figures were largely driven by a huge reduction in Somali piracy, although East and West Africa remain the worst hit areas with 150 attacks last year.
"IMB's piracy figures show a welcome reduction in hijackings and attacks to ships," IMB's director, Capt. Pottengal Mukundan, said in a statement in January. "But crews must remain vigilant, particularly in the highly dangerous waters off East and West Africa."
A total of 174 ships were boarded by pirates last year, while 28 were ultimately hijacked. The number of people taken hostage onboard also fell to 585 from 802 in 2011, while another 26 were kidnapped for ransom in Nigeria. Six crew members were killed and 32 were injured or assaulted.
Just 75 ships reported attacks in Somalia and the Gulf of Aden, where 237 attacks were reported in 2011, accounting for one-quarter of all incidents globally. Hijackings in Somalia, meanwhile, decreased to just 14 last year, down from 28 in 2011.
Navies have been successful monitoring waters off Africa's east coast and elsewhere, with preemptive strikes and increased presence, as well as private armed security teams, IMB officials said.
"The continued presence of the navies is vital to ensuring that Somali piracy remains low," Mukundan's statement continued. "This progress could easily be reversed if naval vessels were withdrawn from the area."
The most commonly attacked vessels are container ships, bulk carriers and tankers stocked with oil and chemicals. Fishing vessels and other smaller crafts also are at risk.
In another recent attack, three sailors, including two Russians, were freed following weeks of captivity after pirates raided their cargo ship off the coasts of Nigeria and Cameroon. Carisbrooke Shipping Ltd. Of the United Kingdom said in a statement Monday that the men were released following a Feb. 7 attack on the MV Esther C.
The company did not indicate whether a ransom was paid to secure the sailors' release. Pirates stole property from the ship and its crew before leaving with three sailors some 80 miles off Nigeria's coast.
The attack on the cargo ship in the Gulf of Guinea, where piracy has risen as it decreases off the coast of Somalia, highlights an escalation there from low-level armed robberies to hijackings and cargo thefts London-based Lloyd's Market Association — an umbrella group of insurers — listed Nigeria, neighboring Benin and nearby waters off Togo and Ghana in the same risk category as Somalia.
The cost of piracy in the Gulf of Guinea — where pirates are often more willing to use violence during robberies as they frequently target cargo rather than crew members for ransom — has been estimated to be about $2 billion due to stolen goods, security and insurance.
The Associated Press contributed to this report.