Sen. Menendez unhappy with decision to allow nonstop flights to Cuba from N.J.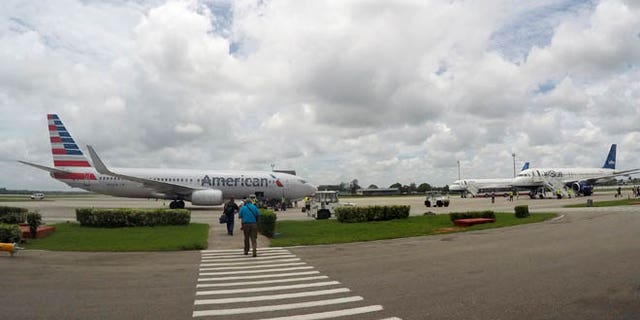 The decision to tentatively approve United Airlines to offer nonstop flights from Newark Liberty International Airport to Havana, Cuba isn't sitting well with many in the Garden State, as a woman convicted in the murder of a New Jersey state trooper remains a fugitive there.
U.S. Sen. Bob Menendez said that Cuba "remains a key ally of some of the world's most dangerous terrorist organizations and enemies of the United States" and continues to harbor American hijackers and terrorists, including Joanne Chesimard.
"Since every Cuban airport worker is employed directly by the regime and its airports lack the technology and security capabilities we've grown to expect in the United States, I have serious concerns entrusting the (Castro regime) to protect the lives of Americans flying in and out of Cuba," the Cuban-American Democrat said in a statement.
Chesimard was convicted in 1977 in the death of Trooper Werner Foerster during a gunfight after being stopped on the New Jersey Turnpike in 1973. She was sentenced to life in prison but escaped and made her way to Cuba, where Fidel Castro granted her asylum and she has been living under the name Assata Shakur.
New Jersey State Police spokesman Lt. Brian Polite said Thursday that tourists should visit the organization's website so they can be alert for fugitives wanted by the FBI who are living in Cuba.
Republican Gov. Chris Christie last year sought to block Newark flights to Cuba until Chesimard is returned to the United States and Port Authority of New York and New Jersey Chairman John Degnan sent a letter last October to United to reconsider.
Like us on Facebook
Follow us on Twitter & Instagram