Report: Venezuela's homicide rate climbs, may rival El Salvador's for highest in world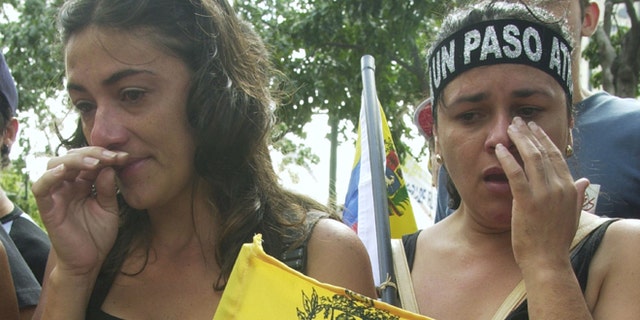 CARACAS, Venezuela (AP) – A non-governmental group that tracks crime in Venezuela says the homicide rate climbed in 2015, putting the country on track to be perhaps the most-violent in the world.
In a report Monday, the Venezuelan Violence Observatory estimated that 27,875 killings occurred this year, pushing the homicide rate up to 90 per 100,000 inhabitants.
The group said that killings in Venezuela this year surpassed those in Honduras and the country now rivals El Salvador as the world's deadliest. While year-end 2015 numbers are unavailable for El Salvador for comparison, the number of slayings there has skyrocketed in recent years as a truce between the Central American nation's two biggest gangs fell apart.
The NGO attributes the apparent rise in Venezuela to a breakdown in the rule of law that has fueled a surge in criminal activity and turf wars between criminal groups competing for control of lucrative smuggling routes and other illegal activities that have blossomed in tandem with the country's economic crisis. An increase in overly-repressive policing in response to the rise in crime is also a driving factor, the group says.
Last year, the observatory counted 82 killings per 100,000 people. In 1998, the year before the election of the late Hugo Chávez and the start of his Bolivarian revolution, the rate was 19 per 100,000.
The report published Monday is based on press reports, victim surveys and officials' comments.
Venezuelan authorities generally dispute the group's findings and say the homicide rate is much lower. But the government hasn't released what were once routine homicide stats for years, saying only in 2013 that the homicide rate stood at 39 per 100,000 inhabitants.
The Interior Ministry's press office didn't comment on Monday.
While crime is falling in much of Latin America, it has been rising precipitously in recent years in Venezuela. The NGO estimates that 1 in every 5 homicides last year in the region took place in Venezuela.
Like us on Facebook
Follow us on Twitter & Instagram