Pope meets with relatives of Nice attack victims at Vatican in emotional visit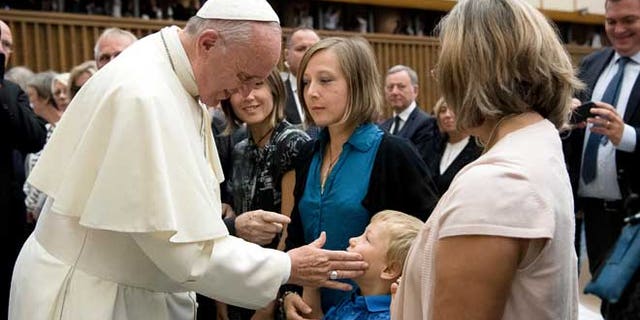 VATICAN CITY (AP) – Pope Francis met one by one with relatives of the victims of this summer's truck attack in Nice, France, at the Vatican Saturday, encouraging them to resist what he called the great temptation to "respond to hatred with hatred and to violence with violence."
The special audience in a Vatican auditorium included Christians, Muslims and Jews.
"It cheers me to see that, among you, inter-religious relations are very strong, and this cannot but help contribute to alleviating the wounds of these dramatic events," said the pontiff, who also offered compassion to those in attendance.
Nice's former mayor, Christian Estrosi, gave the pope a basket of 86 flowers to symbolize the 86 victims of the July 14 attack by an extremist who barreled the truck he was driving through a crowd of people celebrating Bastille Day in the French Riviera city.
Francis said political and religious leaders must make it their urgent priority to establish "sincere dialogue and fraternal relations among all, especially among all those who believe in a God who is one and merciful."
"When the temptation to turn inwards on oneself, or to respond to hatred with hatred and to violence with violence, is great, authentic conversion of the heart is needed," Francis said.
He added: "You can respond to the assaults of the devil only with the works of God, which are forgiveness, love and respect for one's neighbors, even if they are different."
In a departure from how most group audiences with the pope are conducted, Francis spoke individually with each of the participants, some of them weeping or wiping away tears. Some clutched photos of loved ones or asked if they could pose for a photo with the pope on behalf of someone who couldn't attend the audience.
"I pray to the God of mercy also for those who were wounded, in some cases atrociously mutilated, in flesh and in spirit, and I don't forget all those who for that reason weren't able to come here or are still in hospital," the pontiff said.
At the start, Francis apologized for speaking Italian, explaining that his French isn't good. A prelate translated his words into French after every few sentences.
"The church stays close to you and accompanies you with immense compassion," Francis said.
Like us on Facebook
Follow us on Twitter & Instagram