Paraguay president says he won't run in 2018 election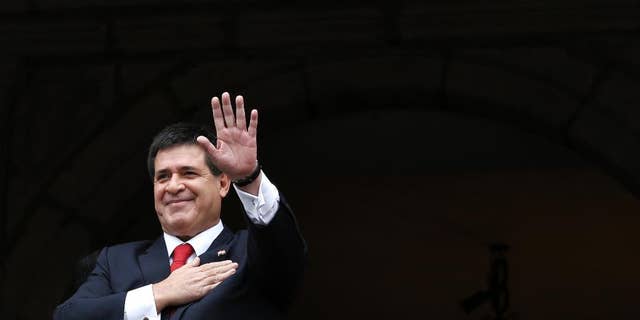 ASUNCION, Paraguay – Paraguay's President Horacio Cartes says he will not be a candidate in the 2018 election even if Congress approves a constitutional amendment to allow a second term.
Cartes made the announcement Monday in a letter to the Archbishop of Asuncion that he shared on Twitter. He said he was inspired by Pope Francis' call to avoid violence and seek political solutions.
Violent protests broke out last month after the Senate secretly voted in favor of the amendment.
Protesters set some furniture on fire in the Congress building and a 25-year-old was shot and killed after police stormed the headquarters of the opposition's Authentic Radical Liberal Party.
The proposal is a hot-button issue in Paraguay where memories are fresh of a 35-year military dictatorship that only ended in 1989.