North Korea space official says all prep done for rocket launch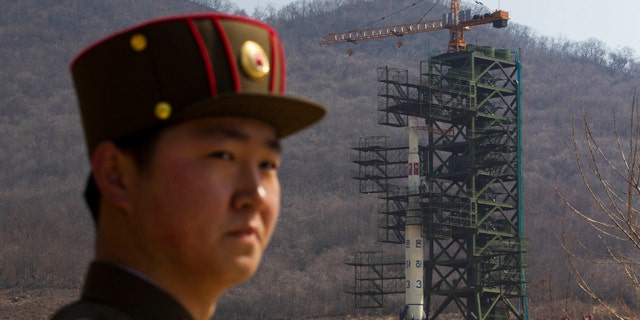 PYONGYANG, North Korea – North Korean space officials said Tuesday that all assembly and preparations for a planned satellite launch have been completed, while denying it is a cover for missile test.
Space officials told reporters at a news conference in Pyongyang that the launch of the three-stage rocket is on schedule to happen sometime between April 12-16 as part of centennial birthday commemorations for late President Kim Il Sung, the country's founder.
"All the assembly and preparations of the satellite launch are done," said Ryu Gum Chol, deputy director of space exploration in the Department of Space Technology.
The United States and others say the Unha-3 rocket could also test long-range missile technology that might be used to strike the U.S. and other targets. North Korea says it will launch an observation satellite meant to provide detailed surveys of the countryside.
Ryu said the launch is meant as a peaceful development of North Korea's space exploration program. He said any assertion that is a cover for developing missile technology is "nonsense."
North Korean space officials previously showed foreign reporters all three stages of the rocket in position at a launch site in northwestern North Korea.
The United States says the launch would jeopardize a U.S.-North Korean agreement where Washington would provide Pyongyang with much-needed food aid in exchange for a freeze on nuclear activity, including a moratorium on long-range missile tests.
A similar 2009 rocket launch was condemned by the U.N. Security Council. North Korea walked away from nuclear disarmament negotiations in protest, and conducted an atomic test weeks later that drew tightened U.N. sanctions.
North Korea has tested two atomic devices, but is not believed to have mastered the technology needed to mount a warhead on a long-range missile.