Nigerian Army rescues more than 1,000 Boko Haram captives
The Nigerian Army rescued more than 1,000 people held captive by the Boko Haram terror group, officials announced Monday.
The country's military broke the news on Twitter, saying troops from the 22 Brigade conducted an operation in conjunction with allies of the Multinational Joint Task Force to free the hostages.
Troops targeted the villages of Malamkari, Amchaka, Walasa and Gora villages in the northeastern Borno State where the group has based its nearly decade-long insurgency.
"The hostages consisted mainly of women, children, as well as some young men who were forced to become Boko Haram fighters," the army said. "Speaking with one of the rescued victims, Alhaji Gambo Gulumba from Amchaka village, thanked the Nigerian military for showing them love and care."
The army added that the action is part of its resolve to "rout out BH" and rescue all hostages.
"The public is also advised to report any suspicious character to the appropriate authority for prompt action. However, the rescued persons are being attended to in a military medical facility," the army said.
BOKO HARAM ATTACKS NIGERIA'S MAIDUGURI, KILLING AT LEAST 2
The army's action comes just over a week and a half after two people were killed and seven others were wounded in an attack by Boko Haram extremists in Nigeria's northeastern city of Maiduguri.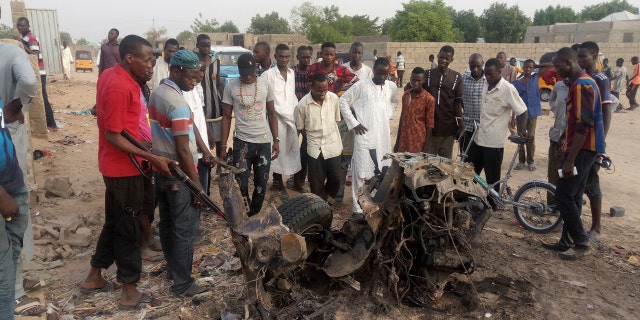 The extremists attacked the Jidari Polo area near the Federal High Court before they were repelled by security forces in a gun battle.
The Associated Press contributed to this report.