Man in police custody killed when reaching for officer's gun at California hospital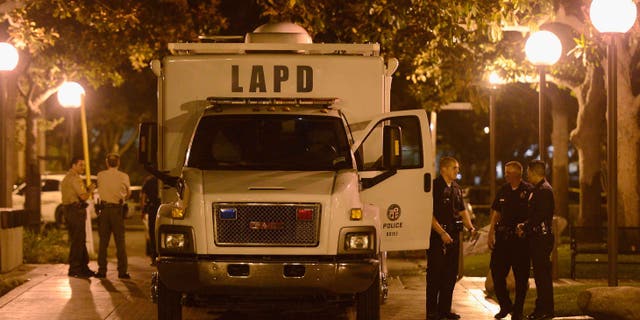 TORRANCE, Calif. (AP) – A man brought to a hospital after attacking police was shot to death by a Los Angeles officer in the emergency room after he swung a metal stool and grabbed for an officer's gun, authorities said.
Ruben Jose Herrera, 26, of Torrance, died Saturday afternoon at Harbor-UCLA Medical Center in suburban Los Angeles, the county coroner's office said Sunday. He was the 20th person killed by police this year.
Authorities brought Herrera to the hospital to get checked out after he "viciously attacked" two officers sent to investigate reports of a man throwing bottles at an apartment complex and fighting with his neighbors Saturday morning, police Cmdr. Phil Tingirides said.
During the initial struggle, Herrera kicked and punched the officers and knocked a stun gun out of one officer's hand, Tingirides said. More officers were called, and they subdued Herrera.
When he was taken to the hospital for treatment of minor injuries, Herrera was initially cooperative with two officers assigned to take him into custody.
He was handcuffed to a gurney, Tingirides said. After medical staff cleared Herrera to be taken to jail, officers briefly unshackled him from the gurney to handcuff him again for transport, Lt. John Jenal said.
That's when the man picked up the metal stool and began swinging it, Tingirides said.
Nurses and doctors in the emergency room told investigators that one of the officers tried to subdue the man with a stun gun, but it wasn't effective. When Herrera tried to reach for an officer's gun, the officer's partner shot him, the witnesses said.
"One round was fired," Tingirides said.
The hospital staff immediately began to treat Herrera's gunshot wound, but he died in the emergency room, Tingirides said.