Relative of San Bernardino victim says Obama visit won't bring closure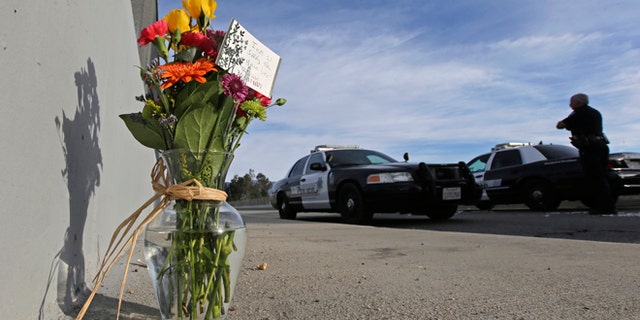 SAN BERNARDINO, Calif. (AP) – One relative of a man killed in the San Bernardino attack believes President Barack Obama's plan to meet with victim families Friday will bring comfort. Another woman wonders what solace Obama can bring when her 26-year-old sister-in-law can never be brought back.
When Obama lands in Southern California before heading to Hawaii for his annual Christmas vacation he will encounter a group of families still burying their dead. Some are just beginning to grapple with what happened while others describe being in a state of continued shock.
Ahead of the meeting, two victim relatives described conflicting emotions: One hopeful, the other with doubt.
"It won't bring any closure to us," said Evelyn Godoy, whose sister-in-law, Aurora Godoy, the mother of a toddler, was killed in the attack. "But it's nice he's going to stop."
Fourteen people were killed when Syed Rizwan Farook, 28, and his wife, Tashfeen Malik, 29, opened fire on his colleagues at a holiday meeting Dec. 2. Twenty-one others were injured in the attack. Both Farook and Malik were later killed in a gunfight with police.
In the aftermath of the massacre, families of those killed have grieved while also slowly learning the unsettling details about the couple who killed their loved ones. Federal investigators say they pledged allegiance to the leader of Islamic State terror organization before executing the attack.
"Of course we have questions and we would like to know how and what happened," said Robel Tekleab, whose brother-in-law, Isaac Amanios, 60, was killed. "But that is for another time. Tomorrow is all about grieving together and comforting each other."
Amanios greatly admired Obama, raising money for his 2008 campaign even through the immigrant from Eritrea was still not eligible to vote, said Tekleab, who worked as a field staffer on the president's 2012 re-election campaign. Amanios even traveled to D.C. to attend Obama's 2009 inauguration.
Tekleab said he wants Obama to know who his brother-in-law was.
"His presence itself is comforting," he said.
Evelyn Godoy said she didn't know what her family was hoping to hear. On the one hand, his visit felt like a nice gesture. On the other, when she read in the news that he was stopping on his way to Hawaii for his vacation she couldn't help but feel "like we were a throw in."
"At the end of the day my sister-in-law isn't coming back," she said. "It doesn't bring her back."
Like us on Facebook
Follow us on Twitter & Instagram