Federal government cannot afford latest wave of unaccompanied minors, HHS warns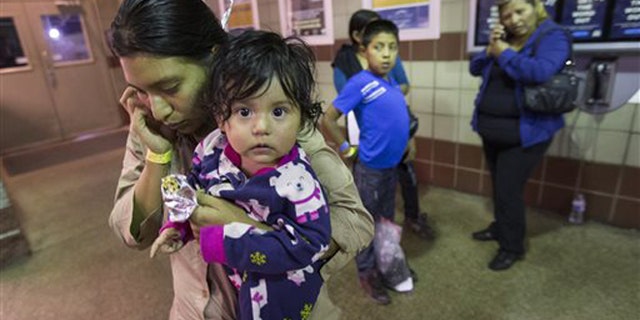 SAN ANTONIO – On the heels of reassurances by Texas officials to residents that the federal government will provide the funds and support for the hundreds of unaccompanied minors from Central America who are being sheltered there, Sylvia Burwell, the secretary of Health and Human Services, is warning Congress that her agency faces a budget shortfall and could be overwhelmed by the new influx of children.
In a letter obtain by the Associated Press, Burwell told members of the U.S. House of Representatives' Appropriations Committee that even with increased contingency funding requested by the president, the agency still faces a shortage that could lead to "the situation we faced in (2014) when children were left at the border for unacceptable periods of time."
Agency spokesman Mark Weber said the secretary is communicating with members of Congress to take all the necessary steps to "make sure that we're prepared," and that the letter doesn't demand funds beyond the president's budget request.
Last week, Local officials in Texas said they were prepared to receive hundreds of Central American children who are described by U.S. federal authorities as having fled violence in their home countries.
At a press conference Thursday, Ellis County officials said some 500 undocumented children were be transported to a camp area in the next few days. They were expected to be at the Lakeview Camp and Retreat Center for the next three weeks as plans are developed on where they will go from there, according to the Dallas Morning News.
Rick DuBose, superintendent of the Assemblies of God, said that some 50 percent of the unaccompanied children will be returned to their countries. Others are expected to be resettled with relatives here, DuBose said.
DuBose said Lakeview's agreement with a non-profit organization was to house 500 children and more than 200 support staffers. The children are mainly between 12 and 17 years old, according to published reports.
"We didn't feel like there was any way we could turn them away and not care for them and feed them when we have the beds that are empty and food that can be served and a process here," DuBose said, according to KeraNews.org. "It's our slowest time of year. So we were very available. We've jumped on it. We're honored to give these kids a place to live for the next three weeks."
Ellis County Sheriff Johnny Brown said there would be enough police security to keep the facility safe for everyone. Every two children would have one adult worker assigned to them, Brown said.
"I want to make sure the citizens of Ellis County know that this is under control and we have everything secure and they have no fears at this point. We do have a plan in place for any kind of emergencies," Brown said, according to KeraNews.org. "This will become a miniature city for the next 21 days. They have fire control, EMS, everything under control."
A total of 10,588 unaccompanied children crossed the U.S.-Mexico border in October and November, more than double the 5,129 who crossed during the same two months last year, according to the U.S. Border Patrol. The number of family members crossing together has nearly tripled, to 12,505.
The administration is hoping to avoid a repeat of the crisis it saw in the summer of 2014, when tens of thousands of children and families poured over the southwest border. Border Patrol holding areas became overcrowded, with children sleeping on concrete floors covered by aluminum foil-like blankets. The surge in children arriving without parents overwhelmed the U.S. government and the White House labelled it "a humanitarian crisis."
A total of 10,588 unaccompanied children crossed the U.S.-Mexico border in October and November, compared with 5,129 who crossed during the same two months last year, according to the U.S. Border Patrol. The uptick has already prompted the agency to open two shelters in Texas and one in California.
Burwell says in her letter that "it's impossible to know whether these trends will continue."
Border crossings have not reached the levels of summer last year, when more than 10,000 children arrived in the United States that June alone.
By law, unaccompanied child migrants from countries that don't border the United States must be handed over to the Department of Health and Human Services within 72 hours of being detained. The government is responsible for caring for the children until they are united with a relative or sponsor in the U.S. and immigration courts can rule on their cases.
Not only has the number of unaccompanied minors doubled, but the number of family members crossing together has nearly tripled from the same time last year, to 12,505 during the past two months. Adult male immigrants are usually sent to detention centers, and families, the majority women with children, are usually sent to detention centers, though detention times have become shorter since a federal judge's ruling that children can only be detained in these facilities for a matter of weeks at most.
Experts say increasing gang violence in Central America is pushing people to flee. The tiny country of El Salvador has seen its homicide rate skyrocket to levels not seen since the country's civil war, and violence continues to plague Honduras and Guatemala. The increase in migration is worrisome, they say, because it comes at a time of year when the cold usually keeps people away.
Though Mexico has cracked down on migrants within its borders and returned a large number to their home countries, experts say smugglers are finding new ways around checkpoints and have established new networks of bribes that allow them to get migrants to the U.S. border.
The AP contributed to this report.
Like us on Facebook
Follow us on Twitter & Instagram