Family of five dies after abandoned home where they sought shelter goes up in flames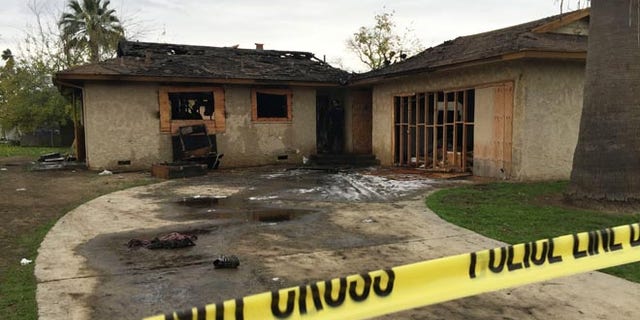 FRESNO, Calif. (AP) – Five people were killed and another critically injured after a fire broke out at an abandoned home in Fresno, authorities said.
Fire crews pulled six people out of the boarded-up home engulfed by flames and thick smoke, Battalion Chief Lawrence French said. Four were pronounced dead at the scene, and the other died at a hospital.
A neighbor told police he heard people screaming for help and pounding against a window Sunday, French said.
The injured person was reported to be in critical condition at Community Regional Medical Center, the Fresno Bee reported.
Investigators were looking for witnesses and video footage to determine the cause of the fire, Fresno fire spokesman Pete Martinez said.
The Fresno County coroner's office identified three of the victims as Irene Hinojos, 36, Monique Amaral, 28, and Anthony Zavala, 37. The names of the other were being withheld until the families could be contacted, said spokesman Tony Botti.
Zavala's cousin, Juan Castillo Jr., told the newspaper the victims were not homeless but sought the shelter of abandoned buildings to deal with personal issues and to keep warm.
"They do have homes. Some of us just have hard times and don't know how to deal with it," he said.
The house on Archie Avenue had been vacant for many years, and most doors and windows had been boarded-up, Martinez said.
One of the boarded-up windows had been pried open by people who were squatting, and that was the only way for the occupants to enter or exit the house and was also where the fire was the most intense, he said.
Firefighters found the six victims in one of the bedrooms where it appeared they were trying to smash a window to get out.
Martinez said it looked like the victims may have died from smoke inhalation but that the cause of death has not been determined.
Like us on Facebook
Follow us on Twitter & Instagram