Man arrested in murder of LA exec in luxury Cape Town hotel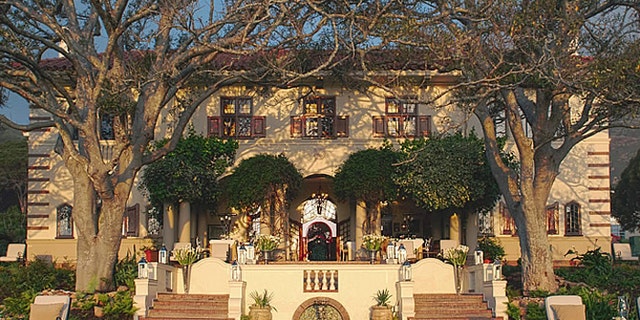 A man who was staying with the California marketing executive found brutally murdered Wednesday in her room at a five-star hotel in Cape Town is under arrest, police told FoxNews.com.
Gabriela Kabrins Alban, 39, of Los Angeles, was found dead at about 3 p.m. in her room at the Camps Bay Retreat, a luxury boutique hotel where rooms cost up to $10,000 per night. Police spokesperson Noloyiso Rwexana declined to say Alban died or confirm reports she was sexually assaulted, but said her death is being treated as a case of murder. A 41-year-old suspect identified in local reports as Diego Guarte, a Guatemalan national, was under arrest in connection with the case.
"This crime could have happened anywhere in the world."
Alban, a graduate of Pepperdine Universtiy in Malibu, founded a marketing and advertising firm called Conexión in 2002. In 2009, Alban was honored by the National Latina Business Women Association with its Latinas in Business Award. Alban's co-founder, Martín Llorens, posted a message on his Facebook page.
"My dear Gaby," it read. "Rest in peace, love you forever. In your light I learn who I am. I will always treasure you."
The chief officer of service at the hotel where Alban was murdered, Roelof Troskie, told the Cape Times that hotel officials were not commenting until police complete their investigation.
"We are still waiting for the Camps Bay police to get back to us before giving any comment, as they are busy with their investigation," he told the paper.
At the U.S. Embassy in Pretoria, Cynthia Harvey told reporters officials had extended its condolences to Alban's friends and family. Alban's family will be offered any consular services they may need.
It is customary in South Africa for an autopsy to be completed on murder victims within days of death.
South Africa is extremely sensitive to the potential damage to its tourist industry that such an incident can cause, and likely to have put a top team of detectives on the case. Local observers have been quick to point out in a country with a high crime rate that the case appears to involve two foreigners, and that no South Africans are involved.
"This crime could have happened anywhere in the world," one local resident told Fox News. "It would be unfair if South Africa took any of the blame for it in people's eyes."
The Camps Bay suburb where the murder took place is on the prized Atlantic Seaboard, renowned for its posh restaurants and hotels, as well as the sparkling, four-mile-long wide sandy beach and glorious sunsets. One local home in the area is on the market for $44 million, and Oprah Winfrey has a holiday home overlooking Camps Bay.
Paul Tilsley is a freelance reporter and producer for Fox News based in Johannesburg, South Africa. Follow his African stories on @paultilsley