Japan PM's visit to controversial war shrine draws protest from China, South Korea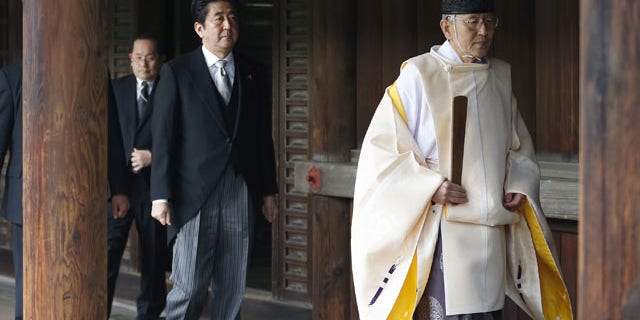 Representatives of China and South Korea condemned Japanese Prime Minister Shinzo Abe's visit to a shrine honoring Japan's war dead Thursday, while the U.S. Embassy in Tokyo said it was "disappointed" in the leader's action.
Abe's visit to the Yasukuni shrine was the first by a sitting prime minister since Junichiro Koizumi went to mark the end of World War II in 2006. The prime minister, wearing a formal black jacket with tails and striped, gray pants, spent about 15 minutes at the Shinto shrine in central Tokyo. TV cameras followed him inside the shrine property, but were not allowed in the inner shrine where he paid respects to the war dead.
"I prayed to pay respect for the war dead who sacrificed their precious lives and hoped that they rest in peace," Abe told waiting reporters immediately afterward.
Visits to Yasukuni by Japanese politicians have long been a point of friction with China and South Korea, because of Japan's aggression during World War II. Among the 2.5 million war dead honored at the shrine are are convicted war criminals, including Japan's wartime Prime Minister General Hideki Tojo, who was executed in 1948.
Abe said criticism that Yasukuni visits are an act of worshipping war criminals is based on a misunderstanding.
"Unfortunately, a Yasukuni visit has largely turned into a political and diplomatic issue," he said, adding, "I have no intention to neglect the feelings of the people in China and South Korea."
Chinese Foreign Ministry spokesman Qin Gang issued a strong rebuke in a statement posted on the ministry's website.
"We strongly protest and seriously condemn the Japanese leader's acts," Qin said.
He called visits to Yasukuni "an effort to glorify the Japanese militaristic history of external invasion and colonial rule ... and to challenge the outcome of World War II."
He added: "Japanese leaders are not only showing no moderation but have doubled their efforts and created a serious incident on historical issues. This poses a major political obstacle in the improvement of bilateral relations. Japan must take responsibility for all the consequences that this creates."
Later Thursday, South Korea's Minister of Culture, Sport, and Tourism, Yoo Jin-Ryong, called the visit an "anachronistic act," according to Reuters, and added "We cannot withhold regret and anger over the visit."
The U.S. embassy in Tokyo issued a statement saying it was "disappointed that Japan's leadership has taken an action that will exacerbate tensions with Japan's neighbors." However, the statement also noted what the embassy described as Abe's "expression of remorse for the past and his reaffirmation of Japan's commitment to peace."
Thursday's visit came on the first anniversary of Abe's taking office as prime minister. Abe, who had visited previously when he was not prime minister, had expressed extreme regret over his decision not to visit Yasukuni during an earlier one-year term in office in 2006-2007.
"It's been one year since I took office and I chose this day to come here and report to the spirits about the progress over the past year and to renew my commitment to peace so that we will never cause anyone to suffer in war," Abe said.
Adding to the unease of Japan's neighbors is Abe's support for revising Japan's pacifist constitution and expanding the military to counter rising tensions over a cluster of uninhabited islands in the East China Sea claimed by both Japan and China.
The Associated Press contributed to this report.