Israeli defense minister resigns, cites 'lack of trust' in Netanyahu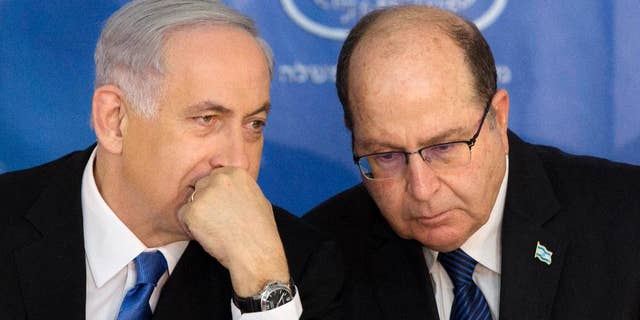 Israel's former defense minister announced his resignation from Prime Minister Benjamin Netanyahu's government on Friday, citing a lack of "trust".

In a Facebook post, Moshe Yaalon said that he told Netanyahu that "following his conduct in recent developments and in light of the lack of trust in him, I am resigning from the government and the Knesset (Israel's parliament) and taking a time out from political life."
Yaalon resigned after Netanyahu ousted him as defense minister and appointed former foreign minister Avigdor Lieberman, one of Israel's most controversial politicians, to take his place. The Jerusalem Post reported that Netanyahu had planned to offer Yaalon the job of foreign minister as compensation.
Netanyahu and Yaalon had clashed in recent days over the role of the military in public discourse, with the prime minister arguing that military officials should not discuss policy matters publicly.

Tensions between Yaalon and Netanyahu escalated in March, when military leaders criticized a soldier who was caught on video fatally shooting an already-wounded Palestinian attacker. The soldier is now on trial for manslaughter. While Yaalon has backed the military, hard-liners have backed the soldier.

Netanyahu this week invited Lieberman's ultranationalist Yisrael Beteinu party to shore up his shaky parliamentary coalition and negotiation teams have been meeting to hammer out the details of their alliance.
Yaalon's resignation solidifies the takeover of hardliners in the Israeli governmenet.

Many Israelis have questioned the wisdom of appointing Lieberman to the sensitive post of defense minister over Yaalon, a former army chief of staff who is generally respected for his knowledge of military affairs. Polls commissioned by Israeli TV stations broadcast Thursday showed that a majority of Israelis prefer Yaalon as defense minister over Lieberman.
Lieberman has held a number of Cabinet posts in the past, including stints as foreign minister. Over three decades, he has at times been Netanyahu's closest ally and at other times a fierce rival.

His hard-line stance has made him an influential voice at home but has at times alienated Israel's allies overseas. He has questioned the loyalty of Israel's Arab minority and confronted Israel's foreign critics. He has expressed skepticism over pursuing peace with the Palestinians, and is now pushing a proposal to impose the death penalty against Arabs convicted of acts of terrorism.

With Israeli-Palestinian peace efforts in a deep freeze, Lieberman's addition to the government could push the prospect of reviving talks even further into the distance.

Lieberman rose to prominence as the engineer of Netanyahu's successful run for prime minister in 1996, and he later became Netanyahu's chief of staff.

His tough stances have long stoked controversy. As a Cabinet minister last decade, he called for the bombing of Palestinian gas stations, banks and commercial centers.

He also led a recent parliamentary drive to exclude Arab parties from running for election -- a move that was overturned by Israel's Supreme Court.

Yet despite his rhetoric, Lieberman has shown signs of pragmatism. He served as a Cabinet minister in two centrist Israeli governments, though he was fired for opposing Israel's 2005 withdrawal from Gaza and resigned to protest peace talks that begun at the 2007 conference in Annapolis. His plan for redrawing Israel's borders would also mean dismantling some Jewish settlements.

The Associated Press contributed to this report.