Iranian election is a sham and a 'joke,' government opponents say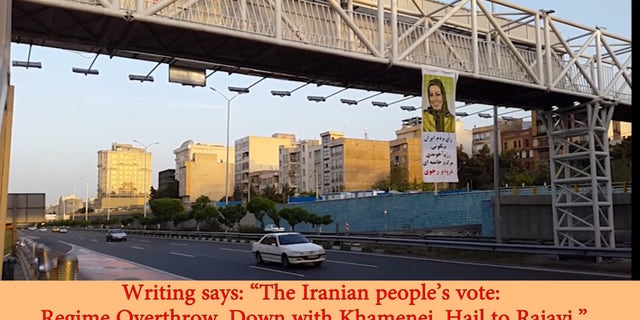 This week's presidential election in Iran has activists from outlawed opposition groups risking their lives, they say, in what they have branded as an unfair and undemocratic election.
Activists claim that no matter who wins the presidential contest, Iran's Supreme Leader, Ayatollah Ali Khamenei, will continue to control his country.
"Calling this an election is a joke. This is a farce, and not an election," Hamid D, a mechanical engineer in Tehran, told Fox News. Hamid, who did not want to use his last name for fear of retaliation, said he has been busy the past few weeks putting up anti-regime posters all across Tehran.
VOICES OF IRANIANS AHEAD OF PRESIDENTIAL ELECTION
Hamid's group, the National Council of Resistance of Iran (NCRI), has released videos of its members putting up protest posters with the image of the Council's leader, Maryam Rajavi, over bridges, highway overpasses and on walls.

"Americans and Europeans should not compare this to their own elections. There is no democracy in Iran. It is a theocracy," he said.
Hamid D, who told Fox News he is organizing a campaign to support Rajavi, has put up several of her posters as a gesture of defiance toward the regime. The Iranian government has outlawed the NCRI, calling it a terrorist group, but its leaders are not deterred by what they say is the regime's propaganda.
"Just now, there are a lot of slogans in Tehran that say: 'No to imposter, no to mass murderer, our vote: Regime overthrow,'" he said. The posters refer to the two leading candidates, sitting President Hassan Rouhani, who is seeking a second term, and Ebrahim Raisi, a hardline cleric, Rouhani's biggest rival.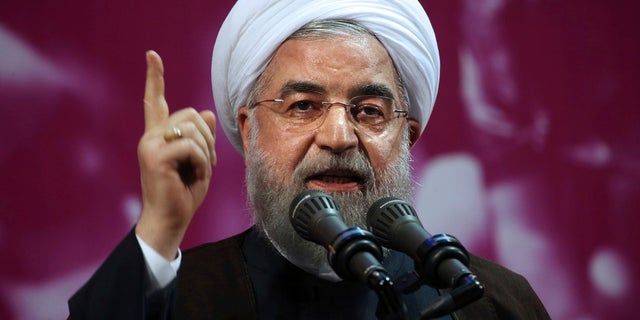 When Fox News asked Hamid D about the risks he and his colleagues are taking, he said they are worth the effort so they can achieve their goal of trying to bring freedom to his nation, and ensure a fair election.
IRANIAN ELECTIONS: TINDER-LIKE APP COULD SWAY PRESIDENTIAL VOTE
"We can be arrested, tortured and executed. This is no secret to us. But we know what we are doing. The Iranian people have already paid a heavy price for demanding freedom," he said.
The NCRI says that many of its followers have been arrested, tortured and executed by the regime.
"When I talk to my friends, we say to each other that those who made the ultimate sacrifice expect us to pick up and carry their torch until victory," he said, "and this is exactly what we are doing."
In a statement to Fox News, Rajavi called the Iranian elections "illegitimate" and unfair.
"This sham is an attempt to put a 21st century veneer on a medieval regime, all of whose factions pursue the same policies vis-à-vis suppression at home, export of terror abroad, the nuclear weapons program, and pilfering of the Iranian nation's wealth," she said.
Rajavi applauded the actions of her activists, saying that "because of the Iranian people's burning desire for freedom and their readiness to fight on, the overthrow of the religious dictatorship is possible and within reach."
But it's not just the NCRI protesting this election. Others affiliated with secularist groups are risking their lives as well.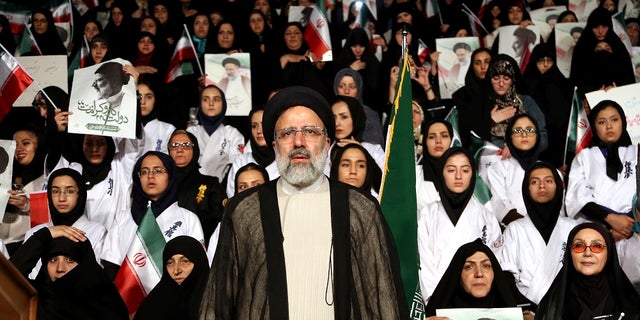 "As the mainstream media in the West covers (this) sham election between the so-called moderate Rouhani and the extremist Raisi, the human rights situation is getting worse every day," Amir Hossein Etemadi, an Iranian opposition activist, told Fox News.
Etemadi was jailed by the regime and served time in solitary confinement at the notorious Evin prison for protesting against the government. He was later sentenced to two years in prison for the same charge as part of the green movement that protested the 2009 election.
IRAN'S TOP LEADER URGES HIGH TURNOUT IN PRESIDENTIAL VOTE
Now living in the U.S., he is the spokesman of Iranian Liberal Students and Graduates (ILSG), and is actively watching this election.
"Even those who participate in this sham election don't have any hope that (the) human rights situation (will) get better after that," he said. "However, the fight for freedom will be continued after May 19th, regardless who will serve Khamenei and the IRGC as the 12th President of the Islamic Regime of Iran."
Many of Etemadi's group have also taken to the street using graffiti and defacing government election posters as a form of protest.
"This is not an election; this is a show in the theatre, not a single woman is among them (the candidates), not a single person from a religious minority…all of them are loyalists from the Islamic Republic," a liberal activist named Farhad who asked that his real name not be used for fear of retaliation from the regime, told Fox News.
Farhad said he wants to see the same kind of democracy practiced in America carried out in Iran – the freedom to elect whomever the people choose.
"People I am living next to all say they are against this election, but they have no other choice, they feel they are being forced to chose between bad and worse," he said, "…they are afraid of being crushed."
While both Farhad and Hamid don't know each other or share the same political ideology, they do agree that President Donald Trump has an opportunity to play a pivotal role in taking on the regime.
"My expectation from Trump is that he be able to create that atmosphere that puts pressure on the Islamic Republic," Farhad said. "Because history shows that anytime this Islamic government has been pressured they've changed directions and surrendered."
Hamad D, a supporter of Rajavi's NCRI, told Fox News from Tehran that he has a simple message for President Trump.
"Whoever becomes the next president of the regime, don't expect any change in terrorism and killings," he said. "The Ayatollahs are together in this. The United States should stand with the Iranian people as they stand for liberty."
Eric Shawn and Hava Pasha contributed to this
article.