Hungary's national airline ceases operations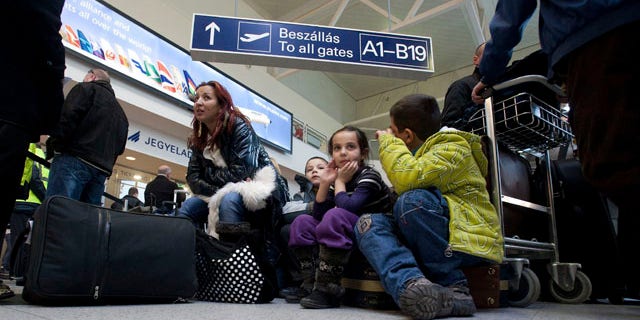 BUDAPEST, Hungary – Hungary's national carrier ceased operations, grounded all its flights and stranded more than 7,000 passengers Friday, blaming what it called an "unsustainable" financial situation.
Malev, which had been selling tickets as late as Thursday, has debts of around $270 million and has been unable to find new investors.
The state-owned airline, which was established the year after the end of World War II, stopped all its flights at 6 a.m. on Friday. Malev is a member of the Oneworld airline alliance that also includes American Airlines and British Airways.
Managing Director Lorant Limburger said that in the past few days its partners suddenly lost trust in Malev and began demanding advance payments for their services.
"This accelerated the cash outflow to such an extent that by today the airline's situation has become unsustainable," Limburger said in a statement announcing the shutdown. "We apologize to all our passengers."
Earlier this week, Malev began operating under what amounted to bankruptcy protection, and a receiver was appointed by the government to oversee the airline.
Company officials said the stoppage immediately affected some 7,200 passengers -- 3,500 in Hungary and over 3,700 abroad -- who had been expecting to board Malev flights on Friday.
Malev said it has contacted other airlines in search of help for the stranded travelers.
Malev's plight reflects difficulties being faced by several other European airlines in light of the debt crisis and a likely return to recession in the eurozone.
A spokesman for the International Air Transport Association (IATA), which represents some 240 major airlines, including Malev, is predicting a net loss for European carriers of $600 million this year, compared with an expected global net profit for airlines of $3.5 billion.
"There is a more pessimistic forecast if the eurozone crisis were to become a wider banking crisis," Chris Goater told The Associated Press.
A week ago, Spanish airline Spanair ceased operation because of lack of funds, canceling 220 flights and leaving 22,000 passengers stranded. Spanair, whose hub was Barcelona airport, employed around 2,000 people and used the services of about 1,200 ground staff.
And Air Berlin, Germany's largest airline after Lufthansa, said in December that Abu Dhabi-based Etihad Airways would become its biggest shareholder through an issue of new shares worth nearly $96 million. Air Berlin has been suffering losses blamed on high fuel prices, a new German aviation tax and sagging demand for travel to northern Africa.
Cirrus Airlines, a much smaller German carrier, filed for bankruptcy protection at the end of January.
Prime Minister Viktor Orban said on state radio that two Malev planes were still abroad -- one in Tel Aviv, Israel, and one in Ireland. Those planes were not allowed to take off because of the airline's accumulated debts, Orban said.
Orban added that Malev faced the risk of having more of its 22 leased planes seized by creditors if it were to continue operations.
Malev said it would seek to quickly return its airplanes to the leasing company.
Last month, the European Union ordered Malev to repay nearly $400 million in illegal state subsidies received between 2007 and 2010. In 2010, Malev's losses reached $110 million.
"It is a painful thing. We tried to keep Malev on track as long as we could, but this is as far as we could go," Orban said, adding that he is still hopeful that new investors can be found, despite Europe's ongoing debt crisis. "I believe a restart is not impossible."
Malev was founded in 1946 and has 2,600 employees, many of whom will be laid off soon, the company said without providing precise figures.
After several failed privatization efforts over the past 20 years, the state now owns 95 percent of the company. A deal to sell a stake in Malev to China's Hainan Airlines fell through last year.
Hungary is also home to a budget airline, Wizz Air.