Hispanic Church Boom: Speak in English, Pray in Spanish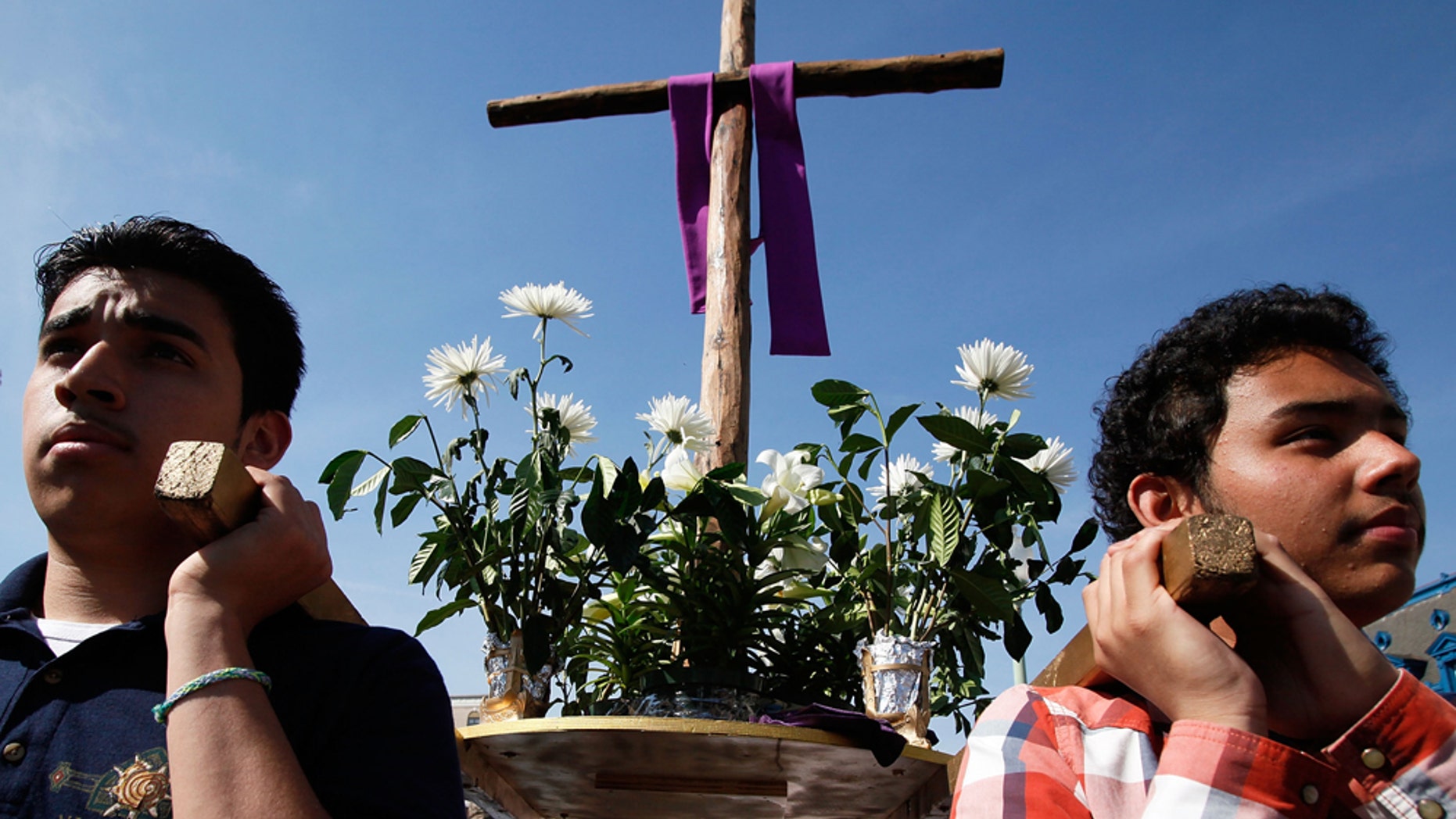 Catholic church closings and parish consolidations have become common in urban areas that are losing population. But semi-rural Chester County, about 35 miles southwest of Philadelphia, is one of the fastest-growing regions in Pennsylvania.
When Rev. Frank Depman arrived 20 years ago to this farming area, there were about 1,000 Catholic Latinos — split between Puerto Ricans and Mexicans — who largely worked on area mushroom farms. There are now about 12,000, nearly all of Mexican heritage, with a median age of 18, Depman said.
The Hispanic community uses the facilities at five area Catholic churches, but only when the buildings are not occupied by the home parishioners. That creates a diaspora and often gives short shrift to Hispanic cultural traditions, Depman said.
When Depman arrived in 1990 to serve Latino Roman Catholics, he borrowed space in a church to celebrate one weekly Mass in Spanish.
Today, the Latino community supports six Spanish-language Masses at five churches each week. Last year it had the most baptisms — about 425 — of any parish in the Archdiocese of Philadelphia, Depman said.
The growth has turned spiritual life into a series of logistical challenges for Latinos as they try to schedule an increasing number of liturgies, weddings, funerals, baptisms, first communions and quinceaneras — rites of passage similar to Sweet Sixteens.
Now, with the support of Cardinal Justin Rigali and the help of a generous benefactor, the community has its own parish and soon will have its own 500-seat house of worship.
"We've never had a church, so this is just huge for us," said parishioner Cynthia DeStafney, 37. "It's kind of beyond words."
The priest described two hours of removing all traces of festivities at a borrowed church in West Grove immediately after the feast of Our Lady of Guadalupe, patron saint of Mexico. Normally, that celebration is spread over several days, he said.
The community's dilemma caught the attention of Rocco Abessinio, CEO of Applied Card Systems in nearby Glen Mills. He offered a large donation to help build a church, though more funds are being raised to add a rectory, social hall and other amenities.
"I just gave them a good head start, that's all," Abessinio said. "I saw the plight of these people, they had to use all these other churches. ... It's a shame they didn't have their own facilities."
On Oct. 12, Cardinal Rigali established St. Rocco Parish, dedicating it to a 14th-century religious pilgrim credited with curing plague victims in Italy. St. Rocco shares his name with both Abessinio and a church (San Roque) in Guanajuato, Mexico, where Depman said many local parishioners have roots.
The church is being built on 18 acres behind the parish's social services center in Avondale. Plans are to dedicate the finished building, which will have a Mexican-style plaza, during the feast of St. Rocco in August.
Church officials would not disclose the project's cost, but said it probably would not be under construction without Abessinio's help. Msgr. Hugh Shields, the archdiocese's vicar for Hispanic Catholics, called it "a sign of hope amid difficult times."
Officials also declined comment on the previous legal troubles of Abessinio's company, which deals in subprime credit cards and was sued by several states over alleged deceptive business practices. The suits were resolved within the past few years through financial settlements, court orders or other means.
Depman described Abessinio as "a generous, honest and determined businessman who has helped the (Hispanic) community achieve its dream."
Latinos comprise about 13 percent of the archdiocese's 1.5 million members but represent about a third of Catholics nationwide.
A 2007 study by the Pew Research Center found Latino-oriented churches emerging in all major religious traditions in the U.S. But 84 percent of Catholic Latinos who speak English "pretty well" or "very well" prefer Mass in Spanish, the study found.
"The tendency is ... we pray better and hear God better in the first language of our hearts," said Shields, noting his Irish mother prayed in Gaelic.
He expressed hope that St. Rocco Church will offer Latinos the spiritual nourishment and confidence to further integrate into society, the way European Catholic immigrants did in the past century.
Depman noted that most of St. Rocco's parishioners are here legally and play an important role in the local economy. Parish officials offer citizenship classes but do not ask about legal status, he said.
"They're all Catholic, they've all been baptized, they're all part of the church," Depman said.
DeStafney, the parish's bilingual business manager, was born and raised in the area and is now married with children of her own. Of Puerto Rican descent, she usually attends Spanish Mass on Saturdays at St. Patrick's Church in Kennett Square, where her parents lead the choir.
Not having to borrow another parish's church will be a dream come true, she said.
"We'll finally be able to call this home," DeStafney said. "I don't even know how to pray in English, to be honest with you."
Based on reporting by Kathy Matheson of the Associated Press.