Guatemala: Former Strongman Efrain Rios Montt On Trial for Massacres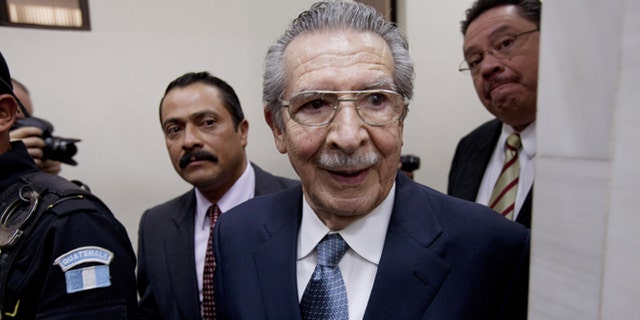 Guatemala City – There is no smoking gun in the case files or direct order from Guatemala's then-military dictator to carry out the slaughter of civilians during one of the bloodiest phases of the country's long civil war.
But prosecutors hope to painstakingly prove through a detailed recreation of the military chain of command that Gen. Efraín Ríos Montt had knowledge of the massacres of Mayan Indians and others in the Guatemalan highlands.
Ríos Montt held absolute power over the U.S.-backed military government, his failure to stop the slaughter is proof of his guilt, prosecutors and lawyers for victims say.
Survivors and relatives of victims have sought for 30 years to bring punishment for Ríos Montt, now 86, who is the first Latin American strongman to stand trial on genocide charges in his own country. For international observers and Guatemalans on both sides of the war, the trial could be a turning point in a nation still wrestling with the trauma of a conflict that killed some 200,000 people.
"So much time has passed and we haven't gotten justice. What I want is that they put him in prison. It isn't revenge; it's justice," said Antonio Caba, who was 11 when soldiers arrived in his highlands village in 1982, killing 95 Mayas and driving countless others into the countryside without food or clothing. His 2-month-old sister and grandmother died of malnutrition.
"I ask him, 'What type of weapon were the children carrying, the women and old people your army massacred?' All we want is justice," said Caba, who is scheduled to testify at the trial.
Ríos Montt seized power in a March 23, 1982, coup, and ruled until he himself was overthrown just over a year later. Prosecutors say that while in power he was aware of, and thus responsible for, the slaughter by subordinates of at least 1,771 Ixil Mayas in San Juan Cotzal, San Gaspar Chajul and Santa Maria Nebaj, towns in the Quiche department of Guatemala's western highlands.
Those military offensives were part of a brutal, decades-long counterinsurgency against a leftist uprising that brought massacres in the Mayan heartland where the guerrillas were based.
Prosecutors and advocates for victims have built their case on thousands of green folders stuffed with military documents, victims' testimony and ballistic and forensic examinations of more than 800 sets of human remains, mostly women or children.
"There's an enormous amount of evidence against Ríos Montt," said Edgar Perez, a lawyer for the victims. "Obviously, the world has never seen a case in which genocide was explicitly authorized."
Ríos Montt's lawyer, Francisco Palomo, disagrees. "The evidence shows that serious things happened, of course. The point here is, who is responsible for those things? We think he's innocent. At the hearings there hasn't been a single fact that links him to it directly."
Being tried with Ríos Montt are José Rodríguez Sánchez, a former high-ranking member of the military chiefs of staff; Hector Mario López Fuentes, minister of defense under Ríos Montt; and Luis Enrique Mendoza, former vice minister of defense who is a fugitive from justice.
The few times Ríos Montt spoke during days of pre-trial hearings, he stared straight ahead and addressed the court in a strong voice. But except for denying genocide occurred, he limited his answers to simple refusals to address questions that might incriminate him. He is being held under house arrest.
The most important evidence are the plans for three counterinsurgency campaigns known as Victory 82, Operation Sofia and Firmness 83 and after-action reports linked to mass killings. Almost all of the military plans were classified "secret" but were leaked to victims' lawyers.
The plan for Victory 82 created a force made up of riflemen, paratroopers and combat engineers directed to operate in a part of the highlands known as the Ixil triangle and report its actions to the chief of staff of the army, part of the military leadership along with Ríos Montt.
Military experts testifying for the victims have said this description of the chain of command makes it obvious that the military chief of staff and other high commanders including Ríos Montt could have halted the massacres.
The Guatemalan Forensic Anthropology Foundation carried out more than 60 studies to identify some 800 sets of human remains from the area that will be evidence in the trial.
"The great majority of victims were women or children, who suffered violent deaths without putting up a defense. In some cases there were massacres, executions and people dying as they were fleeing, from hypothermia and hunger," said the foundation's executive director, José Suasnavar.
Mayas were treated as an internal enemy because they were seen as lending support to the enemy, according to the indictment against Ríos Montt.
In the plan's Annex C, the army chief of staff said that "the great masses of indigenous people in the nation's highlands have echoed the proclamations of subversion, whose rallying cries are the lack of land and immense poverty ... they see the army like an invading enemy."
The Operation Sofia file contains direct orders from co-defendant López Fuentes, said Kate Doyle, a senior analyst at National Security Archive, a Washington-based nonprofit group that works to make classified documents public. The plan was leaked to her by an unspecified source in March 2009.
The file includes maps and sketches of sites for operations, internal communications from the operation commander to commanders in the field, hand-written reports on operations and intelligence reports.
The third plan, Firmness 83, describes the training and recruitment of the notorious Civil Autodefense Patrols, which were made up of civilians armed by the military and have been accused of participating in hundreds of slayings alongside the army.
Guatemalan prosecutors have had success using indirect evidence against current and former members of the military.
Three officers were convicted of the 1998 slaying of Roman Catholic Archbishop Juan José Gerardi even though it was not proven they were directly involved in the bludgeoning death. Prosecutors showed the actual killers were connected to higher-ups by orders that flowed down the chain of command.
"It's a fact that there are people who plan, people who organize, and people who execute," said Nery Rodenas, director of the Office of Human Rights at the Guatemalan Archbishop's Office.
Follow us on twitter.com/foxnewslatino
Like us at facebook.com/foxnewslatino